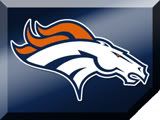 @      


Week Nine: Denver Broncos @ Pittsburgh Steelers

Location: Pittsburgh, PA;  Hienz Field

Kick-off time: 4:15 pm EST

Broadcast: CBS

The Broncos play the first of back-to-back road games today against the 2-5 Pittsburgh Steelers.  Get everything you need, including real-time blogging, right here at the MHR.  For a Steelers point of view on the game, go check out BEHIND THE STEEL CURTAIN, SBNation's excellent Steelers' blog.





GAME DAY NOTES:

*--Today's game will mark the 700th regular season game the team has played in it's history(367-322-10, .532)

*--The Broncos have won 8 straight games againt teams that participated in the Super Bowl the previous season.

*--The Broncos(26,109)and Steelers(24,745) are 1 and 2 in the NFL in rushing since 1995

*--The Broncos are 31-11 in November under Mike Shanahan(1995)

*--Last Regular Season Meeting -- 17-14, Oct. 12, 2003 -- WIN

Official Gameday Press Release




BRONCOS INACTIVES

RB TATUM BELL
RB KYLE JOHNSON
WR QUINCY MORGAN
DB HAMZA ABDULLAH
WR TODD DEVOE
OL CHRIS KUPER
DL KENNY PETERSON
LB NATE WEBSTER

The Broncos will be without their starting backfield, with Tatum Bell and Kyel Johnson both inactive. Mike Bell and Cecil Sapp will fill in, with Cedric Cobbs returning the the active roster for the first time since Week 2. I am really interested to see if Cobbs can take advantage of the opportunity.



FIRST QUARTER

--Steelers receive and throw the ball three straight times, the last being a sack of Big Ben. Much better start for the defense starts in a three and out. I don;t think I have ever heard Heinz Field so quiet!!!
--Now the crowd opens up a bit as the defense takes the field, and a big play as Plummer throws deep to Walker
--A big defensive penalty gives the Broncos a cheap first down inside the 20. Time to punch it in!
--What a catch by the old man!! Great throw and a tremendous catch by Smith! TOUCHDOWN BRONCOS!!
--BRONCOS 7 -- STEELERS 0
--The turnover bug bites the Steelers again, as Holmes fumbles the kick-off, Williams recovers and the Broncos have the ball inside the 10!
--Like the play call, with the fade to Walker, but great coverage, and it leads to 3rd and goal
--Back to Walker again, and this time Walker makes the catch! TOUCHDOWN BRONCOS!
--BRONCOS 14 - STEELERS 0
--Broncos showing blitz early, maybe a sign of things to come. If the Steelers think they can do what the Colts did, well, it could get ugly!
--Steelers convert and get their 1st first down
--Broncos doing a great job against the run early, and that is going to be a key all day...
--Steelers starting to get some rhythem on offense and are moving down the field
--3rd down pass is nearly intercepted, and the Broncos are bringing pressure today...Steelers going for it
--Huge play for the Steelers, until Cedirc Wilson forget to hold onto the ball! D-Will recovers his second fumble of the game, and the Broncos dodge a bullet!
--Another drive starts inside the 10, but in this case, I'll take it...
--Great scramble by Jake to get a 1st own and some room
--Great catch by Marshall, but Alexander gets nabbed for holding. Hey...What's with the glasses on Shanny?
--Nice catch gets the 10 yards back...
--Alot of movement for not alot of yards, but it give the Steelers D something to think about later...
--If you are going to let someone come free, make sure his number isn't #43. First punt of the day from Ernster is a good one. Another fumble by Holmes, but this time the Steelers recover...
--Update from San Diego. Browns 3 -- Charger 3, Browns have a 2nd and Goal when the 2nd quarter starts
--Ben doing a good job recognizing the blitz, and are getting big chunks of yards....
--Steelers continue to go 5 wide, and are having a bit of success, but trail none-the-less
--END OF FIRST QUARTER -- BRONCOS 14 - STEELERS 0

SECOND QUARTER

--Big loss for the Broncos, as Ian Gold looks to be done for the day. Louis Green will take his spot...
--Broncos show blitz, then drop out of it. Front four doesn't get pressure, and Steelers are inside the Red Zone.
--Ben does this one on his own, scrambling for a good 7 seconds, and the Steelers are back in it
--BRONCOS 14 - STEELERS 7
--Imperative that the Broncos get some of that motivation back. Defense has given up some big plays today, mostly becuase of bringing extra bodies on the rush
--Another great return this year is going to be brought back by ANOTHER penalty on the return. Great run by Clark, though
--Broncos quickly go three and out, and the Steelers will get the ball back. This game is slowly turning the other way...
--Broncos defense is getting gutted now, and are definitely on their heels...
--Another huge play, and this game is starting to look just like the AFC Champ. Game
--Champ Bailey comes up huge, and the all-out blitz causes the mistake and ends the Steeler drive..
--Another turnover, but another drive starts inside the 10. The good and the bad, I guess...
--Steelers nearly get their first turnover, as Jake throws a dangerous pass...big third down
--Another 3 and out, and the Steelers are set to get good field position
--Defense holds again, and Reed misses the field goal. Big stop, and now the offense needs to get some yards...
--TWO MINUTE WARNING -- BRONCOS 14 - STEELERS 7
--Broncos offense goes 3 and out again, and the Steelers offense is going right down the field again.
--Ben not afraid to go after Bailey again, and Bailey almost picks it again...
--Denver defense getting dominated again, but the turnovers have kept the Broncos in the lead
--Reed will try another field goal and he drills it.
--HALFTIME -- BRONCOS 14 - STEELERS 10

THIRD QUARTER

--Bell is going to need to get something done on the ground, but a 2 yard gain on 1st down isn't promising...
--WHAT AN F'N Play! Get the ball in the hands of your best player, and Walker goes the distance! TOUCHDOWN BRONCOS!
--BRONCOS 21 - STEELERS 10
--Time for the defense to make a play!
--This has been way too easy for the Steelers offense, definitely a concern...
--And finally a sack, as Lang gets to ben, and the defense will have a chance to get off the field...
--Bailey with another interception, and again the Broncos will start a drive from inside the 5 yard line
--UPDATE from San Diego -- Halftime -- Cleveland 12 - San Diego 10, Castillo and Edwards out with injuries...
--A HUGE penalty on the Steelers give the Broncos a first down and moves them out of the shadow of their end zone..
--A holding penalty moves it right back and the offense need to be careful
--Broncos unable to move down field and the Steelers will have great field position again...
--Can this really continue like this? 4 turnovers and only up 11, and the Steelers seemingly moving at will
--The game is starting to get really sloppy, with both teams hurting themselves with penalties...
--Broncos get burned by the screen again, for what seems like the 4th time. Steelers recover from the penalty and get a 1st down
--Depths of this defense getting tested as the injuries are adding up
--Another fumble, and Marvel Smith basically deflates it....
--A stupid play by Foxworth gives the Steelers a first down deep in Bronco territory
--Another huge penalty gives the Steelers a first and goal...
--Walker fights through 3 soft tackles, and teh defense yields another score.
--BRONCOS 21 - STEELERS 17
--This offense needs to figure out a way to move the ball and chew some clock...
--The return problems continue, and YET ANOTHER DRIVE will start inside from the 10 yard line...
--A first down helps, but the offense needs to string a few together, and they do it, across mid-field...
--Walker does a great job making the first guy miss and another first down for the Broncos
--And Jake makes a uge mistake, but should get the ball back upon review, no way he had control and 2 feet....We should get away with one here...
--As expected, the call on the field is overturned, and the Broncos maintain control.
--Broncos end the quarter with a run that loses a few yards...
--END OF THE THIRD QUARTER -- BRONCOS 21 - STEELERS 17

FOURTH QUARTER

--The fourth quarter starts with a huge 3rd down, and the Broncos need to come out of this with at least 3...
--It's not going to happen, as the Plummer pass falls incomplete, and Ernster will have to punt, it's downed inside the 10
--After nearly having a stroke, Phill Simms saves my life by telling me that the refs had the wrong number...Broncos need to take advantage of the great field position...
--Another Fade, and another great pass to Walker. TOUCHDOWN BRONCOS!!!
--BRONCOS 28 - STEELERS 17
--A huge missed tackle allows Hines Ward to get a huge chunk of yards and the Steelers just won't go away....
--The Broncos had better start tackling, especially Wilson
--The defense does a great job holding the Steelers to 3
--BRONCOS 28 - STEELERS 20
--Another HUGE play for Walker, and the Broncos are right back inside the Steelers' 20
--4th and inches, and I'll admit it, I'd kick the field goal, but I have a feeling Shanny is going to go for it..
--F'N George Foster, even the rookie Pears doesn't move, but Elam boots the field goal through and the Broncos are back on top by 2 scores...
--BRONCOS 31 - STEELERS 20
--Another injury to a Bronco defender as Chukwurah is down. The number of injured is really starting to add up...
--If anything the defense needs to force the Steelers to take alot of time off the clock...
--Another Bronco defender down, this time Brandon...
--Again the Steelers are moving down the field with reletive ease, already inside the 20
--Another first down, will take us to the 2 warning, and the defense needs to force the Steelers to take as many plays as possible. With all three timeouts, the offense would need at least a first down when they get the ball back...
--More injuries, and more chaos on the field, as Ward fumbles diving into the end-zone, and NO WAY THEY CAN OVERTURN THIS!!!
--What a catch by Curome Cox on the rebound...Great job by the defense again!!!
--Now the Broncos will be able to wast the Steelers timoeouts...
--The big question now -- Do the Broncos have enough defenders to put on the field??
--Best punt of the day by Ernster, and the Steelers are down to desparation time...
--Roethlisberger takes a shot, and really, the Steelers should just let this game come to an end...
--Another pick, and the one is HISTORY!!!

FINAL -- DENVER 31 - PITTSBURGH 20