@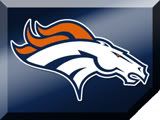 Before we get to my thoughts on Sunday Night's game, let's take a quick moment to look at the injury status of the two teams.  The Broncos are likely to be without Adam Meadows, who is Questionable with a Hamstring injury. Meadows has been unable to practice all week and that usually means a visit to the inactive squad for game day.  The only other Bronco listed as questionable is TE Chad Mustard, though Mustard practiced Thursday and Friday.
For Seattle it is a bit more serious.  They will be without their starting C Robbie Tobeck who is out with a Hip injury.  QB Matt Hasselbeck is also on the report with an injury to his non-throwing hand, presumable a broken finger suffered in the Monday Night win against Green Bay.  Seeing as Hasselbeck played better after the injury I don;t expect him to be hindered much at all.
Now to the game.  The focus this week has been the switch at quarterback for Denver, with Jay Cutler getting his first start.  Though obviously a question mark heading into the game, I am confident that Shanny has been grooming Cutler for this start and will have a game plan ready that will suit Cutler and what he does well.  That said, I truly believe it won't be Cutler that wins or loses this game for the good guys.  If the Broncos are to win, and get back on track, other guys are going to have to step up and play big.  Much bigger than they have recently.  Let's take a look at whom --
Linebackers Need To Stuff The Run -- The Broncos have been a leaky faucet as of late when it comes to run defense.  Sure, they have faced some of the best backs in the 'biz but if the Broncos are as good as they'd like to lead us to believe they cannot continue to get gashed.  The key to the defense is the play of the linebackers, who early in the season looked to be the best corp in the League.  Lately however, not so much.  Some of it has to do with nagging injuries to Ian Gold and Al Wilson, but much of it has been poor tackling and lousy gap protection.  Kinda like Luke Skywalker, whose feelings serve him well with the Force, but can also be used against him, this group of Linebackers relies on their spped to swarm to the ball.  That speed, however, has been used against them as L.T and L.J, respectively, used missed assigments to cut runs back agaisnt the grain for huge gains.  What makes this even more frustrating is that the Broncos defense sees this style of running everyday in practice and have still been caught out of position.  The defense as a whole will need to do a better job to avoid trying for the big hit, as tempting as it is, and just make the sure tackle.
Darrent Williams Needs To Step Up, NOW -- Is it me, or is D-Will starting to look like another talented, yet inconsistent defensive back?  Yeah, that's right, he is reminding me a lot of Deltha O'Neal.  O'Neal even got to a Pro Bowl with the Broncos before falling off the table.  Willimas may not have dropped that far, but his flair for the dramatic, good and bad, has got to even out sometime.  For every pick-6 he has, he gives up 5 or 6 big plays, and yes, to me a conversion of 3rd and 8 is a big play, and D-Will has gooten burned consistently in those types of situations.  Just like the tackling of the linebackers, Williams needs to try less for the big play and more for the solid one.  The Seahwawks come on sporting some of the finer receivers in the game in Darrell Jackson and Deion Branch.  Sure, Champ will take one of those guys out of the game, but the other is more than capabel of taking over the game.  If I were Shanny, I would completely remove Darrent from the punt-return team and let him focus strictly on playing defense.
Reciever Need To Do A Better Job Of Getting Open -- We all know what the quarterback's job is, to get the ball to the open man.  What many casual fans don't realize is the receiver has an obligation to get open.  Recievers HAVE to get seperation from the guys that are covering them, giving the quarterback somewhere to throw the football.  Where Jake seemed to struggle was with the decision-making part.  The snap decision on who is going to be open.  Besides Javon Walker, none of the Broncos receivers have done a good job getting open.  Rod Smith used to be one of the best at this, but age might be starting to take it's toll.  A receivier in football is like a center in basketball.  You feed the big man early to get him into the flow of the game.  The More you get him the ball, the better all-around game he plays.  Ignore him ealry and you are probaby not going to get much.  For a receiver, he needs touches.  Balls thrown his way early in order to get him into the flow of the game.  With a new quarterback it will be key for someone to step up and give Cutler somewhere to go with the ball.  There is no doubt that Jay is better than Jake at reading defenses and going through progressions.  None of that matters if the guys can't get open down field.  I look for Smith to get re-introduced into the offense, and to play a big role Sunday Night.
To Sum It Up -- The is obviously a huge game for the Broncos, with their playoff lives hanging in the balance.  They have lost 2 straight games at home, as well as 2 in a row overall and need the confidence boost heading down the stretch.  Another prime-time game doesn't help matters with Cutlaer getting his first start in front of a national TV audience.  There will no doubt be some jitters.  The defense will need to set the tone, and make it clear that Shaun Alexander isn't going to go off like he did Monday Night.  The Seahawks are among the worst in the NFL in turnover ration and the Broncos need to take advantage of that, getting some take-aways at some key moments.  Overall, I like our chances, and think tomorrow will be the dawning of a new age of Bronco football, one that will be rememebered for a long time.  
Denver 24 - Seattle 16