VS.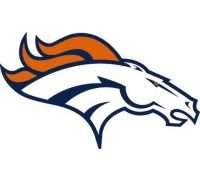 Hello Everyone!!  This is the Open Thread for tonite's Texans/Broncos game at Invesco Field @ Mile High.  I am going to give you my thoughts about the game as it is going on, and want you to be involved as well.  My AIM name is thesportsguru14  -  Feel free to ping me with what you are seeing and I'll post for everyone to see.
Here are a few things I am going to keep my eye on tonite:
 Continued Consistency From the 1st Team Offense  -  So far Jake and Co. have looked great and I am looking for the same to continue tonite.  Shanny has already stated that he is going to rest most of his starters next week so this will be the last "taste" we'll have of the starters until it all counts for real.
 Better Consistency From the 1st Team Defense  -  As good as the offense has looked, the defense has been a little shaky, especially against the run.  I am looking for Al Wilson and Champ Bailey to play big tonite after sitting out last week.
 Javon Walker to Make A Catch  -  I know he's healthy, but until he makes a catch and gets hit he won't know it.  Tonite would be a good time for Shanny to throw a quick out or WR Option, just to get the ball in his hands.
That's what I am watching for....What about you guys?
Update [2006-8-27 18:33:31 by TheSportsGuru]:
For all of you Bronco Fans that don't live in the Broncos TV Network area, the game will be on @ 8:00 PM EST, 6PM MTN, on NFL Network. The Pre-Game starts an hour prior to game time.
Update [2006-8-27 19:44:52 by TheSportsGuru]:
I could watch Shanny 'Mic'd Up' during Training Camp 24/7. I love it!!!
Update [2006-8-27 20:1:42 by TheSportsGuru]:
And the Broncos take the field!!! LET'S GET IT ON!!!
Update [2006-8-27 20:10:37 by TheSportsGuru]:
Nice challenge, Kubiak...1st Down Broncos!!
Update [2006-8-27 20:13:4 by TheSportsGuru]:
There it is...One of the things I was looking for.....Javon Walker makes the catch and take a shot...
Update [2006-8-27 20:15:22 by TheSportsGuru]:
Typical opening drive for the Broncos. Tick Tock, Tick Tock, 6, 7 mintutes..
Update [2006-8-27 20:17:1 by TheSportsGuru]:
Nice start, bad finish. Is Elam a concern for anyone out there? Now it's time for the Defense.
Update [2006-8-27 20:23:5 by TheSportsGuru]:
Good first go for the defense. Now let's get it into the endzone. I will say this, Kubiak has the Texans playing hard!
Update [2006-8-27 20:34:13 by TheSportsGuru]:
Nice to see pressure from the Front 4. No blitz needed to get a sack on Carr. Man, Ed Hercules sure does have some serious guns!!
Update [2006-8-27 21:2:18 by TheSportsGuru]:End of the 1st Quarter
, Tied 0 - 0. The Broncos have done some nice things offensively and Walker has looked great. Now we need some points!!
Update [2006-8-27 21:2:18 by TheSportsGuru]:
Gotta love the new rules! Gives the Broncos a 1st Down and the drive continues. Now quit toying with these guys and score a touchdown!!!
Update [2006-8-27 21:2:18 by TheSportsGuru]:
At LAST!! Nice spin by Tatum to get into the End Zone. It took a little longer than I would have liked, but the Good Guys are finally on the board, 7-0!
Update [2006-8-27 21:8:32 by TheSportsGuru]:
Great play by the defense! Excellent recognition by the defense on the screen and a tremendous catch by D.J. Williams. Only 22 total yards for the Texans offense tonite. SWEET!
Update [2006-8-27 21:13:50 by TheSportsGuru]:
Elam makes it 10-0. A lost opportunity for Denver after getting the pick. A poor 3rd down throw from Plummer to Walker. I'll chalk that one up to timing, though, and assume that will improve as Jake and Javon spend more time together.
Update [2006-8-27 21:35:17 by TheSportsGuru]:HALFTIME
- Broncos give up some yardage on the last Texan drive of the half and miss a golden opportunity when Lundy fumbles in the Red Zone. 10-3 Broncos at the Half. A couple of observations:
1. I like what I saw from the defense. They were flying around to the ball and playing with a sense of urgency I hadn't see the first two weeks
2. After a great week offensively last week, the offense took a step back. Struggles on third down stalled drives, and a missed field goal blew another opportunity.
3. On the bright side, Javon Walker gets his first catches of the pre-season and looked good doing so. It looks like the Broncos have that consistent 2nd option in the passing game.
Update [2006-8-27 22:2:2 by TheSportsGuru]:
After a 3 and Out from the 1st team offense to start the 2nd Half it was the 2nd team defense that greeted Carr and Texan first teamers. Eric Moulds is becoming a favorite target of Carr and has made several big catches the last two drives.
Update [2006-8-27 22:12:24 by TheSportsGuru]:
Our first peek at Jay Cutler this evening. Like the rest of the Broncos, he seems a bit sloppy, fumbling a snap and nearly throwing an interception. I did like the hard running of Cedric Cobbs. The more I see Cobbs the more I think Ron Dayne may not make this team....
Update [2006-8-27 22:38:50 by TheSportsGuru]:
Now that's more like it! Cutler leads the team on a great drive, moving in the pocket and delivering strike after strike to Nate Jackson, before Cobbs takes the draw play up the middle for the Touchdown. Much better execution for the Offense. Ya know, the more I see Cutler the more impressed I am. 2nd String or not, this is still the NFL and the throws he is making are big time. He is a star in the making. This blog is not going to become a Jake vs. Jay competition, but I will say the future is in good hands!
Update [2006-8-27 23:5:15 by TheSportsGuru]:
The defense finally gives up a TD, with Dominique Foxworth getting toasted for 6. That is a little disturbing since Foxy will be out Nickel DB and I know other OC's in the league are going to see that footage. Now the Broncos will try to hang on for the win.
Update [2006-8-27 23:16:27 by TheSportsGuru]:FINAL -- Denver 17 - Houston 14
With a kneel down by Jay Cutler the game comes to an end, a victory for the Broncos, but still much work to be done before the regualr season starts in St. Louis in 2 weeks. I will give my 5 Observations tomorrow, so check back for that. Until then, feel free to use the 'Diary' feature to give us your observations from tonite's game and Training Camp as a whole.