VS.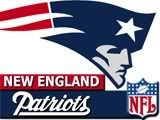 Big game, though each week in the NFL is big.  The Broncos are looking to get their offense untracked, while the Patriots are out for revenge.  My wife is from Massachusetts and according to my mother in law the Patriots have had this game circled for awhile.  It is going to be a tough game, but for some reason I have a feeling of silent confidence.  Hey, when you live with a Patriot fan it had better be silent!!


1.  Trend Setters -- Tom Brady has already had a Hall of Fame career and has done everything any quarterback could ever want to do already.  But with all the success, Brady has just a 1-4 record agains the Broncos.  He has 8 TD's and 7 INT's and who could forget the big pick he threw to Champ Bailey in the playoffs last season.  The Broncos defensive strategy in most games against Brady was to send alot of pressure, forcing Brady into making quick decisions.  That being said, the Broncos are trying to hedge away from that style of defense, favoring a 4 man rush.  The problem with that against Brady is he'll pick a defense apart if he has time to sit and be patient.  Denver is going to need to get pressure on Brady, even if they are forced to revert to their old style to do so.


2.  Mine Are Better Than Yours -- The NFL is the ultimate copy-cat league, and the Broncos and Patriots are no exception.  After the success Denver exhibited with two feaured backs last season, the Patriots are doing it this year, with Corey Dillon and rookie Laurence Maroney sharing the duties.  The Broncos have their own version of the tandem backs, with Tatum Bell and Mike Bell.  Whichever tandem can be most effective and win the battle will go a long way towards deciding the winner.  Both teams are going to look to establish the run and the team that is successful will control the tempo.


3.  Time For More Than Lip Service -- Mike Shanahon has been called an offensive mastermind.  Bill Belichick a defensive genious.  This season, however, both coaches have hasd their struggles with the supposed strengths of their teams.  The Broncos have yet to really crank it up offensively, socring only 1 TD so far.  As for the Pats, their defense has tackled poorly and given up too many big plays.  The coach that can get his side of the ball rollin the soonest will have a big edge over the other.  It is scary to me that Shanny has to scale down his playbook for a ten year vet, so to say I am slightly less than optimistic about our offense would be an understatement.


4.  Well Isn't That Special? -- The Patriots lost their security blanket this off-season when Adam Vinatieri left for Indianapolis.  The Pats have handed the place-kicking duties to a rookie, Stephen Gostkowski, and there have already been some tense moments in Bean Town.  How Gostkowski fares in a close game could ultimately decide the Pats success this season and I would be very interested to see how he handled a big kick at a big moment.  For teh Broncos, we still have our "Old Reliable" in Jason Elam, who won last week's game against the Chiefs with a 39-yard field goal.  This is one part of tonite's game that I actually feel pretty confident in and would welcome a game that came down to the kickers.


THE RESULT - So how do I see this thing shaking down?  I talked earlier about my silent confidence.  The Broncos just seem to have the Patriots number.  They have dominated them for a long time, and even in the Brady/Belichick/Super Bowl years the Broncos have enjoyed success.  The Broncos offense started to show some signs of life in the 4th quarter and OT last week and I think it continues tonite.  Jake Plummer and Javon Walker are starting to get on the same page, and the Pats DB's are not a strength of the Patriot defense.  If the Broncos can establish the run, and get the clock running, it could force the Pats to be one dimensional, and that dimension is not the strong-suit of New England, even with Brady.  The Broncos DB's match up well with the Pats' receivers, and that should allow Al Wilson, D.J. Williams and Patrick Chukwurah to really go after Brady on 3rd down.  3rd down conversions will be key, and whoever wins that battle will win the game.  Tonite, I think that will be the Broncos.


DENVER 24-18