@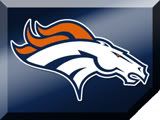 Date: Sunday, October 21, 2007

Time: 6:15 p.m. MST

Teams: Pittsburgh Steelers (4-1) at Denver Broncos (2-3)

Location: Invesco Field @ MileHigh - Denver, CO


Shanny and Cutty stepped to the mic earlier today to discuss this week's match up with the Steelers.  Here's how it all went down --
Mike Shanahan --
On the bye week --
"It was a little bit different. It's always different during the season when you have the bye week. It came at a good time, so from that standpoint it was good. You never like a bye after a loss, especially a loss like that. That's always a little bit tough, but here we are ready to go."
On working harder going into the bye after a loss than after a win --
"Yeah, I wish everything was going great, scoring a lot of points, not giving up a lot of points, play good on special teams... I'd say we spent a lot more time this week than [if we had been playing better before the bye week]."
On the Steelers' defense --
"They're pretty good. Any time you give up 9.4 points per game and 235 yards and have a point differential is tied with New England, you're pretty good, so I think they're playing extremely well."
On WR Javon Walker --
"I'll get a better feel after practice today. I can answer your question a little bit better. We just went through walk throughs, and Javon did a pretty good job on Monday. We'll see how sore he is."
On if the lack of execution is frustrating --
"That's football. You work through it. You go through the things you've done poorly and try to correct those mistakes and try to get better each and every day, and that's football in general as you well know. You need to work on the things you've done poorly and hopefully you get on a winning streak."
On OL Chris Myers moving into a starting role --
"We'll get a feel this week. We haven't practiced yet officially for Pittsburgh. Chris has been with us for a while. I think the big change will be (G) Chris Kuper and how he's going to do at the guard position. Chris [Myers] has been there and got some playing experience in the preseason and the regular season. He can play the center and guard position. So we'll get a feel for [Kuper] to see how he does and how cohesive they are, but the three practices we have had, they've done a good job but there's a growing curve there."
On scoring points --
"I think you always look at what you're doing good and what you're doing poorly. Obviously we've always kind of controlled the ball and the tempo of the football game and we haven't been able to do that over the last few weeks, so that's a little bit different for us. We have been moving the ball. You look at the rush defense and the passing offense and we have been moving the ball. We haven't gotten the ball in the end zone enough obviously but those are the things we're working on."
On Steelers QB Ben Roethlisberger playing like he did during the 2005 season --  
"You never know. He's been playing extremely well this year. You look at the stats, the win-loss record, and the defense is playing extremely well. He's got the ability to make things happen if things break down. He's strong enough to scramble and make big plays on the run. He's looked very impressive this season."

QB JAY CUTLER
--
On WR Brandon Marshall --
"He's doing a good job. Obviously you see his play on the field so far, and he is making big plays for us. We just need to find ways to get him the ball more."
On improving Denver's offense --
"We would like to. Coming off three points against San Diego, we were obviously a little disappointed in our offensive output. We think we are a lot better than that. We think we can put up some points; We've been able to put up some yards. It's a tough defense this week. This isn't a defense that gives up a lot of points or yards, so it's going to be a struggle."
On TE Tony Scheffler --
"I think he is coming along good. We kind of tried to push him out there a little too early. The San Diego game he made a few catches for us, blocked a punt, and I think the bye week helped get some confidence back in him."
On having WR Javon Walker back --
"It's always good to get a receiver like that back. I thought we filed in nicely for him with Brandon (Stokley) and Glenn (Martinez) and some other guys stepped up. To get him back in the lineup, it will take some pressure off Brandon (Marshall). Not sure where he will be out on the field yet, but he worked out for us today a little bit. Hopefully he'll be ready by game time."
On the team feeling confident --
"Yeah, there is a lot of football left."
On feeling comfortable with Chris Myers along the offensive line --
"Yes. He gradually got better and better. Today, he was clean with them, and crisp and quick. I think it will be an easy transition. He knows all the calls and feels comfortable in there. I have a lot of faith in him."
On dealing with the pressure these last few weeks --
"It's been tough. Any time you are losing, it is tough. The quarterback and the coach always take a lot of heat, and the offense is not putting up as many points as we want too. A lot of things are working against us right now, but we have stayed positive as a group and have positive attitudes. We know we are a good offensive team and we have confidence in ourselves. There is a lot of football left, so I think we understand that."
On coaches and quarterbacks feeling pressure to win --
"I know that quarterbacks and the coach are the only two people on the team that they keep win-loss records of. A lot of credit comes my way and a lot of other things come my way. I think it comes with it. I knew that coming in to it, and it's been like that since I started playing football when I was young. That's the quarterback position and the nature of it. You can't get caught up in it. Any time you win a lot of games, you can't get caught up in it, just like if you are losing a lot of games. You just have to stay focused and keep going."
On the bye week --
"I think it was good. It came at a good time for us. Coming off a tough loss like that (against San Diego) and having a tough stretch coming up here; I think we needed a break. We need to stay focused and come back with a fresh mind and go out there and try to win some ball games."
On the team staying focused despite adversity --
"We thought we were a pretty good team, and with a 41-3 loss, that gives you doubts. When you go back and watch the film, I think we did a lot of good things offensively and defensively. The break came at a good time. Now we have Pittsburgh. This team is focused and we know what this game means to us."
On if the best is yet to come for the offense --
"We have a lot of new guys out there playing and getting a feel. There are a lot of young guys playing, like myself. We are getting better and better each week. We just need to get an explosion. Go out there and put up some points and get rolling. I think we'll be good."