@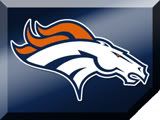 Date: Sunday, October 21, 2007

Time: 6:15 p.m. MST

Teams: Pittsburgh Steelers (4-1) at Denver Broncos (2-3)

Location: Invesco Field @ MileHigh - Denver, CO


DENVER 31, at PITTSBURGH 20 (Nov. 5, 2006) -- The Broncos' six takeaways (3 INT, 3 FUM) against the Steelers tie for the seventh-highest total by the team in the regular season since 1970... Three Broncos (CB Champ Bailey, CB Darrent Williams and S Curome Cox) each recorded two takeaways...Denver's +6 turnover ratio ties for its third highest in a regular season game since 1970... Denver WR Javon Walker's 72-yard touchdown on a reverse marks the fifth-longest touchdown run by a wide receiver since the 1970 NFL merger and ties for the fourth-longest run by a Bronco in team history... Walker finishes with three touchdowns (2 rec., 1 rush) and 134 yards on six catches, including a 61-yarder... Broncos QB Jake Plummer (123.5 rtg.) records his second consecutive game with a passer rating above 100.0, throwing for three touchdowns and 227 yards... Steelers QB Ben Roethlisberger completes the most passes (38) and totals the fourth-most passing yards (433) by a Broncos opponent in team history.
PITTSBURGH 34, at DENVER 17 (Jan. 22, 2006 - AFC Chmp.) -- Denver's loss to Pittsburgh is its first-ever at home in the AFC Championship Game (4-1)... The loss also snaps Denver's 11-game overall home winning streak... The Steelers convert eight of their first nine third-down attempts and finish 10-for-16 (62.5%) in that category... Steelers QB Ben Roethlisberger posts a 124.9 passer rating, throwing for 275 yards with two touchdowns and no interceptions... Denver trails 24-3 at the half but is able to trim the Steelers' lead to 10, 27-17, with 7:52 left in the fourth quarter...The Broncos hold the Steelers to 90 rushing yards (2.7 avg.), but Pittsburgh is able to win for just the sixth time since 2000 when failing to gain at least 100 rushing yards (6-24 / .200).
at DENVER 17, PITTSBURGH 14 (Oct. 12, 2003) -- The Broncos improve to 5-1 on the season with a 47-yard field goal by Jason Elam as time expires... With QB Jake Plummer injured, QB Steve Beuerlein fills in and completes 17-of-28 passes for 172 yards with two touchdowns... The Broncos' defense sacks Pittsburgh QB Tommy Maddox seven times, including two each by DT Mario Fatafehi and DE Trevor Pryce... Denver limits Pittsburgh to only 2.8 yards per rush and 85 total rushing yards.
DENVER 24, at PITTSBURGH 21 (Jan. 11, 1998 - AFC Chmp.) -- The Broncos advance to their fifth Super Bowl - and first since 1989 - with a win at Three Rivers Stadium in the AFC Championship Game... The Broncos become just the fifth Wild Card team to advance to the Super Bowl since the Wild Card format was established in 1970... RB Terrell Davis rushes for 139 yards to become the team's all-time leading postseason rusher...Denver intercepts Pittsburgh QB Kordell Stewart three times.
at PITTSBURGH 35, DENVER 24 (Dec. 7, 1997) -- The Broncos open with a 21-7 lead, recording touchdowns on three of their first four possessions... QB John Elway surpasses the 3,000-passing yard plateau for a record-tying 12th time on a 37-yard touchdown pass to WR Rod Smith... The team also achieves its second consecutive season of having a 3,000-yard passer (Elway), a 1,500-yard rusher (RB Terrell Davis) and a 1,000-yard receiver (Smith)... Broncos WR Rod Smith hauls in two touchdown passes and finishes with 115 receiving yards on four catches.