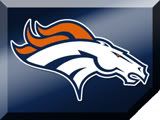 @      
Date: Sunday, December 2, 2007

Time: 2:05 p.m. MST

Teams: Denver Broncos (5-6, 2nd in AFC West) at Oakland Raiders (3-8, 4th Place in AFC West)

Location: Some Crap Hole in Oakland, CA
HEAD COACH MIKE SHANAHAN
On the death of Redskins S Sean Taylor
-- "I think you do try to communicate with people who have gone through similar situations, and you try to do the best job you can in handling a situation that is very tough. It's very tragic."
On the improvement of the offense in recent games -- "When you average what we're averaging rushing the football, and when you average what we're averaging when we pass the football, you have to eliminate the penalties. You must take advantage of the opportunities once you get into the red zone. I was hoping we could have played a little more consistently throughout the end of the season. You've got a lot of guys in new positions and sometimes you will stub your toe here and there. I think we feel a lot more comfortable with each other. Everybody makes mistakes, but we just need to make a few more big plays and feel comfortable with each other."
On the Oakland Raiders -- "You take a look at a team who is fifth in the National Football League in rushing the football, and I think they were dead last a year ago, so that is a big improvement. What has hurt them is turnover ratio. Every time you make a lot of mistakes you are going to lose the football game. They are a much improved football team and we know what we need to get done. I'm sure they are going to thrive off their last win, over Kansas City, so I'm sure they are feeling good about themselves as well."
On the offensive line taking time to recover after losing two starters -- "Everything takes time. The bottom line is we are moving the football. I have said the points would come, and they have come."
On WR Javon Walker's availability for Sunday's game -- "I really won't know until he practices. He obviously played in the game, mostly on third downs, but I'm sure he will feel a lot better this week than he did last week. We will evaluate him this week in practice, and hopefully there won't be a setback."
On WR Brandon Marshall -- "Number one he is a starter. He has the opportunity to play more. When you get those opportunities, you have to take advantage of them. He's done a great job of learning to be a pro and seems to be improving every day, not only as a receiver, but his work ethic. Trying to just be a pro football player is half the battle for some of these guys who have a lot of talent. Brandon has made some big strides over the last year."

QB JAY CUTLER --
On the loss to Chicago -- "Any time you lose like that, any time you lose in the league, it takes a toll and takes a few days. We've got a lot of character, we've got a lot of veterans in there so we're going to have to be moving on. We know we've got some games left, so we have to get ready. "
On the toughest part of his first 16 games -- "It was spaced out. That made it easy. It wasn't coming in and just going 16 straight. Obviously going five and having an entire offseason to get ready made it a lot easier. It's a long season, especially on the younger guys who haven't been through it, haven't been though a whole season, it's long, it's tough, it grueling, it takes a toll on your body and your mind. I think that's the hardest part to get used to. Right now, college football is shutting down so your body's kind of used to four or five years of going 10-11-12 games and being done, so it's a long season."
On how much the offseason helped -- "It made a huge difference. To be able to go in there for five games and get a fell for everything and go through some of the ups and downs then be able to have a whole season to talk about it and look at it on film. To go through the offseason and the training camps as the starter, as the first team guys getting all the reps, made a huge difference."
On how much more comfortable he is after his first 16 games -- "I feel a lot more... After the first five I felt a lot more comfortable. Things come to you, you're just out there reacting you're out there thinking wondering where guys are going to be. You get to play call and see the entire picture and know where everyone's going to be. You know where your hot routs are. You just get a better feel in the pocket, when to step up, when to get out. Experience makes a big difference."
On the Raiders this week compared to the Oakland squad Denver faced earlier this season -- "They're still are really good defense. They've given up a little bit on the run these past five-six games, still doing well against the pass, still doing well against third downs, forcing turnovers. They've got a fast group, good corners, strong linebacking crew and a good front four. They're still doing a lot of the same stuff, but they can play still."
On TE Tony Scheffler's growth -- "A lot. Last year me, [Brandon Marshall], and Tony were just out there, kind of just running around, trying to make plays, not really sure what was going on. It took Tony a little bit longer than me and [Marshall] because of his foot. Getting back from his broken foot in the offseason, he just gained his confidence and getting back into hitting and he's blocking well. He's come a long way since the beginning of the season. We kind of expected it. We knew it was going to take a little bit longer but it's just good to have him out there making plays for us."
On Scheffler's catch in the end zone against Chicago -- "It was something, wasn't it? He did that last year in San Diego where he just kind of tipped one up in there air and made an acrobatic catch. He has good body control, great hands, sees the ball well and he wants to make big catches for us, and I think that's the most important part. He wants the ball, has a good feel for coverages, knows when he's going to be open, knows when I'm going to be coming to him. Him, Brandon (Marshall) and [Brandon Stokley] they're playing well."
On WR Javon Walker being more of a weapon this week than last week -- "I think last week we kind of limited him a lot. Third downs and whenever [Brandon Stokley] needed a blow he'd come in. I think it was kind of more of a feeler game for him to get out there and see how it felt. I talked to him after the game, but I didn't really go at him because I wasn't sure where he was going to be, how he was going to feel. I talked to him after the game and he said everything felt great. I think he's looking forward to this week of getting in there with [Stokley] a little banged up, so I think he'll definitely more of a factor."
On the Redskins' Sean Taylor -- "It's tough. Obviously we dealt with it here, I dealt with in college. What can you say about it, it's one of those senseless acts that takes away a life. It's tough, I feel for the Redskins. Obviously the Broncos team and organization's been through it. It's not going to be going away for a while. They're still going to be thinking about it next year and they year after that. He was just a great player obviously, I didn't know him, but I heard he was a good guy, Patrick Ramsey played with him and said he was a good dude. He had some problems in the past and had to overcome them and he was getting his life together on and off the field. It's tough, our hearts and prayers go out to him."
On the Redskins having to play after the death of Taylor -- "I couldn't even imagine. Having to play this Sunday and then turning around to play Thursday, two games in 10 days, it's tough. Every time I've had to deal with it, it's been in the offseason in college and here. It makes a big difference. You don't have to go to work, you don't have to concentrate. It's going to be tough for those guys. I don't know how they're going to do it. Maybe they're rally around it and pull it together, but I couldn't even imagine going through it."
On moving the ball and putting up more points -- "We've been moving the ball and getting in the red zone all year, we just haven't been having those stupid penalties and kicking ourselves in the toe. We've had a few big plays obviously, some really big touchdowns. Guys are just doing what they're supposed to. We're getting down in the red zone and everyone is tightening it up a little bit and not having those penalties and not having those turnovers. We're taking care of the ball. We've won the turnover battle the last three games, so guys are just doing what they're supposed to."
On not letting drives stall -- "Putting up 34 points the last couple games, 27 in Kansas City, two of those games on the road. You're not going to score every time. Those guys get paid, too. They watch film, they get paid, they know what's coming and they're going to make some plays. Two of those down in the red zone were my fault. We missed some guys. It's going to happen, but I'll take 34 and however many yards we had every other game."