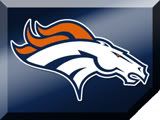 @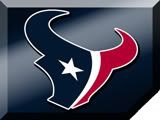 Date: Thursday, December 13, 2007

Time: 6:30 p.m. MST

Teams: Denver Broncos (6-7, 2nd in AFC West) at Denver Broncos (6-7, 4th Place in AFC South)

Location: Reliant Stadium - Houston, TX
Ok, first the playoff picture.  Clearly the playoffs are a long shot and the focus should just be on this game.  But the truth is the truth, and any playoff race (no matter how unlikely) is newsworthy.  The following is the picture for both teams from FOX Sports:
"The Broncos (6-7) are two games behind AFC West-leading San Diego with three to go. A loss this week coupled with a Chargers win over visiting Detroit would eliminate Denver from the division race.
The Texans (6-7) are out of the AFC South chase, but like the Broncos, still have a remote chance of a wild-card spot. Denver and Houston are two games behind Cleveland for the AFC's final wild-card spot, but are also a game back of Buffalo and Tennessee. The loser of this game will eliminated from the playoffs if Cleveland beats Buffalo on Sunday at home.
Thursday's winner, though, will have a slim chance of making the postseason. After this game, the Broncos visit San Diego and then wrap up the regular season against Minnesota, which currently holds the final wild-card spot in the NFC. The Texans, meanwhile, visit Indianapolis, which has the second-best record in the AFC, and concludes the regular season against Jacksonville, which currently has the AFC's first wild-card spot."
So let's compare the teams and see how they match up Thursday night on the network that only a third of the country has access to.
HOU rush OFF vs DEN rush DEF
The simple story is this.  DEN has had a bad rush defense this year, but HOU is banged up at RB.  Neither team is proud of this match-up.
But this column is always supposed to be about the Xs and Os, so here is the meat of the match-up.  Houston runs the same zone-block/one cut run system that Denver does.  Does it work as well?  Not really.  HOU was an expansion team this decade, and has never really gotten the pieces in place to take off.  They are also in a division that features a legendary Colts team, a powerhouse JAX defense most years, and an inconsistent but solid TENN team most years.  Add in injuries to RB and HOU is in bad shape.
On the other hand Denver has been atrocious at stopping the run.  The Bates run-contain scheme has been dropped because the offseason FAs brought in to fit the system were failures, and the remaining personel are better suited for a temporary defensive system.  The system being used is a simple base/man-out.  It plays to the skills of the individual players without advanced scheming for team work.  It is very flexible, but lacks a determined focus to take away any element of the opposition.
Here is what might happen against the rush.  As Denver fans we are familiar with how the blocking on the line will work.  But I expect HOU to tailor the run game for this match-up.  I expect a lot of rushes up the middle for several reasons.
Because Denver practices against the zone block they are better prepared for run schemes that take a second or two to develop.  It will be harder for Denver's d-line to adjust to the instantaneous power run up the middle.
Playing what will probably be the third string RB or a still injured Dayne, HOU doesn't want to get too cute.
Given DEN's poor run defense to date, HOU would be wise to attack the weakness straight ahead.
How does DEN counter?  The DEs should be immune to zone block.  Even without the run-contain in place, Bates is keeping his DEs wider than normal and hitting pass rush every down.  Any runs to the edge should face a blitzing DE and an OLB aligned far enough away from an immediate block by a lineman.
As I wrote earlier, HOU should hit the middle hard and often to take advantage of the zone block and questionable DTs.  DEN's counter will be a SAF in the box with the MLB, and wide OLBs coming in from the edges.  With wide aligned OLBs moving to the center this may cause difficulties in zone assignment for the o-line.  OLBs will enter an assigned zone instead of already being there, and the anticipation by the o-lineman gives the committed OLB the initiative.
The DTs won't give the MLB and the SAF much protection without the DEs present (you can't have it all), so Denver will have to be at the top of its game.  The deep SAF (as has been the case in several DEN games) may end up being near the top of DEN's leading tacklers.
From a scheme standpoint HOU has the advantage.  If DEN had a well established run-contain in place HOU would have a very minimal advantage (up the middle, but not to the edge).  
Injuries to HOU should negate the advantage, and I would call this aspect of the game a draw.  Not only is HOU missing their RBs, but both guards will be plaing injured in the center of the line.  The key to this match-up may be as simple as which team fears elimination more.
HOU pass OFF vs DEN pass DEF
I expect HOU to surprise most pundits and come out throwing.  Their back-up QB has been doing ok, and their RBs are hurting.  Throw in a star WR like Johnson and, well...
Denver is sporting three top notch CBs and a solid SAF for pass defense.  Bailey will undoubtably be on Johnson.  But with only one SAF in deep zone Bailey can't do it all.  Bly and Paymah should do just fine.
Short passes will be made difficult if HOU can't establish a run game.  They've averaged less than 100 yards per game this season, and now find themselves behind injuries.  Without the running game, DENs LBs will be more alert for the pass zones.
DEN also features a great pass rush from the edges.  Expect the focus of the HOU pass game to be protection of the QB, keeping the TE to block on almost every down and using their RB to block.
DEN may blitz more than often, as they can hammer a 2nd string QB and perhaps end up with a major drop in quality if HOU has to bring in a 3rd string.
I expect DEN to give up a lot of yards, even with the favorable match-ups.  Denver's CBs will have to play it careful with only one SAF back, and won't be able to play the agressive style they want.  This means a lot of short and medium completions, and we can expect at least one or two big give ups on a blown coverage.
The key to this match-up will not be the vaunted Bailey versus Johnson pair up, but will be the effectiveness of the pass rush.  If DEN can hurry up the passes a key INT may be the difference in this game.
DEN rush OFF vs HOU rush DEF
HOU has a very good d-line, but their best pass rushing DE (Williams) isn't so hot against the run, and HOU is going to miss MLB Ryans to injury.
On the other side of the ball DEN features great depth at RB, and the blocking of the o-line and TE Graham hasn't skipped a beat even with two IRs.
To put this in clearer terms, DEN is sixth in rushing, while HOU is 23rd in stopping the rush (and that's WITH their starting MLB).
As in the KC game, I believe DEN should run weakside.  This not only sets up the boot to the right (away from Williams), and not only allows the line to get hits on Williams, but the RB cut back to the inside will match against a back-up MLB nicely.
The key to this match-up will be the play of the HOU OLBs and their ability to avoid overpursuit.  They practice against the zoneblock all of the time like DEN does, but the injuries may be too much to bear.
DEN pass OFF vs HOU pass DEF
HOU wishes it had star CB Dunta Robinson for this game.  (I may be wrong, but I think HOU leads the league in IRs).  HOU's best hope lies with a good pass rush from the front four and the hope that DEN's WR corps is too banged up.
Walker demanded double teams early this year, but now that he's recovering from surgery he is far from ready to play at 100%.  I would rather he heal for next year.  Even so, Denver has done great even without their star #1 WR.  Stokely (a great slot receiver) has filled in and played like a #1 for DEN.  However, he is now hobbled with an injury and his status is uncertain.  The bright spot is young Brandon Marshall who plays at #2.  He has a rare blend of power, hands, and moves to terrify any secondary.  Add on top of this the receiving skills of Scheff and Graham and Denver has the tools to cover for injured WRs.
How does Denver disguise the injuries?  Show heavy run formations and use the star RBs to establish the run, and come out passing to the TEs.  Marshall will get coverage, and HOU will either have to put a CB on a TE (freeing Martinez if he has to start), or put a OLB on the TE (preventing that OLB from participating in the run or from blitzing).  Here is where having two solid TEs comes in very handy.
The key battle here is Williams (a star pass rusher DE for HOU) and DEN tackle Lepsis (who shut down KC DE Allen from getting any sacks).  Here again, a second TE would be a nice added protection for Cutler.  If this happens, expect Graham weakside and Scheff to the right.
Special Teams
I don't have much to say here.  HOU has an injured kicker, but they also lead DEN in just about every ST stat.
Conclusion
Houston is a team suffering from mass injuries.  Still, they have fought hard enough to be in position to have a shot at the playoffs in a very rough division.  That tells me they have character.  They are also playing at home after a VERY short weak (3 days off) while Denver has to travel.
DEN teases its fans by showing up some weeks and not showing up others.  Who will show up this week?
I think the focused team will win (well, duh).  By that, I mean the team that gets to the ball that gets fumbled, the team that makes that pick, and the team that watches the penalties.  In other words, I think this game will come down to key penalties and or turnovers at crucial moments of the game.
DEN has the talent, and HOU has the effort this year.  "Hard work beats talent when talent doesn't work hard".  By that standard, HOU has an excellent chance to beat DEN.
The team most concerned with not being eliminated will focus harder and will win this game.  If both teams play at their best Denver should win.
Tough call.