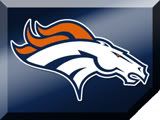 @      
Date: Sunday, December 2, 2007

Time: 2:05 p.m. MST

Teams: Denver Broncos (5-6, 2nd in AFC West) at Oakland Raiders (3-8, 4th Place in AFC West)

Location: Some Crap Hole in Oakland, CA
The Broncos are 5-6, only a game back of the division lead.  While none of know how 2007 is going to shake out one thing is a certain -- All is well when you beat the Raiders twice.  The Broncos have made a habit of beating the Raiders under Mike Shanahan, whose 20 wins in 25 tries puts him with only Joe Gibbs as active coaches with at least 20 wins over one opponent.  There is no doubt Shanny puts a little more into this game, and there is absolutely no doubt that I love nothing more than going into the "Black-Crap Hole" and shutting those embarrassing, bad-excuse-for-fans up!  Overall the Broncos have won 5 straight in the series, last losing to the Raiders in 2004, the infamous "snow game" in Denver.  The Broncos haven't lost in Oakland since 2002.
The Previous Five Meetings --
at DENVER 23, OAKLAND 20 OT (Sept. 16, 2007) -- For the second consecutive week, Broncos K Jason Elam kicks a game-winning field goal with his 23-yarder in overtime giving Denver the victory... Elam finishes the game with three field goals, including a 20-yarder with 2:18 left in the game to tie the score at 20... Denver has an individual 100-yard rusher (Travis Henry, 128) and 100-yard receiver (Javon Walker, 101) for the second game in a row... The Broncos outgain the Raiders 441 to 253 yards, including a 260 to 53 passing yard advantage.. The 53 passing yards allowed by the Broncos marked the second-lowest total allowed by Denver in the Mike Shanahan era (1995-Pres.)... Shanahan passes Pro Football Hall of Fame coach Hank Stram to move into sole possession of 10th place in National Football League history in career wins with one team (125).
DENVER 17, at OAKLAND 13 (Nov. 12, 2006) -- Denver posts its fourth consecutive road win with its victory in Oakland, marking the club's longest such streak since it won six away games in a row in 1998... Broncos QB Plummer authors his 31st career game-winning or game-tying drive in the fourth quarter and 23rd "pure" comeback against the Raiders (Denver trailed 13-7 in the fourth quarter)... Broncos FB Kyle Johnson's 1-yard touchdown grab early in the fourth quarter proves to be the game-winning score... TE Stephen Alexander totals the most catches (6) by a Denver tight end in a game since the 2005 season opener (Jeb Putzier, 7 rec.)... Denver limits the Raiders to a 1.8-yard rushing average (26 att. for 46 yds.).
at DENVER 13, OAKLAND 3 (Oct. 15, 2006) -- The Broncos extend their regular-season home winning streak to 13 games with their win against Oakland... Broncos K Jason Elam moves into 10th all-time in NFL history in career points scored (1,589) with seven (2 FG, 1 PAT) against the Raiders, passing Al Del Greco... Denver limits the Raiders to 20 plays in plus territory (past 50-yard line) for a net gain of 31 yards... Denver allows only one third-down conversion in the second half for the fifth consecutive game... Broncos DE Elvis Dumervil (2 sacks) posts the first multiple-sack game by a Broncos rookie since Monsanto Pope had two against the Raiders on Dec. 22, 2002.
at DENVER 22, OAKLAND 3 (Dec. 24, 2005) -- The Broncos clinch their 10th AFC West title and first since 1998 with a victory against the Raiders on Christmas Eve... Denver also clinches the No. 2 seed in the AFC playoffs and a perfect home record for the fifth time with its win over Oakland... Denver RB Mike Anderson (46 yds., 1 TD) eclipses the 1,000-yard rushing mark for the second time in his career... Denver converts 50 percent or better of its third-down attempts for the second consecutive game (8-for-15 / 53%)... The Broncos outgain the Raiders 414 to 248 and hold the ball for 38:32... Oakland scores its only points on a field goal early in the fourth quarter.
DENVER 31, at OAKLAND 17 (Nov. 13, 2005) -- The Broncos improve to 13-4 (.765) all-time after the bye week with a win at Oakland, tying for the best such record in the NFL...Denver takes a 23-0 lead into the fourth quarter... WR Rod Smith becomes Denver's all-time leader in career touchdowns with his 66th career score coming on a 27-yard touchdown catch in the second quarter... Broncos K Jason Elam reaches 1,500 career points faster than any player in NFL history, doing so in his 197th career game... CB Darrent Williams records the longest interception return by a rookie in Broncos history with a 80-yard return in the fourth quarter off an errant Kerry Collins pass.