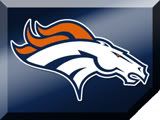 @      
Date: Sunday, December 2, 2007

Time: 2:05 p.m. MST

Teams: Denver Broncos (5-6, 2nd in AFC West) at Oakland Raiders (3-8, 4th Place in AFC West)

Location: Some Crap Hole in Oakland, CA
Broncos Inactives --
WR Glenn Martinez
RB Andre Hall
FB Mike Bell
CB Jeff Shoate
OL Isaac Snell
DE Larry Birdine
DE Paul Carrington
QB Darrell Hackney - In uniform as the #3 QB
Notes -- When is the last time the Broncos had Javon Walker and Travis Henry??  They will today.  It could be the last time for awhile as well....
Raiders Inactives --
QB Daunte Culpepper
RB Dominic Rhodes
CB John Bowie
SS Jarrod Cooper
C Jake Grove
T Seth Wand
DT Josh Shaw
QB Andrew Walter (3rd QB)
Notes -- With Culpepper officially ruled out, could today be the day JaMarcus Russell makes his debut?  I wouldn't be surprised...
FIRST QUARTER --

Raiders First Drive -

--The Broncos have dropped to this. Not even an HD game on Sunday Ticket. That's a sad state of affairs...
--The Broncos continue to be undisciplined, giving the Raiders a free first down. This is really, really getting old...
--The Raiders are a team that are looking for any reason to fold....Give them some confidence, however, and watch out...
--Another first down, and the Raiders are doing well what the Broncos cannot stop - run the ball...
--Fargas is picking up huge chunks of yards now, and that doesn't bode well...
--Run, Run, first down, repeat...
--The Broncos would do well just to hold the Raiders to 3 now...
--Cecil Sapp's mental miscue leads to a TD for the Raiders and just like that the Broncos are behind. RAIDERS 7 - Broncos 0

Broncos First drive --

--I might not be the only one that had the wind taken out of me last Sunday. The Broncos look flat and disinterested early...
--A three and out is the last thing we need. If we can't convert a 3rd and 8 here we'll be in that situation..
--Brandon Marshall is simply a beast. There is no question I am getting a #15 jersey...
--Two plays to Sapp are about 2 too many...
--Selvin Young shows he's healthy, a nice run brings up a third and short...
--About a 1/2 yard, and now the Raiders best DB's Asomugha, leaves the field. Broncos need to take a shot deep..
--The ole'e option pitch to Young gets another first down and the Broncos have answered the Raider TD nicely...
--Henry's first carry nets another first down and has the Broncos inside the 20
--Henry again, and the guys calling the game for CBS, two guys I have never heard before, state that Henry is expected to go 10-15 plays today...
--Rare drop by Marshall will force the Broncos into another 3rd and 8
--Great pass by Cutler to Selvin Young for the First down....
--Young took a hard shot on the tackle and remains on the ground....
--Henry returns with the Broncos at the 7, first and goal...
--FIRST AND GOAL - Henry runs it up the middle for 3 yards
--SECOND AND GOAL - Henry up the middle, TOUCHDOWN BRONCOS!!!
--Solid job by the Broncos offense to answer the Raiders early score....BRONCOS 7 - Raiders 7

Raiders Second Drive --

--Can we stop a running back from getting 3 or 4 yards after first contact. Some fundamental tackling would be nice to see...
--That's better....

END OF FIRST QUARTER -- BRONCOS 7 - Raiders 7