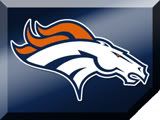 @      
Date: Sunday, December 2, 2007

Time: 2:05 p.m. MST

Teams: Denver Broncos (5-6, 2nd in AFC West) at Oakland Raiders (3-8, 4th Place in AFC West)

Location: Some Crap Hole in Oakland, CA
Broncos Tenth Drive cont....

--Travis Henry has the Broncos close to a first down...
--And Cutler has the first down...
--They are calling that a reception?????
--No, it is incomplete, and the Broncos face another 3rd down...Where is Brandon Marshall???
--Great pass to Stokely and the Broncos are inside the Red Zone again, with a first down...
--The Raiders came in as the worst rush defense in football...Not today..
--A flag, which should go against the Raiders, but Marshall makes the catch close to another first down...
--Measurement upcoming, and it will be first and goal for the Broncos...
--First and Goal -- Henry up the middle for his second TD of the game..TOUCHDOWN BRONCOS
--Raiders 24 - BRONCOS 20

Raiders Tenth Drive --

--Similar to the first meeting between these two, a double-digit lead has been reduced to 4 with a long, long way to go...
--Over in Arizona, Romeo Crennel went for and converted a two-point try to get his team within 3 at 21-18. Shanny, in the same situation with about the same amount of time remaining, decides against it...
--Time for another turnover..
--Nate Webster beat in coverage by a TE, just like last week against the Bears...Broncos simply cannot come up with a big play WHEN THEY NEED IT!
--Miller again, and Tight Ends continue to kill the Broncos...
--Give credit to lane Kiffin, going for the dagger right now, attacking the Broncos..
--Defense does make a stand, just in time for the Raiders to try another field goal...
--He just makes it, and I mean juuuuusssst...Raiders 27 - Broncos 20

Broncos Eleventh Drive --

--The Broncos, needing a touchdown, start from the 20. Still plenty of time...
--Well, so much for the comeback...Another pick by Cutler....
--Shanny will review it, but it was a good catch...
--It is an INT, Cutler's second of the day, and the Broncos are in deep, deep trouble now...

Raiders Eleventh Drive --

--Raiders are going to try and run now....
--Still plenty of time, IF the Broncos can force a punt right here...
--Incredible...This team cannot get out of its own way...Ever...
--Raiders throwing the ball....A bit of a surprise and it nearly cost the Raiders...
--Then the Broncos give up 9 on second and 10....Sickening..
--First down Raiders....but a holding penalty will bring it back...
--Was I the only one that knew a screen was coming?? Horrible tackling by the Broncos and that should just about do it...
--The Broncos are completely fooled by the bootleg, something they see in practice every day....
--A Justin Fargas TD, and like it or not Broncos fans, the Raiders will beat Denver today, and simply looked like a better team doing it...From the head coach all the way down...


I gotta run...More about this later, from me and the rest of you I am sure...