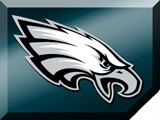 With the 26th pick in the 2007 SBNation Mock NFL Draft, the Philadelphia Eagles select....

Chris Houston, CB -- Arkansas
One of the fastest players in the draft at DB or any other position, Houston solidifes the Eagles defensive backfield and provides a boost to the return game immediately, should Philly choose to use him that way.  Houston has solid cover skills, but tends to rely a bit too much on his speed, allowing him to get fooled and be a bit too aggressive(see the pic above).  he struggled a bit against top-notch competition in college, though there is tremendous upside.  He is a bit small at 5-9, 185, so durability will be a concern.  There is always the "bust factor" drafting late int he first round, but Houston's speed makes the risk well worth it.
New Orleans is now on the clock.