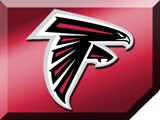 With the eight pick of the 2007 SBNation Mock NFL Draft, the Atlanta Falcons select....

Laron Landry, S -- LSU
In what was probably the anti-surprise of the draft so far, Atlanta went after the guy most people think the Falcs will go after in reality.  Landry fills a big need for the Falcons, a team that has been considered finesse, or in other words, SOFT.  Landry is anything but soft, a hard hitting safety that will make receivers think twice about going accross the middle.  At 6-0, 215, Landry also runs in the 4.35 range, exceptionally fast for a safety, and it allows him to cheat at times, which can get him into trouble.  In the end, this is a nice pick for a team with a new coach, trying to create a new identity for his football team.


The Miami Dolphins are now on the clock...