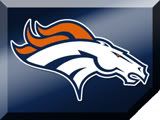 With the 12th pick in the 2007 SBNation Mock NFL Draft, the Denver Broncos select....

Alan Branch, DT - Michigan
Alot went into this pick, and I hope to explain myself.  Our goal with this Mock Draft is to try to make this as realistic as possible, and moving up from #21 to #12 to get a premier player is something Mike Shanahan would definitely do.  There is obviously some debate as to whether or not Branch is an elite player, and many of you spoke highly of the Amobi Okoye from Louisville.  While Okoye has tremendous potential, I am tasked with picking for a team that does not deal with potential.  The Denver Broncos try and win the Super Bowl every year.  We are little concerned with what a player might become.  We avoid the "P" word.  
Branch played big time football at a big time University.  Michigan plays in the Big-10, and their defense was one of the best in the nation.  Okoye played at Louisville, and while they had an impressive season it doesn't leave the same impression on me.   I went for size(6-6, 325 vs. 6-2, 302) and experience, as opposed to youth and speed.  
I also looked at our system and personnel.  We already have an undersized DE in Elvis Dumervil, and all off-season we have heard the Broncos talk of beefing up the offensive and defensive line.  Branch gives the Broncos two enormous bodies inside to deal with AFC West foes who rely on the run game.  San Diego, Kansas City, and even Oakland pushed the Broncos around last year at the point of attack and it is time for that to change.  Branch and Warren would be the type of big-assed bodies to keep lineman off our linebackers, which would vastly improve their endurance and overall gameplay.
Yes, there are questions about Branch's work ethic, but I try and focus on what I see on game day, not what I see from a guy in shells.  If the Broncos were willing to take a chance on a 34-year old Dan Wilkinson that most know doesn't want to play football again, they'll take a chance on Branch who will come into the league with a chip on his shoulder.
No one knows if Branch will actually fall this low, but if he does, I think the Broncos would make a play for him, and if they could get him around this point in the draft it would be a steal.  Okoye might be a better player down the road, but for the Broncos, who are trying to win right now, Branch is the solid choice.