With the 14 pick of the 2007 SBNation Mock NFL Draft, the Carolina Panthers select....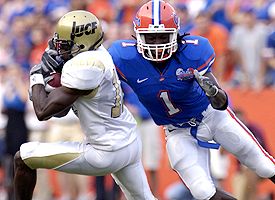 Reggie Nelson, S -- Florida
The Panthers have several needs, and the window is closing on a team that was one of the biggest disappointments in the entire league last season.  SBNation's soon to be Panther's blogger talks about this in describing his pick....
I know a lot of mock drafts have the Panthers taking a TE or WR but I think Nelson is too good to pass up at position the Panthers have a big need. In 2006/2007 the Panthers struggled at the FS position and eventually moved Minter from SS to FS. This pick will allow Mike Minter to move back to SS (or even move him to the bench). Nate Salley, last years 3rd rounder will continue to back-up the position. This gives the Panthers more flexibility in dealing with Shaun Williams, who just may be released.
As a junior this year, Nelson became one of the biggest playmakers in the country. He had 50 tackles, two for loss, and six interceptions on the year. Reggie Nelson is an attacking safety with big time playmaking ability. He flies around the football field and is aggressive in every facet of the game. Nelson is tough and plays bigger than his wiry frame indicates. He delivers big hits and isn't afraid to lend help in support. Nelson's biggest impact comes with his ability to make plays on the football. He has a nose for the ball, and really goes after the ball when it is in the air. He is a great athlete and shows the speed to run plays down and keep up down the field in coverage.
Nelson is an excellent safety prospect, and does not have too many flaws in his game. He is on the thin side for a safety, and will have to bulk up at the next level. His lack of strength and bulk will hurt him in the running game, and will cause problems as he matches up with bigger receivers in the league. He is a hard hitter who covers well and could even fill in at CB if needed. Coming off a National Championship at Florida as well, Nelson is a proven winner who will also provide locker room leadership in time.
I'll be honest.  I was seriously considering going with Nelson with the #12 pick, and I think safety is a position of greater concern for the Broncos than many are admitting.  Nelson will fit in well on the Panther defense.
Let's move on to the Pittsburgh Steelers, now on the clock.