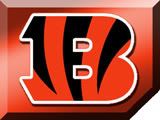 With the 18th pick in the 2007 SBNation Mock NFL Draft, the Cincinnati Bengals select....

Darrelle Revis, CB - Pittsburgh
The Bengals wasted no time filleing a huge need on their roster, getting Revis, who most think is just behind Hall in terms of skill and potential.  The Bengals secondary was awful last season, and it is clear the Bengals need to improve in back if they are going to take the next step and get back into the playoffs.  Revis also is a dynamic return man, and may have provided the play of the year in college football with his punt return TD againt West Virginia.  Solid pick for Cincy, and one that will hopefully stay out of prison.
The Tennessee Titans are on the clock....