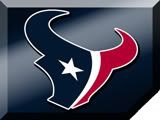 With the 21st pick of the 2007 SBNation Mock NFL Draft, the Houston Texans select....

Joe Staley, OT - Central Michigan
The Texans twice traded down during the first round to acquire extra picks, and for a team with so many needs that is probably a good stategy.  Picking Staley, however, all the way at #21 on the otherhand, not so much.  Now, before everyone kills me for that, I just think the Texans could have possibily traded down again, and still gotten Staley.  If there was no partner, then to reach for the guy you want is the good play and that's what the Texans appear to have done.
Staley is freakish athlete, still new to the offensive line, and comes with plenty of upside.  He is still a bit of a project player, and it will be interesting to see how much patience the Texans and their fans have with him.  Check out what the Texans Fans have to say.
Up next, the Dallas Cowboys are on the clock....