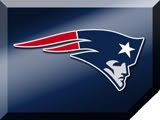 With the 24th pick in the 2007 SBNation Mock NFL Draft, the New England Patriots select....

Eric Weddle, S -- Utah
At first I was shocked by this pick.  I know the resident draft guru's probably will be as well.  While this is probably a shock to most, the Patriots do not have a 2nd round pick, and after addressing several needs in free agency the Patriots have the luxury to get the guy they want, and if they want a guy like Weddle and they think he won't be there in round three, then they have to make the move and get him.
To that end, here is what Tommasse at Patspulpit.com had to say about the pick....
The reason most people have such a hard time predicting and, later, understanding New England's draft picks is that most people don't think like the Patriots player personnel personnel. Getting inside the minds of Scott Pioli, Bill Belichick and their minions can be a scary proposition.
Last year, I predicted they'd take a running back (I said LenDale White) with their first pick. Everyone else was screaming for defense, especially a linebacker. They took running back Laurence Maroney.
After the AFC Championship loss, bets were on wide receiver, linebacker and defensive back. But the Patriots made a surprisingly aggressive foray in free agency with the acquisition of former Ravens linebacker Adalius Thomas, followed by ex-Jets tight end Kyle Brady, running back Sammy Morris of the Dolphins, and wide receivers Donte Stallworth from the Eagles/Saints, Cincinnati's Kelley Washington and Wes Welker (trade from Miami).
That pretty much took care of the wide receiving needs, and Brady is like an extra offensive lineman. The big early round needs are still defensive back, particularly safety, and inside linebacker, with running back still a little questionable in my mind. That, of course, assumes New England eventually signs cornerback Asante Samuel to a long-term deal.
Having two picks in the first round (thanks, Seattle) seems like an enviable position, but they're both late in the round, New England traded its second-rounder, and a lot of the players high on the Patriots' board have been taken in this draft.
That said, a lot of people would probably expect us to take safety Brandon Meriweather of Miami with the "Deion Branch pick." But Meriweather was prominently featured in The U's sickening brawl with Florida International University, and the Patriots generally (call the Richard Seymour incident an "anomaly") steer clear of "character cases." Meriweather is a good and more talented football player than other safeties, but he's "not a Bill Belichick guy."
And so Pats Pulpit selects safety Eric Weddle of the University of Utah.
Weddle is a Belichick type of player. At , 5-11 (some sources say 6-0), 203 pounds, he's versatile (he has played every position in the defensive backfield, as well as wide receiver and special teams), he smart (while he doesn't have great speed, he makes good decisions and puts himself in good positions), and he has a team-first mentality. He's a John Lynch/Troy Brown type of player, and he should be able to contribute immediately in several capacities. Weddle, also gets credit for textbook tackling, an area in which New England lagged last season. Weddle might not have the greatest physical gifts and athletic assets, but he has the right attitude and does his job.
Weddle had been a guy I was looking at trading back into the late second round to get, or at the very least in the early third round.  What do you guys and gals think???
On the clock, the New York Jets.....