@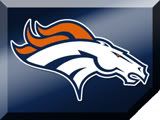 Thank God....Thank Allah....Thank Joboo....Whatever higher power you believe in, thanks to them for the end of the pre-season.  The Broncos and Cardinals square off in a game that means little for most of us, though alot of questions about the Broncos roster should be answered tonight --  
Who will the Broncos 3rd running back be -- Andre Hall, Selvin Young or Cecil Sapp??
Who will be our primary kick returner -- Domenik Hixon, Quincey Morgan or Brian Clark??
Will the defense play at a high level for 60 minutes?
Just a few of the things we should be watching for tonight.  One thing you need not waste your time watching for is any of the starter or their backups.  Andrew Mason explains in his Pre-Game Notes --
As the Broncos' units go through their pre-game paces, many starters already are sans pads. Position-by-position, they include:
QUARTERBACKS: Jay Cutler, Patrick Ramsey
RUNNING BACK: Travis Henry
FULLBACK: Kyle Johnson
WIDE RECEIVERS: Brandon Marshall, Brandon Stokley, Javon Walker
OFFENSIVE LINEMEN: Ben Hamilton (who was not in uniform at practice this week), Montrae Holland, Matt Lepsis, Tom Nalen, Erik Pears
DEFENSIVE LINEMEN: Sam Adams, Elvis Dumervil, John Engelberger, Amon Gordon
LINEBACKERS: Ian Gold, Nate Webster, D.J. Williams
CORNERBACKS: Champ Bailey, Dre' Bly, Domonique Foxworth
SAFETIES: Nick Ferguson, John Lynch
Counting Harris and Meadows, that's 26 players who will sit out tonight.
I guess that means Darrell Hackney and Preston Parsons will get the full 60 minutes at quarterback, which, if nothing else, should prove interesting and entertaining.  Being in the Boston area I will not be able to watch the game, but I will be there in spirit and welcome you to make your comments here.
Go Broncos and STAY HEALTHY.  Opening day is only 10 days away!!!