@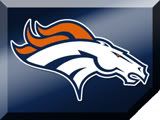 I wasn't able to watch the game, being forced to isntead watch an entertaining match-up between the New England Patriots and New York Giants.  By keeping track of the GameCast, as well as Andrew Mason's blog it seems as the the Broncos had a solid overall game, with many of the bubble players having solid nights.
Specifically, it wass the secondary that shined, delivering hit after bone-crunching hit and solidifying their claim as the team's deepest area.  Of Course my man Selvin Young did his best to lay claim to a spot on the 53-man roster.  I think he did enough, but only time will tell.  Teams have to be down to 53 on Saturday and can also sign players to the practice squad.
Here are the final numbers from last night's win --

One number that really jumped out at me was the Broncos ability to get the Cardinals off the field on 3rd down.  3/13 is definitely acceptable, and makes the overall pre-season number a bit better.  Teams were converting at a 50% clip coming in(23/46), a number that dropped to 44%(26/59).  I would prefer the number sit around 40%, which, in my opinion, would get the Broncos into the playoffs.
Now, some quotes, many of whoch come from guys who will have a hard time sleeping tonight!!
Mike Shanahan --
General --
"I thought we had some good efforts today.  I thought we had a chance to evaluate a lot of young players, and as you can see a lot of those young players stepped up and helped and gave themselves opportunities to make this football team.  It's a good evaluation process to see some guys play against the first teamers and second teamers.  I thought we had some great effort even though it wasn't perfect, and I think everyone's looking forward to the regular season."
"With injuries, TE Stephen Alexander got kicked in the back of the calf and is quite sore right now.  We don't think it's anything very serious.  The X-rays were negative."
On CB Karl Paymah --
"Karl Paymah is still in the hospital right now.  Right now he is feeling very good, which is a good sign.  The X-rays were negative, and the CAT Scan was negative.  He's doing an MRI right now; we haven't had those results, but they feel really good about where he's at.  He's going to stay overnight tonight for preventative purposes, and hopefully there's no setback and he's ready to go."
"It was scary for a second.  He was out cold.  He went to the hospital and he's normal.  They've done all the tests, except for the MRI, and as I mentioned they are going to keep him overnight, just in case.  But he's doing pretty good right now, so hopefully he continues to feel that way."
On the Younger Players' Performance --
"Obviously, [RB] Selvin Young.  We had some guys help themselves on special teams.  There are a couple other guys that I could mention but I'm not going to, because we're not sure if we're going to get those guys to the practice squad, and I don't want to announce it to everybody in the country."
On [RB's] Mike Bell and Cecil Sapp --
"It's just like we move people around on the offensive line.  Guards play tackle positions.  Tackles will play guards' positions. It's the same thing during the season.  You get people to go down, you get the halfback at the fullback position.  That happened here with a number of players.  [RB] Rueben Droughns and Mike Anderson both played at fullback, and this is a game where you experiment and see if guys can step up and play."
On [RB] Andre Hall --
"I think he played well for not practicing for a few weeks.  He is hampered by a hamstring, but I thought he did a pretty good job for not playing for a couple weeks."
On S Hamza Abudullah --
"Ham's got a lot of ability.  He's played well when he's had his opportunity on defense; he's played well on special teams.  We looked at him a couple years ago and he was just a great hitter.  He seems to adjust year by year, and he gets better and better.  He seems to be more comfortable with the system and more comfortable with defenses in general.  He's been a pretty consistent player for us."
On Improving throughout the Preseason --
"It's hard to tell.  We've juggled the offensive line a little bit with [G/C] Ben Hamilton being gone.  We had [G Chris] Kuper play the guard/tackle position with [T] Adam Meadows being out and [T] Ryan Harris being out.  So I thought we helped ourselves a little bit because we had to experiment with a couple different people.  Our tight end has been fairly consistent with [TE] Daniel Graham, and obviously the supporting cast.  Wide receivers - we had a chance to take a good look today with numbers 4, 5, 6, and 7.  We had all those guys compete very well today.  In the secondary, the eight guys [starters] are pretty obvious, and I thought some of the young guys stepped up."
TE Nate Jackson --
"I feel pretty good about what I've done personally, but there are always things to improve on. We watched a lot of film, and there are always things you do wrong, but I feel good about my progression as a tight end for sure."
On the prospect of being cut --
"It's not guaranteed at all, you still have that phone next to you, and when it rings your heart skips a beat. I want to be around; everyone here wants to be around.  You put your heart and soul into it."
On his cell phone --
"I should actually turn it off. I should actually just throw it away. If they can't get in contact with me, they can't cut me! I think that's a good idea."
On how he feels about his performance in this game --
"Who knows? I made a couple catches but, it's hard to tell. I have to watch the film, but I'm not going to get to watch the film, so I'm going to be a little bit nervous about it like everyone is here."
On waiting to see if he makes the team on Saturday --
"My phone will be on me and if it rings my heart will probably skip a beat. It's a little nerve wracking. I feel good about what I've done so far this year. I feel like I've improved day to day and that's all you can ask for as a player."
RB ANDRE HALL
--
"That's the most frustrating thing right now. I wasn't able to play the first three games because of my hamstring. That's my only time really to show what I can do under the lights. It's depressing right now, because Saturday is going to be an extremely long day. I just hope I can make the team."
On RB Selvin Young --
"[RB] Selvin [Young] did a great job. We all know what [RB] Mike [Bell] can do, and [RB] Travis [Henry], you don't even have to speak about him. I just hope there's a place here for me. I'm just praying."

RB SELVIN YOUNG
--
"When you come to game it's just an extension of practice. I feel like I've been running hard in practice, making the reads and cuts, it just has to carry over to the game."
On if he'll be surprised if he doesn't make the team --
"I won't be surprised at all. It's a business out here in this world, but one thing I feel like I have been doing is putting some things together and hopefully that'll get somebody else looking at me, and add that piece to my puzzle. Regardless of what happens, and if I have to go and play football part-time and coach high school, I'll do it."
On if it'll be a nerve-racking weekend --
"Not at all. The most nerve-racking has been the last four weeks. I've been calm and collected. I feel like all the hard work and all the other stuff, for four weeks is in the bag, and I can relax. If I get a call, I get a call. I am looking forward to playing for this team. I've done everything I could, and I've played hard every snap. I was very limited in my mistakes, and I feel good about what I've done."
Why weren't you drafted? --
"It's good that I wasn't drafted. I wouldn't be here right now if I was drafted. I always knew that everything was going to work out for me just fine in the future. I was always just waiting for the moment when I could feel good, and I always have. I'm really dedicated when it comes to training in the off season in getting myself in shape and getting ready for the season. I felt good my senior year, here we get a chance to go down hill, and not sideways and I feel like I've been able to showcase."
Having a good fourth quarter --
"I feel like I was back in my old days. I always felt like I was a fourth-quarter-back. I got that touchdown run, and I knew the fourth quarter would be fun."

DE JARVIS MOSS
--
"It was a lot of fun. I caught myself on the bench telling the guys how much fun I was having out there. That first series they moved the ball on us a little. We bent but we didn't break."
On playing with his fellow rookie defensive line mates --
"It was a lot of fun with all of us out there. We all got to play and get a glimpse of our future."

QB DARRELL HACKNEY
--
On starting a NFL game --
"I felt comfortable with the whole situation and it meant a lot to me. It was just a preseason game, but I still started in the NFL."
On his chances of making the team --
"In some form, shape or fashion, I feel like I have a job here whether it's on the practice squad or the 53-man roster. You never know because it's a business so hopefully I don't get that call saying I've been released. Me and my agent will talk tonight and we'll see what happens."
S HAMZA ABDULLAH --

On the depth in the secondary --
"I honestly believe that we have the best secondary in the league and of course it's hard to crack that starting lineup. But at the same time it's a great learning experience and opportunity for us. We have two of the best corners in [CB] Dré [Bly] and [CB] Champ [Bailey] and two of the best safeties in the league in [S] John [Lynch] and [S] Nick [Ferguson]. So I just study as much as I can and see what they do and what they don't do."
On the depth of the team --
"We have a lot of guys on this team that are capable of being starters elsewhere. But that's the mark of a good team, how the backups play. My teams in college [Washington State] when we were really good, we had a lot key guys at backups, guys that could be starters. We are just trying to push them because it elevates their game as well as mine."
On running back Selvin Young --
"We played him in college in the Holiday Bowl and he tried to run all over us like he was doing to these guys, so I am no stranger to what he's doing now."
DE TIM CROWDER --
On playing with fellow rookie defensive line mates --
"It felt good but in the heat of the battle you're not thinking about that. But after the game I was like `that's cool'. We all got out there and we all did a good job. We are going to get better and it's going to be scary in the future."
On seeing cornerback Karl Paymah get injured --
"Coaches always preach that you want to keep your head up and it was just one of those situations where it was just a bad hit. I know he wishes he could take that play back. Every time I hit somebody I think about keeping my head up. I have to say, it could have been a lot worse.