@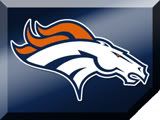 Date: Sunday, September 23, 2007

Time: 4:05 p.m. ET

Teams: Jacksonville Jaguars (1-1) at Denver Broncos (2-0)

Location: Invesco Field @ Mile High -- Denver, CO

Weather Forcast: Partly Cloudy, 74 Degrees, 20% Chance of Rain




The Broncos have played 5 regular season games against the Jags, going 3-2 in those meetings.  There have been, of course, two playoff meetings between the two teams with each team winning once.  This will be the first regualr season meeting in Denver between the two teams since 1998, a 37-24 win for the Broncos.  Here are some notes about the past 5 regualr season meetings --
DENVER 20, at JACKSONVILLE 7 (Oct. 2, 2005) --
Denver limits the Jaguars to 12 rushing yards on 11 carries (1.1avg.) to mark the second-lowest single-game rushing total by a Broncos opponent and the lowest since the team held Kansas City
to 0 yards on Dec. 19, 1965... Denver T Dwayne Carswell, a former tight end, becomes the first offensive lineman in the Super Bowl era (since 1966) to catch two touchdown passes in a game
with 1 and 2-yard scoring grabs in the first half... Broncos RB Mike Anderson records the ninth 100-yard game of his career and his first such game since 2001 with 115 yards on 23 carries (5.0
avg.)... Denver CB Champ Bailey is inactive with a hamstring injury, marking the first game of his career he missed and the end of his NFL-best 99 consecutive starts streak.
at JACKSONVILLE 7, DENVER 6 (Sept. 19, 2004) --
Denver limits an opponent to seven points or less but loses the game for only the second time in franchise history (10/22/78 at Baltimore)... The Broncos drive to the Jacksonville 23-yard line for
a potential game-winning field goal, but Jaguars S Akin Ayodele recovers a fumble by Broncos RB Quentin Griffin to secure the win... The only quarter that features scoring is the second with
Denver getting its points on Jason Elam field goals and Jacksonville scoring on a 12-yard TD catch by Ernest Wilford... Denver outgains Jacksonville by 180 yards (356 to 176)... Broncos WR Rod Smith collects a game-high six catches for 83 yards.
at JACKSONVILLE 27, DENVER 24 (Dec. 13, 1999) --
Broncos TE Byron Chamberlain hauls in a 57-yard touchdown pass from QB Brian Griese to tie the score at 24 with 1:53 remaining, but Jaguars K Mike Hollis hits a 23-yard field goal as time expires for the game winner... Broncos QB Brian Griese throws for 275 yards on 21-of-33 (63.6%) passing with two touchdowns and two interceptions... Denver limits Jacksonville to 104 yards passing with DL Trevor Pryce posting three sacks (11 yds.).
at DENVER 37, JACKSONVILLE 24 (Oct. 25, 1998) --
Broncos K Jason Elam ties a 28-year-old NFL-record for the longest field goal made with a 63-yard conversion in the second quarter... Denver outrushes Jacksonville 170 to 66, and RB Terrell Davis scores three rushing touchdowns in a 136-yard effort...Jaguars WRs Keenan McCardell (113 yds.) and Jimmy Smith (121 yds.) each go above the 100-yard receiving mark.
at DENVER 31, JACKSONVILLE 23 (Dec. 3, 1995) --
Broncos QB John Elway throws four touchdowns to four different players... Jaguars WR Jimmy Smith scores twice with special teams plays, picking up a blocked Tom Rouen punt (0-yd. return) in the second quarter for a touchdown and taking a lateral on a third-quarter kick return 89 yards for the score... Denver limits Jacksonville to only 69 rushing yards on 21 carries (3.3 avg.).