@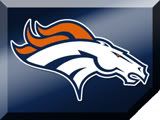 Date: Sunday, September 23, 2007

Time: 4:05 p.m. ET

Teams: Jacksonville Jaguars (1-1) at Denver Broncos (2-0)

Location: Invesco Field @ Mile High -- Denver, CO

Weather Forcast: 78 degrees, Isolated T-Storms, 30% chance of rain


It's football time again, Broncos fans, with the Broncos set to take on the Jags.  We'll have all your live-blogging action right here, and if you want to give a little somethin'-somethin to Jags' fans you can do that over at BigCatCountry.
The Inactives for both teams are below --
Broncos Inactives --

DE Tim Crowder

RB Andre Hall

OL Ben Hamilton

OL Ryan Harris

S  Hamza Abdullah

WR Brian Clark

DL Antwon Burton
NOTES -- It's good to see McKinley get back on the active roster after the way Burton was man-handled last week against the Raiders.  I am looking for the Jags to run the ball alot and McKinley needs to be a factor.
Jaguars Inactives --

DT John Henderson

K  Josh Scobee

RB LaBrandon Toefield

LB Clint Ingram

C  Brad Meester

OT Richard Collier

DE Kenny Petway
NOTES -- The war between coach Jack Del Rio and WR Matt Jones continues with Jones listed as the emergency QB today.  That means he cannot lineup as a wide receiver.  The Jags didn't have much talent on the outside with Jones.
30-minutes to kickoff.  More to come!  

FIRST QUARTER --

Jaguars First Drive --

--Jags get the ball, the crowd in full throat and the defense stops Fred Taylor in his tracks
--Early third down for the Jags. The Broncos have done well on third down all year, but the Jags convert and the drive continues...
--Garrard has too much time, but good coverage by Nate Webster keeps the Jags from converting. Another 3rd down...
--I mentioned Alvin McKinley being active and he immediately makes a play. A big sack and the Jags have to punt!

Broncos First Drive --

--Much better job by Hixon on the return, catching the ball and immediately going forward. A shoe-string tackle keeps it from being a huge return
--A 3rd and five for the Broncos after I had to change a diaper. Of course, the Jags call timeout to give me more time...
--Of course, give a stat and you jinx the team. Cutler threw that pass to Marshall way too hard, the the Broncos are now 21 of 23 avoiding 3 and outs.

Jaguars Second Drive --

--The Jags will start from the 20 after each team is forced to punt...This one has the feel of a defensive struggle already...
--Jags have something going on their second possession, looking at a third and 1 in Broncos territory. They convert, another reception for Ernest Wilford.
--Already have heard Alvin McKinley's name twice today, more than Antwon Burton in two games combined
--The Broncos give up a first down again on a third and short. Tackling just isn't up to par for this defense three games in.
--Jags inside the Red Zone and face another third and short.
--Looks to be short, but a no-brainer if I were coaching the Jags. Gotta go for it....
--Garrard, too big to stop, gets the first down
--Broncos do a great job covering down field, but Garrard is just as dangerous running the ball
--The weakness of the Broncos run defense is right in the middle, yet the Jags keep trying to get outside...
--A play wasted for the Jags and the penalty negates the TD. Third and long upcoming for the Jags and the Broncos need to hold and force a field goal...
--The Jags convert again, and the Broncos are getting absolutely zero pressure on Garrard. Bates is going to have to start bringing pressure in other ways...

END OF FIRST QUARTER -- BRONCOS 0 - Jaguars 0