@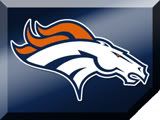 Date: Sunday, September 23, 2007

Time: 4:05 p.m. ET

Teams: Jacksonville Jaguars (1-1) at Denver Broncos (2-0)

Location: Invesco Field @ Mile High -- Denver, CO






Broncos Seventh Drive cont...

--Time to find out if holding the Jags to a couple FG's will pay dividends...There is alot of time, and the Broncos justs need 2 TD's to take the lead..
--Brandon Stokely is as good as it gets in the slot and the Broncos have another first down
--Marshall is awesome!!
--The Broncos won't be denied this time, and Travis Henry has a Denver Touchdown!!!
Jaguars 20 - BRONCOS 14

Jaguars Seventh Drive --

--The defense has stepped up so far in the 2nd half...We need on more tough stop...Preferrably a three and out!
--A run for 3 yards on first down...
--Lewis has a first down, and the Jags TE has had a huge day today...
--Another catch by a Tight End and the defense just doesn't have an answer for David Garrard today...
--Already in field goal range, the Jags can put this game away with a TD
--Nice tackle by Nick Ferguson brings up a 3rd down....
--A quarterback draw gets the Jags to the 1. How can the Broncos not see that coming???
--The D-Line celebrating is not something I want to see. You've been shredded all day...
--Interference on Paymeh gives the jags three momre cracks at it...
--ARE YOU KIDDING ME??? Fumble recovered by the Broncos and they have the ball, needing 94 yards for the win!!

Broncos Eighth Drive --

--6 minutes to try and win...Can the Comeback Kid do it again??
--Jags doing a great job getting pressure with their front 4....
--Fourth and 5 and the Broncos have to go for it...
--Graham can't hold on and will add to it by spiking the ball. Missed opportunities have just killing the Broncos all a day. Graham has got to make that catch...HAS TO!

Jaguars Eighth Drive --

--The Jags have made it very hard on themselves, and the Broncos have done everything they could to hand a game away....
--Randy Cross making sure everyone knows why Shanny went for it on 4th down. The defense has not shown they can stop the Jags, and the Broncos were out of Time-Outs. He really had no choice...
--A Field Goal should end it. A disappointing loss to say the least...

I am going to try and blow this game off....Playing with my daughters always puts things in their proper perspective....Feel free to talk amongst themselves...