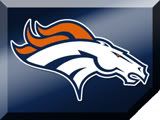 @      
Date: Sunday, September 30, 2007

Time: 4:15 p.m. ET

Teams: Denver Broncos (2-1) at Indianapolis Colts (3-0)

Location: RCA Dome -- Indianapolis, Indiana


The Broncos hold an 11-7(6-2 at home, 5-5 on the road) record all time against the Indianapolis Colts, which includes the playoffs and Indy's time in Baltimore.  Below are some factoids about that last five meetings with the Colts --
INDIANAPOLIS 34, at DENVER 31 (Oct. 29, 2006) -- The Colts K Adam Vinatieri's 37-yard field goal with two seconds remaining preserves Indianapolis' unbeaten record (9-0) and snaps Denver's NFL-best 13-game regular-season home winning streak... Denver holds a 14-6 halftime lead before Indianapolis scores on all five of its second-half possessions (3 TD, 2 FG)...The Broncos score touchdowns on all four trips inside the red zone... Broncos rookie RB Mike Bell ran for a career-best 136 yards with two touchdowns on 15 carries, including 135 yards in the second half, to mark the first 100-yard rushing game of his career... Denver outgains Indianapolis 227-92 in rushing yards...Both Denver QB Jake Plummer (13-21, 174 yds., 1 TD, 104.1 rtg.) and Indianapolis QB Peyton Manning (32-39, 345 yds., 3 TDs, 129.2 rtg.) record passer ratings above 100.
at INDIANAPOLIS 49, DENVER 24 (Jan. 9, 2005 - WILD CARD) -- The Colts race to a 21-0 lead in the second quarter and take a 35-3 lead into halftime on the way to defeating Denver for the second consecutive postseason... Broncos WR Rod Smith moves into first place in all-time playoff receiving touchdowns in franchise annals with a 9-yard scoring grab as part of a seven-catch, 99-yard receiving effort... Colts QB Peyton Manning throws for the most yards (458) by a Bronco opponent in the postseason, a total that ranked as the second-most passing yards in a playoff game in NFL history... Denver does have success against the Colts' rushing game, limiting the team to a 3.2-yard per carry average and only 76 total rushing yards.
at DENVER 33, INDIANAPOLIS 14 (Jan. 2, 2005) --
Denver clinches an AFC Wild Card spot for the second consecutive year with a win against a Colts team that rested most of its starters... The Broncos take a 20-14 lead into halftime and score the game's final 13 points... Broncos QB Jake Plummer throws for 246 yards and two touchdowns, passing John Elway for first place on the team's single-season passing yards list (4,089) and tying Elway for first place on its single-season passing touchdowns list (27)... Broncos K Jason Elam connects on all four field-goal attempts, marking his first four field-goal game since Oct. 13,2002, against Miami... Denver totals 453 yards of total offense while holding Indianapolis to just 200 offensive yards.
at INDIANAPOLIS 41, DENVER 10 (Jan. 4, 2004 - WILD CARD) -- Denver suffers a loss in its first playoff appearance since 2000...Indianapolis scores 34 consecutive points to break open what had once been a 7-3 game in the first quarter... Broncos RB Clinton Portis is held to 68 yards on 17 carries (4.0 avg.)... Colts QB Peyton Manning compiles a 158.3 passer rating, throwing for 377 yards with five touchdowns and no interceptions... The Broncos' Rod Smith and Shannon Sharpe each total five receptions... The game would prove to be the last of TE Shannon Sharpe's career, and he finished the contest with 31 yards on five receptions.
DENVER 31, at INDIANAPOLIS 17 (Dec. 21, 2003) --
Denver clinches a playoff berth, its first since 2000, with a win at the RCA Dome... The Broncos dominate time of possession, holding onto the ball for 44:58 minutes compared to the Colts' 15:02... Broncos QB Jake Plummer compiles a 113.8 passer rating, completing 14-of-17 (.824) passes for 238 yards with one touchdown and one interception... Denver is led by 136 rushing yards by rookie RB Quentin Griffin, who was used in place of injured RB Clinton Portis... Broncos WR Ashley Lelie totals 115 receiving yards on five catches (23.0 avg.), including a 60-yard grab... The Broncos double the Colts in total yards, outgaining them 465 to 183.