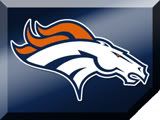 @      
Date: Sunday, September 9, 2007

Time: 1:00 p.m. ET

Teams: Denver Broncos (0-0) at Buffalo Bills (0-0)

Location: Ralph Wilson Stadium --  Orchard Park, NY

Weather: 68 degrees, 90% chance of rain (1-2 inches), winds NE 5-10mph
It doesn't get any better than this.  Rain, wind and football.  Sure, I would rather the Broncos face the Bills in sunshine, 80 degrees, for the offenses sake, but that just isn't football weather.  Watching guys slosh around and slide like they are ona slip and slide makes for entertaining television.
The weather will undoubtedly have an effect on both offenses and will make throwing the ball with any type of consistency a chore.  Turnovers, which are a factor in any ball-game, become a bigger factor with the wet conditions and any advantage either team had based on talent is sure to be equalized by the field conditions.  In other words, I have no idea what the hell is going to happen now!!!
We'll have more as we get closer to kick-off, and make sre to keep it right here for our live blog!!


The Broncos Inactives --

RB Andre Hall
CB Karl Paymah
G Ben Hamilton
OT Ryan Harris
TE Stephen Alexander
WR Brian Clark
DT Antwon Burton
DE Tim Crowder
Not a real surprise in the list, and I am anxious to see Selvin Young get some action today in a game that matters...33 minutes to kickoff!!
GO BRONCOS!!!
Here we go Broncos fans!! It's kick-oof time! Once again I'll be breaking the game down by series, keeping track of how successful each drive is. To me, a drive can be considered a success if the offense is able to pick up 3 first downs. Sure, there might not be any points, but 30 yards will at least flip field position. That only changes if there is a turnover. All drives resulting in a turnover are failures.
That said, here we go!!!
FIRST QUARTER --
--The Broncos will kick to get the 2007 season underway!! The Road to Super Bowl XLII starts now!!!
BILLS FIRST DRIVE
--The first play is a run, and no sign of Simeon Rice in the starting line-up....
--The second play looks alot like what we have seen in the ore-season, a 10 yard run..
--J.P. Losman has alot of time, and worse yet the Broncos allow the mobile QB to break containment and pick up big yardage
--The Denver defense once again looking a step behind, a step slow and the Buffalo offense in sync early
--D.J. Williams with the first sack of the season, a perfect time and a big loss!
--Solid stand by the defense to take the Bills out of field goal range. A successful drive for the Bills, but a nice job by the Brocnos defense as well.
--Something we saw way too often last season, the Broncos will start from inside their own 1 yard line. Now you know why I condsider the Bills' drive a success...

BRONCOS FIRST DRIVE

--What the HELL!!! Jay Cutler runs the frickin' OPTION!!! Great job by Cutler and a sweet run by Henry gets the Broncos some room...
--Broncos trying to get Henry going, but two runs the wrong way bring up a 3rd and long
--Take away the option and the Broncos do not look very good. Jay Cutler's game is verticle, not shuffle pass a trickery.
--Special Teams snafu's strike again. A bad punt, worse coverage and the Bills lead 7-0. BUFFALO 7 - DENVER 0
--What is it about the Broncos uniform that means a guy CANNOT PUNT?!?!?! A low line drive punt and horrible coverage. Junst another year for the Broncos' (un)special teams.

BRONCOS SECOND DRIVE

--Nice return by Hixon who is going to be a factor all season. Dude can play at this level, no doubt about it.
--Another run, and the Broncos have yet to try and throw the ball further than 2 yards....
--Read my mind, a nice slant to Walker nearly goes for alot more. Imperative that the Broncos answer in a positive fashion here.
--A nasty injury, something I don't want to see for either team this early in the season. Here's hoping for a speedy recovery...
--Javon Walker is going to be a monster this season. Remember my prediction -- 90 catches, 1200 yards, 12 TDs
--Great play by Cutler and a nice catch by Daniel Graham. This is why we are so excited about Jay Cutler....
--Buffalo on its' heels a bit and the Bills have to call timeout...
--Sapp seeing some early action, though not very productive. A big third down in the Red Zone.
--Broncos try and spread the Bills out, but the run doesn't get the yardage needed for a first down. Elam on to get the Broncos on the board. He does, and somehow he gets knocked to the ground with no call. BUFFALO 7 - DENVER 3

BILLS SECOND DRIVE

--Nice angle-kick and decent coverage. Special Teams coverage is going to be a concern all day, I can tell.
--It would be nice to see a 3 and out, but that will have to wait for the 2nd Quarter....

END OF THE FIRST QUARTER -- BUFFALO 7 - DENVER 3