Warning! This is going to be a long read!
A lot has changed between the end of the '08 season and today. We knew we had 8 draft picks, and we knew our needs. We also knew that Denver would avoid expensive FAs and go for a "youth core building" approach.
However, Denver has made quite a few FA moves, picking up several mid level talent players as stop gaps, and several of them are actualy improvements in the positions they are in.
We also let an offensive lineman go who provided depth at two OL positions in exchange for yet another pick. If Denver trades down in the draft (as most MHR members seem to predict), we may end up with 10 or 11 picks.
Let's analyze the naked truth about where we stand as a team and figure out our future in '08.
I'm going to take a slightly different approach to the draft than the many draft experts at MHR. I'm not a draft expert, but I know a little about football. What I want to do with this article is to pretend I'm the head coach of Denver, while you the reader are the general manager. I'm going to give you my assesment as a coach (being ignorant of what is available in the draft), and I want you to make the adjustments to get what you can based on my input.
Remember, this isn't the Mike Shanahan show. You alone will make the final call on how we draft. I'm just going to give you my input as a coach. You are free to accept or reject my input in different areas because in our pretend world I only run the team, while you have complete control over the front office and personnel.
I'll give my current report on the state of the depth chart below the fold, and tell you what I advise. Just click on the "read more" button below. Ready? Let's have some fun!
Let's start with my favorite team in all of football: The Defense!
Safeties
At the end of the season I really wanted Phillips in the draft. His stock has fallen a little, but more importantly we made some key additions in FA.
Starting with free safety, we have Manuel to compete with Hamza for the starting position. Both players are coverage guys and are expected to play deep zone. Denver thought enough of Manuel to give him a 3 yr contract, even with Hamza showing flashes of brilliance.
Over at strong safety we picked up McCree to play along with Lynch. McCree (like Lynch) is a box safety who won't play much deep zone coverage, but has better speed than Lynch. Lynch still has the edge in football smarts (perhaps the best in the league) and is still a hard hitter. I expect Lynch and Mcree to rotate (with Lynch playing on expected run plays).
My opinion - Don't get any more safeties. We finally have depth at the position, and finally have true safeties playing the position instead of SAF/CB hybrids. I rate the SAF position right now as a "B"
Cornerbacks
Two of the best CBs in the league are in Denver. Bailey and Bly got burned a couple of times, but the also didn't have a reliable front seven and didn't have much help with only one SAF behind them (Lynch was mostly in the box). I think the front seven will be improved, the system will be more aggressive for the front seven, and despite still having a SAF in the box, our SAF position will be better too. This means more production for the dynamic duo.
Add in Paymah and Foxworth for depth (and allowing Foxworth to concentrate on CB instead of pulling double duty at SAF) and we have an excellent group at CB.
My opinion - Don't get anymore CBs. We have an elite and deep crew as it is. I rate the CB squad as an "A+"
Defensive Ends
Doom is the real deal, and may well be one of the top five DEs in the league right now. Lurking in the shadows is Jarvis Moss, a first round pick that sat out his first year with an injury. If he shows the production that matches his potential the Broncos are in for a treat in the pass rush. Add in solid players like Crowder, Engleberger, and Ekuban and the Broncos have a great group of very young and very talented DEs, both in terms of pass rush and run stopping specialists.
An added benefit is the Broncos ability to rotate DEs without losing an edge in talent on the field.
My opinion - Don't get anymore DEs. The level of talent and the depth is something to be excited about. "A"
Outside Linebackers
There is no doubt that DJ Williams will tear up the weakside. His speed and agility are gifts in blitzing the blindside of right handed QBs, and SD (who oddly loves the weakside run) will have to deal with a former MLB who was second in the league in tackles last year. His speed also allows him to play the common weak zone of WILL linebackers effectively. If he hadn't been bumped by Gold (who was returning from TB at the time), Williams would have been a monster at WILL.
On the other side, Denver decided to take the SAM linbacker position seriously and obtained a linebacker in FA who is built for the position. Again, Denver went with speed. Boss Bailey doesn't dominate the position, but he can hold his own with most TEs in coverage (relieving of us of the slow, box strong safety problem). With his brother already on the team, this may help Denver with the team identity problem they have faced, and might serve to bring the defensive team together.
Winborn has the speed to be an adequate back-up at WILL for Williams. Webster was a punching bag for many pundits last year (including me), but he seemed to improve enough to stay on as a back-up player. He is a reasonable, if not great, back-up with starting experience.
My opinion - Don't get anymore OLBs. We have two good starters, and two back-ups with starting experience. (Those back-ups should be a help on special teams too). "B+"
Middle Linbacker
K2 (no, I'm not going to try to spell his name) comes in as a mystery to most people. A lot of folks (including your truly) wanted to leave DJ at MLB. But K2 (sounds like a mountain huh?) has a terrific resume if you check it out. According to MHR's famous sports writer Styg50, Seatle hated to part with K2 because they considered him a true starter stuck in a depth position. K2 is also more of a vocal leader than DJ, and a speedster as well. Is he an improvement over DJ? Probably not. But if he is even close to being a good MLB (and I think he will be), the overall improvement of the LB crew should be excellent.
Our problem? Depth. Who in the heck is "Beck"? Some folks may think DJ could cover for an injured K2, with Winborn covering for DJ. While possible, this is a nightmare scenario for midseason. All of DJ's preparation will be for WILL, and a midseason switch is tougher than one might think. We really need someone who can back up K2 and hold his own.
My opinion - K2 will be a good addition for the team. At worse he will fill in pretty well until a draft pick pans out. At best, he will be the MLB that Seatle thinks he can be, and give us a return to the "three speedster LB" crew Denver fans used to enjoy. What is killing us is the lack of depth if K2 went down or doesn't work out. We need to pursue a MLB in the draft. "B-"
Defensive Tackles
Here comes our first major problem. The hope is that young Thomas at left DT will prove to be an effective DT. He isn't a dominating force, but he is decent and expected to improve as he ages. McKinley is a decent rotational DT on the right, but it is questionable if he should start. The jury is out on Peterson, Mallard, and Harris.
As in most 4-3 systems, one dominating DT makes the other DT look good. You don't have to have two supermen at the position (though it would be nice). But you really need to have one, and Denver doesn't. You really can't put all of your (Easter) eggs in one basket in this critical position, so...
My opinion - Spend at least two high draft picks on this position. It is the weakness of our defense right now, and it killed us last year. We must get this position right. "D"
Ok, time for another famous hoosierteacher intermission: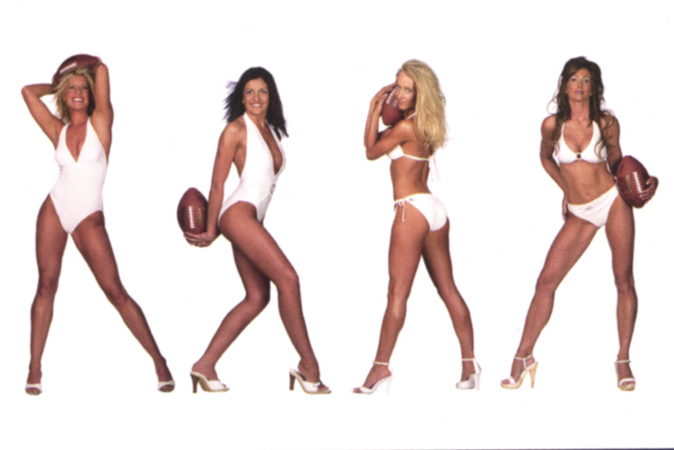 Now you may think that I am being a sexist pig by putting up this picture, but I assure you that I am not. This picture is a very important part of the article at hand. These lovely ladies were the defensive tackles for Denver in '07. Note the shoes, which didn't help much. This may be why we got ran over in running yards allowed. In fact, I think the '07 DTs deserve to get spanked, and I should be the guy to do it.
Ok, I'm a little off topic I guess. On to the offense.
Quarterbacks
Cutler is clearly the future of this franchise. Ramsey is a decent back-up. Hackney may have blown his job by getting in a little trouble recently, but he may have dodged a bullet because he hasn't been fired yet.
My opinion - Are you kidding me? "A"
Running backs
Henry kept his promise and hasn't been in trouble since joining the team. He dominated opponents before being injured, and a false positive drug test made fans suspicious of Henry's value. As the only power back on the team, Henry is important for a team that loves to change up power and speed and play a "run by committee" approach. Henry showed a lot of class by being a team player, and took a pay cut to stay with the coach who stood by his side during the test fiasco.
Young and Hall are both speedy runners who stepped up when Henry went down.
My opinion - Don't get more RBs. Denver has the right type of runners, and has them in spades (if you count our RB/FB hybrids, we have even more depth). "A"
Fullbacks
Sapp was resigned because he fits Denver's plans. Denver doesn't believe in true FBs. Griffith was the closest thing, and even he wasn't a true FB. Denver (like many teams), is getting away from the FB position and transitioning slowly to depth at TE. Denver likes to use RBs who are not starters for use at FB. The best blocker in the non-starting group of RBs gets the "honor". Used primarily to block or go out for screens (and rarely for a "dive" play), Denver has no need for FB depth. They would rather have five or six RBs and count the last one or two as FBs on the depth chart.
My opinion - No way in heck should Denver pursue a FB in today's NFL (or in Denver's system). "n/a"
Wide Receivers
Problem area number two. We have an excellent #1 possession WR in Brandon Marshall. He will only continue to improve. His strengths are run blocking, yards gained after contact with a defender, and great hands. Our slot receiver is in the same mold as Marshall, but older. Stokely is perhaps the best slot receiver in the NFL, and his only weakness is that he is not an every down player (so he can't play at #2). Martinez gives us adequate depth.
Denver signed question marks with Colbert and Shepherd. Colbert may work out, but Shepherd is probably an experiment for special team returns.
The issue is really the #2 spot, which is vacant. Marshall is revered by Denver fans, and rightly so. But from this coach's perspective we need to be careful. Marshall will now face the #1 CBs of opposing teams instead of #2s. And if we don't have a threat at #2 receiver you can bet that Marshall will get double coverage. oakland has recently aquired Deangelo Hall, a CB that is a real threat twice a year for Denver. If Denver doesn't get this position right for '08, Marshall will have to carry a heavy load for the team.
My opinion - Just like the DT position, spend two high picks on WR. I'm not the draft guy that many of our terrific readers and regular contributers are, but I'm prepared to throw in my endorsement for Bennet in this year's draft.
Current players - "A"
With the void at #2 - "C-"
Offensive Center
Nalen might have retired last year, but he is sticking around for another year. He was injured for just about all of '07, and is a potential injury risk in '08. However, he has been the heart of this O-line and I expect him (if healthy) to give us one more good year.
Denver made a terrific move getting Wiegmann from KC. KC had a terrible O-line last year, but I don't believe Wiegmann was at fault. Wiegmann was a key part of previous years when KC had a good line, and I think he is a better fit for Denver than KC at any rate. He is an older player, and is signed for 2 years as an effective (but temporary) stop gap.
My opinion - We have two older guys (but good guys) right now. One may get injured, and both are near retirement. We should spend two late round picks to get the type of O-linemen that fit our system that other teams overlook. Keep in mind that zone block linemen benefit from learning the system for one to three years before starting in most cases.
"B+"
Offensive guards
Hamilton is a great guard, but a very high injury risk with the potential for concussions. He has good support with Kuper as a probable starter and Holland backing up both players.
My opinion - Denver could use youth to push the vets here. I expect Hamilton to retire at year's end (if he doesn't get forced out by injury before then). Two late round picks may end up as effective starters in the next two to three years.
"B+"
Offensive Tackle
Here's a weird problem. According to word from the team, Harris is a superstar and a quick study. The team is eager to get him on the field. And Pears will be the other starter. Some are critical of Pears, but I share Styg's assesment of Pears being a decent starter. There is no real depth behind these guys. The problem? You really don't want to draft someone to be a young back-up to two young starters. Remember the importance of staggering ages for purposes of timing retirments, as well as spreading out salary packages.
My opinion - Do not draft an OT. Instead, sign a decent FA that is reasonably priced to back-up. We could go for Clady in the first round (and it wouldn't grieve me), but I would rather get the extra picks and address our needs that way.
"B+"
Tight Ends
Graham is perhaps the best blocking TE in the League. He had decent hands in limited pass opportunities this year, but he is said to look better in practice. Whether or not his catching catches on, he is a very valuable weapon on the line. Scheffler is a terrific receiving TE, and a common target for Cutler. Mustard is well rounded (leans towards blocking), and in my opinion he is very underrated. He'll back up Graham. Jackson is a convert from receiver, and not an effective blocker. He can back-up Scheff, but is average.
My opinion - We have an awesome set of starting TEs. Our depth is also good. No need to add to this group.
"A"
~~~~~~~~~~~~~~~~~~~~~~~~~~~~~~~~~~~~
We have the following picks:
1,2,4,4,5,5,6 (recent trade with HOU; We gave up Myers),7,7 for 9 picks.
Let's say we trade our 1 for a lower 1 and (perhaps) a 3. This gives us 1,2,3,4,4,5,5,6,7,7 which is 10 picks.
We might also go with something like trading our 1 for a high 2, a 4, and a 5 for 11 picks. Who knows what will really happen? (Not being educated on the reality of who is available to draft, and all things being equal, I would pick WR and DT with our 2s; DT,WR, and MLB with our 4s; MLB, OC, and OG with the 5s; OG at 6; and OC, K/P at 7s. I know this is oversimplifying, but I'm counting on the general manager to put it into a workable model.
We may even trade our multiple low picks for a few mid rounders.
A few members are hoding out hope that we trade up to get a favorite player, and given Shanahan's reputation for aggressively trading to get what he wants, this is a possibility.
My desire (from a coaching standpoint) is to see us get 2 DTs and 2 WRs early in the draft because these positions will kill our team if we don't get at least one DT and one WR right.
In the middle of the draft, we need one MLB to shore up the LB crew in case of an unforseen injury.
We also need guards and centers in the near future, and we better be getting them now and getting them a couple of years in "zone block" school. If we wait until we really need them it will be too late. We can also spend any extra picks on a kicker or punter.
I'm only guessing, but playing the odds (and most likely worst case scenario) I think we get four very good players out of a draft of 10 or 11 picks. 2 or 3 additional players may end up as special teams types that won't start. Again, it is critical that at least two of those be a DT and a WR (in my opinion).
A general manager can take this analysis and look at the draft point card and the players available and come up with a plan. It may match the coach's desires closely, but more likely the effective manager will have to make some major modifications to do the best for the team, and the coach needs to take what the general manager can do for him.
By firing Sundquist (we all know that is what really went down), Shanahan has an opportunity with multiple draft picks to build a long term, youthful, core group of players that can rise to the top and stay there for a long time to come, and to take all of the credit for it as well. I like Mike, and I liked Sundquist too. The Sundquist move surprised me. But the timing was brilliant on Shanahan's part. It's a gamble, but Mike's record show he is right more often than wrong.
With the stop gap players Shanahan has brought in, he has freed up the many picks we have to target fewer key positions. Again, brilliant. Perhaps Sundquist was the one building for a winning team every year, and Shanahan really wanted to go this route all along (build a core group in the draft and be more patient). Again, who knows?
But by throwing the real coach out for a moment, and looking at my analysis, you can do a couple of fun things.
Discuss what you agree or disagree with. (My thoughts are just opinions here, and I know some of you can improve on what I wrote up).
Or you can take my thoughts and develop a draft plan.
Or you can argue the grades I gave.
Have at it!