The Atlanta Falcons select...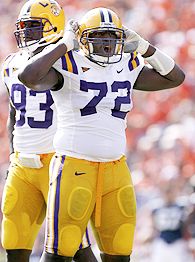 GLEN DORSEY, DT - LSU
G.M. - ZappaRulez -- Although the Falcons continue to suffer from the loss of Mike Vick, there will be no first round quarterback taken this year by the Atlanta Falcons.   The Falcons have also seen several voids open up on defense over the past two seasons and the best way to add an immediate impact on this team is to select DT Glenn Dorsey.
Draft So Far --
#1 - Miami Dolphins - DE Chris Long, Virginia
#2 - St. Louis Rams - OT Jake Long, Michigan
The Oakland Raiders, represented by bcfunderburke are up next.