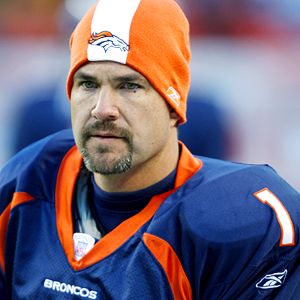 For those of you who listened to MHR Radio last night, a lot of this will be re-hash.  Feel free to move on to the next post.  If not, then I hope to bring some enlightenment to the Jason Elam situation.  The Broncos, both internally and externally, have been getting killed for letting Elam walk.  One of the most consistent kickers in NFL history, and one of the last link to the Broncos' "glory years", Elam was an obvious fan favorite.  He has become, it seems, the ultimate example of everything that is wrong in the Broncos front office.  A pariah of sorts, with his departure signaling a `gloom and doom' scenario.  I suppose it is to be expected, coming off one of the most disappointing seasons in recent Broncos history, with Elam being responsible for a majority of the bright spots.
While I hate to see any of "the greats" leave the team, we also must keep it in perspective.  My first thought when it became apparent that Elam was unlikely to return was simply, "who cares, he's a kicker".  That may seem like an ignorant thought, the thought of someone who doesn't know much about football.  Kickers are vital, just ask Patriots fans.  They aren't that critical, however, that any team should overpay to keep them.  Even Jason Elam, as consistent as he has been over the past 15 years, becomes expendable at some point, and the Broncos made the right move in letting him leave.  It is better to part with a player 1 season too soon than 1 season too late.  Ask the Chiefs.  Elam is a perfect example.  
Hopefully I can explain.
First, we'll start with the stats.  I chose to look at the 4 years prior to Elam's arrival compared to Elam's first 4 seasons in Denver.  David Treadwell was the incumbent kicker from 1989 - 1992.  Below are his numbers for each season, looking at field goals only -
David Treadwell --
1989 - 27/33 - 81.8%
1990 - 25/34 - 73.5%
1991 - 27/36 - 75.0%
1992 - 20/24 - 83.3%
Total - 99/127 - 77.9%
Notice that Treadwell's final season in Denver, 1992, was his best, percentage wise.  Overall, Treadwell made close to 78% of his field goals as a Bronco.  Solid numbers to say the least.
Now let's take a look at Jason Elam's first 4 seasons with the Broncos -
Jason Elam --
1993 - 26/34 - 74.0%
1994 - 30/37 - 81.1%
1995 - 31/38 - 81.6%
1996 - 21/28 - 75.0%
Total - 108/139 - 77.6%
Surprising.  The numbers are nearly identical, with Treadwell actually outkicking Elam by a chain link.  Now, I'm not saying that David Treadwell is a better kicker than Jason Elam.  Not at all.  What I am trying to show is that the Elam wasn't that much better, as a great kicker, than Treadwell, who most don't give a second thought too.  Don't confuse longevity with greatness, especially in football where the two are closely linked(see Brett Favre).
"But Guru...Elam won four games for us last year.  If we don't get solid kicking it could be the difference between making the playoffs, or getting a home playoff game!"
Maybe, but not likely.  Case in point is Jason Elam's 5th season, 1997.  The Broncos just happened to win the Super Bowl, winning two road playoff games before beating the heavily favored Packers in SB XXXII.  Elam must have had a solid season, right?  Let's look -
1997 - 26/36 - 72.2%
Whoa.  1997 was Jason Elam's worst season of his career to that point, yet the Broncos were World Champs.  The Broncos, of course, had a lot of other things going for them, mainly John Elway and Terrell Davis.  Despite Elam's struggles, the Broncos were able to finish 12-4 and win a Super Bowl.  Not bad for having a "bad kicker", at least that season.  If the Broncos don't make the playoffs, or are relying on their kicker to win game after game after game it is an indication that they aren't a really good football team, which was definitely the case in 2007.  The only reason the Broncos were in the situation they were time after time in '07 was because they couldn't hold onto leads(Oakland/Pittsburgh) or underachieved until the 4th Quarter(Buffalo).

The loss of Jason Elam is more about emotion, more about trying to hold onto the past, than X's and O's on the field.  I am fine with all that.  I love watching the America's Game DVD's as much as anyone.  But there comes a time when you have to turn the page and move on.  Jason Elam had become a one-trick pony  -- (pun intended) - becoming more and more a 40-yards and in kicker.  Kick-off responsibilities were pulled a long time ago, forcing the Broncos to use their punter in a dual role or waste a roster spot on 3 kickers.   When the Broncos were winning 10-13 games a season, they could afford to do that.  As built right now, they cannot.  
Whether they let Matt Prater give it a go, or bring in Olindo Mare, whom they offered a contract to yesterday, the Broncos will likely go with a place-kicker who can also kick-off, and do it well.  For his part, Mare was still leading the league in touchbacks as recently as 2006.  Prater boomed 75% of his limited opportunities last season into the end-zone.  The Broncos defense will be better for it.
For one second, let's assume that the Broncos' kicker, whoever it is, misses a few more field goals than Elam usually does.  While that is a number we can grab onto, one that we cannot grasp is how many points a kicker can save by pinning a team back at their 20 over and over again.  Don't believe me?  Look at the Broncos offense, owners of the worst starting field position the past two seasons.
As for Elam, I wish him the best.  He has gone where all great kickers go to extend their career.  A dome.  Elam knows he cannot last forever, and he knows that the pressure in Denver was only going to intensify.  By going to Atlanta, for more money and years, Elam gets the best of both worlds.  9 games in a controlled environment, for big bucks, in a town where a Georgia practice gets more pub.  Not a bad deal.  I hope he continues his streak of 100 point seasons and kicks until he's 50, like Gary Anderson and Morton Anderson, just not for the Broncos, for that money, where he can do nothing more than kick 38 yard field goals.  If the Broncos take care of the rest of the roster, the numbers show Elam can be replaced.  To their credit, the Broncos did it 1 season too soon, instead of 1 season too late.