Look around the division and it's not to hard to figure out what other teams are doing.  oakland is spending money they won't have in a year or two (salary cap hell cometh), but getting some big names in the meantime.  San Diego still has a quality team and can use the draft to build depth and build for the future.  Kansas City is just in deep trouble and needs to build for the long term.
But what's going on with Denver?  They have made several FA moves by signing average talent with average dollars, and they have 9 picks so far for the draft (with a strong possibility of trading down and ending up with 10 or 11 picks).  Certain players have been dangled out for potential loss or trade (Hamza, Foxworth, Trade), some have been lost (Myers, Elam, Gold, Lepsis, Walker), and some have been kept (Lynch, Hamilton, Nalen).  Through into the mix of confusion a new defensive coordinator (Slowik) and the loss of longtime manager Sundquist, and the promotion of the son of a fired coordinator (Bates Jr on the offense / defense coach Jim Bates "fired").
Looking at the big picture, what is Denver's plan?  Is there an overarching strategy, and if so, what is it?
"Buckle your seatbelt Alice, because Kansas is going bye bye", Cypher - from "The Matrix"
Click "read more" to go down the rabbit hole...
There are several approaches a team might take in the reloading season.  The goal might be to keep a great team together and save money, or to keep a great team together and bring in some youth to develop.  The goal could also be to escape salary hits, to "win now", or to rebuild slowly but for a longer term.  There are many directions a team can go in.  So what is Denver doing, why are they doing it, and will it work (and when)?
Denver has three objectives this year:
To fill in glaring weaknesses
To build depth at thin positions
To build a long term core of strength on both sides of the ball to give Cutler shots at deep playoff runs over his career(striking distance from SBs).
My bottom line analysis of what is going on is this:  
All of Denver's plans will be made clear on the two draft days
.
Where we are at, and why (position by position).
The following depth chart is not a representation of what WILL happen.  I can't know what will happen in competition at camp, nor predict our draft, FA pickups, or trades to come.  It is just a construct with which to begin our conversation.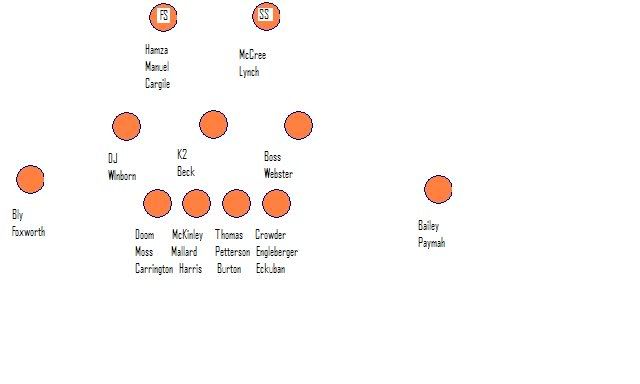 Let's start at my favorite position - safety.
Hamza is still young and still learning.  He may or may not be the long term solution at FS.  While he makes a few mistakes, he also has decent speed and can bring down opponents.  Hamza has stated he wants to stay in Denver, and Denver wanted to keep him, but both sides were unable to come to terms on what constituted a fair, long term contract.  Denver did, however, recognize Hamza as a restricted free agent.  Since no other team has yet been able to make an offer under that "restriction", it appears Hamza will stay in Denver and at a good price.
Manuel was brought in in case Hamza left, or if Hamza stayed, to provide depth at FS.  He has bounced around to a few teams, and isn't considered a great safety.  But he is good enough to hold his own at the position, and until Denver is in a position to go after star talent he can keep the position afloat.
Cargile may be competing with Manuel for a spot on the team during camp.  Denver isn't known for depth at safety (prefering to use hybrid CB/safeties).  If Cargile stays with Denver he will be a special teams player.
At SS McCree was brought in because Lynch is close to retirement and because his (Lynch's) previous neck injuries might be a concern.  He was part of a deep and effective roster in SD's safety corps, and now he is in Denver.  He's a hard hitter like Lynch.
Lynch remains a hard hitter and one of the smartest players in the NFL.  His major weaknesses are a drop off in speed (he compensates with an uncanny ability to read plays), and the potential to re-injure his neck.  I expect Lynch to play in a limited role this year, primarily on running plays.
Denver's plan at safety:
Keep the position afloat until a better draft for safeties (projected to be '09)
Put the restriction tag on Hamza in the hopes that he continues to develop
My best guess is that the two FA moves we have seen (and the subsequent likelyhood of Hamza staying) makes a high pick for SAF unlikely.  I also doubt a lower pick (than Phillips) because there is so much depth after our FA acquisitions.
Oddly enough, Denver meant to stop-gap the position but has ended up improving the position.  Hamza is a step up from the released Ferguson, and we now have depth at the position.
~~~~~~~~~~
At Cornerback the Broncos have a tandem better than any team in the NFL.  Bailey remains the best (and one of the few true) shutdown corners in the League, and Bly (risk taker that he is) is a top ten corner in his own right.  Paymah seemed to surpass Foxworth as our best nickle back, but Foxworth is still too good to just be playing as a dime back.  Denver has the youth and the talent at this position to match any team in the NFL.
Denver's plan at cornerback:
While Denver is still set for a couple of years, we face no staggered contracts to protect us from a near simultaneous loss of Bailey and Bly when it comes.
As good as Paymah and Foxworth are, they too aren't staggered and would be in danger of near simultaneous ousters soon after Bailey and Bly.  They are also probably not what Denver wants at #1 and #2 positions, though either could get by at #2.
My best guess is that Denver leaves this position alone this year, but will scramble in the next year or two to either make some crafty extension negotiations with Bailey and Bly, or to pick up some young talent.
~~~~~~~~~~
At LB the Broncos have pulled off a major coup.  While many Denver fans may consider the moves at LB to be stop-gap, the truth is that Denver may have played a more subtle game than we all previously thought.
Consider the weak side LB, DJ Williams.  While many fans (myself included) wanted DJ to stay at one position for a change, and to build on his "2nd best tackler in the NFL" title of '07 at MLB, there is no doubt that DJ will be a killer at WILL.  
His back-up should be Winborn.  Winborn has the speed to be effective at WILL, and was a starter last year.  He'll be a boost to STs and a very able back-up.
Some fans are critical of the decision to bring in a back-up MLB to play as a starter in Denver.  But K2 should be a surprise.  K2 was playing in a back-up role because the other MLB for the Seahawks was Tatupu.  K2 is a blend of speed and tackling that should make him a great fit in Denver.  He should be equally adept at stopping the run and covering passes in zone.  He also has a reputation for leadership.  Beck is his likely back-up on the chart.  (While some fans may advocate Williams as a back-up to move from WILL, I see this as more disruptive than productive).
Boss Bailey (brother of Champ Bailey) will be playing just a few yards from his brother, and continues the Denver tradition of speed at LB.  He is able to cover TEs (which frees up our strong safeties), able to blitz (not something he was able to do a lot of in the DET Cover Two), and able to zone effectively.  
His back-up is Webster, whom many people were dissapointed with until they actually reviewed his tackle numbers game to game.  Like Winborn, we now have another starter who will be adding to our special teams in a covering role, and can be a decent back-up.
So did Denver stop-gap, or actualy improve here?  I vote that many of us may have missed the obvious.  Denver has improved the LB corps by leaps and bounds, and the moves we have seen were not meant to be temporary fixes.
Denver's plan at linebacker
Uhm, guess what?  Mission complete.  I believe Denver has solved their LB issues, and only need to improve at the DT position to protect the investment.
~~~~~~~~~~
At defensive end the Broncos have excellence and depth.  The clear fan favorite is Doom, who is a pass rush machine and a QB terminator.  Some sports writers are already calling him a top ten or top five DE.
The other flashy player may be first round pick Jarvis Moss, who spent his rookie season on injured reserve.  It was he who was expected to be a DE star.  He may be yet another pass rushing superstar, and Denver fans will wait to see with much hope.
Crowder, another young DE, isn't as flashy.  He is a balanced player (some even call for him to play at DT, though I don't agree).  While not a flashy pass rusher for the fan base, he serves a valuable role that coaches and teammates very much appreciate.
Like Crowder, Engleberger and Eckuban are specialists at what they do.  They stop the run on the outside, or plug up gaps for the LBs to do their thing.  They are very good at their job.
Carrington is a back-up that I admit I know nothing about.
Denver's plan at defensive end
Keep the present talent and depth
Perhaps add another pass rusher (Harvey - "The Guru Gambit") in the draft to either compliment Doom/Moss or to use for trade bait.
My guess is that Denver leaves this position alone.  Like my assesment of CB and LB, our work here is done.  However, the Guru Gambit makes sense to me and remains a possibility.
~~~~~~~~~~
Defensive tackle is clearly the position of need for Denver's defense.
Perhaps the jury is out on young Thomas.  He has the disadvantage of being young and going through radical changes in systems and a turnover in defensive coaching.  While it's not fair to base my thoughts on Thomas in that context it is all that I have.  And so far Thomas (while the best DT that Denver has) seems to me to be a rotational DT at best.
The same goes for McKinley.  Like Thomas I see him as a good player, but not the "good" kind of player we need to be anchoring our defensive line.
While we have no first tier DTs and only a couple of second tier (rotational) DTs, we have several third tier players.  Mallard, Harris, Peterson and Burton will have a chance to step up in training camp and the preseason.  One or more of these players may step up, but I expect a few to not make the team.
Denver's plan at defensive tackle
Denver must address this position!
A 4-3 team only needs one very good DT to make the other DT look good, and to afford the LBs good protection
Denver can either go for a super DT high in the draft, or spread their bets
Denver has been burned in FA over the last few years on the d-line.  Expect a draft solution
Denver has 9 picks for a reason.  They may also pick up more by trading down or trading an existing player.  This gives them the option to pick several mid rounders in the hopes of fixing the DT position.  It is the strategy I would advocate.
If Denver picks a DT high they might get what they want, but then they have put all of their hopes in one big gamble.  However, Shanahan has been known to target players he wants, and the extra picks may be used to move up in the draft to get the DT Shanahan wants.  This would be classic Shanahan...
...or would it?  
Is the trade up to get a coveted player the work of Shanahan or recently fired Sundquist?
Denver has the makings of a rock solid defense.  The catch is that the whole defense can be outgunned if the DT position is weak.
~~~~~~~~~~
And now for another, classic hoosierteacher intermission!  Introducing your 2008 Broncos cheerleaders!
They would all love me if they knew me!
~~~~~~~~~~
Ok, back to work.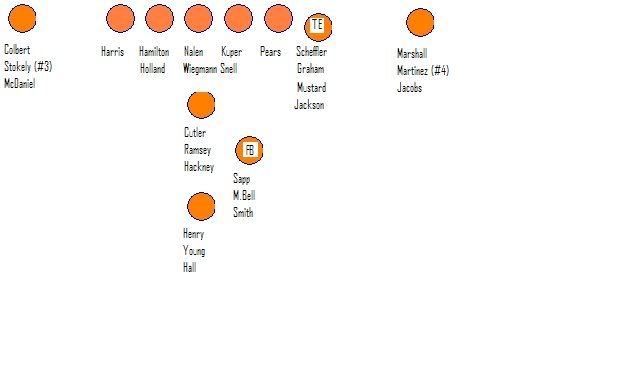 Quarterback is the key to Denver's future.  Denver's fans believe that the team has a golden boy that can lead them back to the promised land.  Jay Cutler has the rocket arm, the feet, and the superhuman calm to do wonders, and has been a master in just his first full year at the helm of the offensive.  He is Denver's most valuable player, the real deal, and won't be going anywhere but up.
Ramsey is the kind of veteran you want behind a young growing talent.  He is a servicable back-up, and a veteran that Jay can go to with issues.
Hackney ran into a little legal trouble this past year, and Shanhan is not ordinarily a three QB kind of guy.  I think there is a good chance that Hackney is gone, possibly replaced by another young QB.
Denver's plan at quarterback
Stay the course.
~~~~~~~~~~
At TE Denver is in a very enviable position.  They have Scheffler, a young, receiving TE who has the talent to catch the ball and pick-up yards.  Few LBs or SSs are capable of containing him, and he is a threat to go out for passes whenever he is on the field.  He tried to bulk up a bit in '07 to better block, but said he didn't feel "right" at his new weight.  He spent the reloading season practicing with Cutler on furthering his receiving skills, and is doing conditioning work to increase his agility and route work.  He is already considered a strong enough option in receiving to motion out to slot receiver.  Best of all, like Marshall, Scheff has built a special connection to Cutler so that they are on the same page if a play gets blown.  
While Graham isn't the spectacular crowd pleaser that gets headlines, he is the best at what he does.  Graham is an effective pass blocker, and also has the skill sets to be (and is) an effective run zone blocker.  Graham is like having an extra offensive tackle.  While many fans were hoping he would do a little more receiving, a lot of focus was put on a couple of dropped balls early in his Broncos time in '07.  However, he is a viable threat to catch and improved as the year went on.  Denver arguably has the best, or near best TE tandem in the League.
But Denver has under-appreciated depth as well.  Mustard is clearly a blocking TE, but came in late last year to cover for injuries and did a good job catching the ball.  In my opinion he is more well rounded than most people might think, and a solid back-up.
Jackson is a TE converted from receiver.  He isn't great enough to be a receiver, nor balanced enough to be an effective blocker.  But he can step onto the field if we suffer catastrophic losses to two starters and keep the position afloat.  (More likely, Denver would then move to one TE sets and rely on Mustard, with Jackson to spell).
Denver's plan at tight end
Hands off.  Denver has the talent in depth in place to allow the team to fix problems elsewhere.
~~~~~
At running back we have an odd situation.  Henry is the team's workhorse RB, pounding and wearing down the defense to set up the speed specialists Young and Hall.  Henry has overcome a lot, from a false positive drug test to doubts about his character.  In a gutsy move Henry took a salary cut when others wouldn't (Walker for example) and showed he was making a real attempt to be a part of this team.  Before injuries hurt his season he was the rushing leader in the NFL in '07.
But something strange happened.  Shanahan recently came out with the remark that Henry was going to have to have an incredible work out this reloading season in order to see a lot of playing time.  Was that a motivational challenge, or a threat?
Young (#2) and Hall (#3) are both fast RBs that can tear up the field, but they are not built to be every down RBs.  Injuries last year proved this.  Some fans want them to bulk up to change this, but it is my opinion that this would take away from the speed that makes them real threats.  I just don't think either player is built to put on the weight and play a more balanced role.  Both also have roles as kick returners (with Hall being the more likely starter.  Martinez is the probable punt returner, with Bly as back-up).
Denver's plan at running back
Denver is desperatly hoping that Henry returns to form.  If Henry plays at his level without injury (and none of his injuries by themselves were serious), he will destroy opponents.
Shanahan has, at the very least, some doubts.  This signals to me that he may pursue a RB.  If he picks too high there is the potential of creating friction with Henry (which could erode Henry's confidence and play before he even gets the chance to show up this year).  A low pick is still likey to shore up the RB corps.
My guess is that Shanhan surprises most fans and seeks a RB somewhere is this draft.  Mendenhall might be the type of workhorse RB that Shanahan wants if he goes high, and there are multiple posibilities of one-cut runners later in the draft if he goes low.
I like Henry, and believe that he can get the job done at an elite level.  I expect him to come into camp ready to play hard.  But we don't have two everydown 'backs behind him, and I don't agree with the school of thought that either player behind him will be able to bulk up to change profiles from "speed" to "balanced".  Given the potential risk of losing Henry, it makes sense for Shanahan to pursue a RB.
Remember, running backs and the offensive line are the key to Denver's elite zone block scheme.  Denver can plug a lot of one cut runners into the scheme with success, but they have to have a mix of players that can be on the field for most plays in the game.  Between Young and Hall, they can't play an entire game (nor should they).
Denver has been known to trade to trade RBs in the past (almost every time a RB takes off and excels).  But Denver doesn't have a young superstar at this point.  However, don't be shocked if you wake up to hear that either Young or Hall has been traded to a team that needs a RB.  It's unlikey, but possible.
~~~~~~~~~~
At fullback Denver has depth.  Denver is not an elite FB team, but elite FBs are a rarity in today's game.  Denver's plan has been to have RBs in depth, and use the best blockers (who are not starters) to play at FB.  There they balance their training between blocking and going out for short screen passes.
Sapp is a capable FB, as demonstrated by his recent extension.  M. Bell plays behind him, and probably lost his chance to compete seriously for a starting RB position with some slippery hands in '07 when given the chance.  I don't know a thing about Smith, but he is likely gone if Denver pursues another RB (in which case Denver might make roster room by cutting him since neither Young or Hall can play at FB).
All you have to do is remember this:
"Denver's plan at fullback has been to have RBs in depth, and use the best blockers (who are not starters) to play at FB.  There they balance their training between blocking and going out for short screen passes."
I don't see Denver changing their plans in this regard.
~~~~~~~~~~
At wide receiver Denver has a serious problem.
Marshall is a young and upcoming, star posession receiver.  While he suffered a severe arm injury in the reloading season, I don't believe it will affect him going into the regular season.  He has better rehabilitation and medical attention than the average citizen (courtesy of the Broncos training and medical staff), and he is a physical specimen.  He spent the early part of the reloading season training with Cutler and Scheffler, and surely benefited from that time.
My issue with Marshall is the following.  Marshall now moves up from #2 cornerbacks to #1 cornerbacks.  As if this isn't a tough enough jump, he will be double teamed if Denver does not find a credible threat on the other side of the ball.
Enter Colbert from the Panthers.  The jury is out right now on if Colbert can play well or not.  He has been competing for a #2 spot in Carolina, and some compare him to Eddie Mac.  But I am concerned about his production, and even his player type.  
Cutler has a rocket arm, and this does our team little good if we don't have the speed at WR to capitalize on it.  Between Marshall, Scheff, Stokely, and Colbert we don't have any vertical threats.  Perhaps (if Colbert works out), he can take advantage on the weakside with the sheer number of run plays on the strong side, but this isn't ideal in my book.
Moving on, Denver picks back up at slot receiver.  Stokely is one of the best slot receivers in the game.  A route expert who spent a career working with Peyton Manning in Indianapolis, Stokely can catch in heavy traffic, and move the chains after the catch.  Like Marshall, he is a fearsome run blocker.  His only disadvantage is an inability to play every down (which is why he is at slot).  Shanahan virtualy apologized to Stokely by pointing out at season's end that he moved Stokely up to cover for Walker when Walker was injured, and indicated it wasn't fair to Stokely.  Never the less, Stokely held his own against the League's best cornerbacks and took far too many hits on too many plays in a row.
Martinez is our number four WR.  He has speed, and a few glimpses of great play, but doesn't give fans much confidence beyond that.  In a pinch he can hold his own at slot, but he is more of a punt returner than anything.
And then there's McDaniel who?
Denver's plan at wide receiver
If Shanahan has a lot of confidence in Colbert (knows something that we don't) he may not even pursue a WR
If Shanahan reads MHR he'll grab a WR or two in this draft.  Their are several WRs available in this draft if Denver trades down.
My guess is that Shanahan is a MHR reader and will use at least one pick on WR, perhaps two.  : )
~~~~~~~~~~
The offensive line is the heart and soul of the Denver offense.  Zone blocks give us our vaunted running game, and pass blocking protects such greats as Morton, Elway, and now Cutler.
Denver lost two key players on the line.  Lepsis (long time LT) retired, feeling he wasn't playing well.  Meyers (a versatile back-up) may have been as big of a blow.  A natural at guard, he held his own at center for an injured Nalen.  The loss of Meyers means the loss of a player who is well able to back-up multiple positions on the OL.  Denver couldn't afford to keep Meyers, who deserves starter pay.
And so the mystery begins.  Harris was considered to be the probable starter at LT (we've heard nothing but good things about the guy), but Shanahan recently said Kuper (a guard) was his choice for LT.  That leaves Holland and Hamilton at guard.  While both players are good at what they do (particularly Hamilton), Hamilton is only a concussion away from a midseason retirement.  He missed the '07 season.  At center we have Nalen, who is probably in his last year but a beast none the less.  But he too missed last season with an injury, and is at risk whenever he takes the field.  Wiegmann comes from KC to back-up Nalen though, and I think Wiegmann was a bright spot in an otherwise terrible KC OL.  I don't think he is a long term solution, but may be able to hold the fort for a couple of years after Nalen leaves (buying us time to develop another center).  All of this leaves Pears at RT, who should continue his development.
Whe the heck is Snell?
Denver's plan at OL
Denver has a lot of options for OT in the draft.  Clady may look good at 12, but several fans hope Denver can trade down and snag Williams while picking up another draft pick.
Denver may also opt for an OT later in the draft, since the axiom in zone block drafting is that "type trumps talent".
OR
Denver may shock the fan base and ignore the OT position all together.  By moving Kuper to LT and Pears to RT (with Harris at back-up), Denver may:
Draft an OG instead of an OT to learn behind Hamilton and Holland, and/or
Draft a center to step up after the expected retirement of Nalen.  (I predict that Hamilton nd Nalen are not in the NFL after '08).
~~~~~~~~~~
Watch for the following to gauge what Denver's plans are:
If Denver trades up for a player, it is a clear signal that Shanahan believes that player is the answer to all woes at that position.  A risky move, but classic Shanahan.  The majority of fans may love it, but the MHR elite fans seem to want the trade to go downwards.
If Denver trades down it is a sign that Shanahan believes the team needs to build up for long term success.
If Denver stands pat I believe that proposals to move up or down weren't able to be pulled off with other teams, despite efforts behind the scenes.
If Denver takes a MLB or ILB high in the draft this may signal a move to a 3-4 defense.  Denver is (in my opinion) set at LB for the 4-3 and somewhat at 3-4, and is only an elite NT away from such a formation.  If this happens, watch for Denver to spend several picks at DT hoping for one excellent catch.
If Denver takes one or two WRs in the draft mid round or higher, Colbert was just a head fake.  If not, the house has been bet on Colbert.
If a runner is taken high in the draft this doesn't spell the end of Henry.  Instead, Henry may split playing time.
If a SAF is taken anywhere in the draft (Phillips or lower), someone is going to get cut going into camp.
Denver will NOT draft a FB.
Denver may draft a TE, but only if they feel they have met their needs elsewhere in the draft for other positions.  THe pick would likely compete with Jackson or Mustard.  I don't expect a pick at TE.
Denver may pick a QB late to replace Hackney and/or Ramsey, but this too isn't likely.
Taking a CB may signal that either Foxworth or Paymah is about to be traded.
Taking a DE high may signal Denver's intention to use the player as bait for a trade if trade negotions weren't successful in other ways.  At worse, Denver ends up with another great DE (VERY nice if Moss doesn't work out).
Be shocked if Denver doesn't get at least one DT, one WR, and one OL.  Everything else may be frosting on the cake, but the Denver faithful expect at least one of each.
Don't be shocked if Denver avoids OTs all together, and instead go after a guard and/or a center.
I haven't said much about kickers and punters.  Prater kicks and Paulescu punts.  One or both may be challenged in camp, as I think neither player inspires a lot of confidence.
~~~~~~~~~~
Suggested reading that relates very well to this this University lecture:
Jon Tollerud has an excellent series in the diaries that details some of the solutions in the draft for each of the critical needs of Denver.  Find them listed as Football Univerity Extra Credit.
R8erh8er finds some good DT picks on the draft board (in terms of value) that many of us have overlooked.  (Follow the second link in his story).
http://www.milehighreport.com/story/2008/4/8/101221/5648
And while not relating to this lecture per se, newcomer TedBartlett905 has some very educational work in the diaries that relate to offense.  You are missing out on some good stuff if you miss his work.
I've noticed a lot more diaries than usual going up, and that's great.  Even better, a lot of first timers are trying their hand at diaries, and that's EXCELLENT!  Everyone keep up the awesome work!
~~~~~~~~~~
Thank you so much for sticking around for the long read.  I hope it was helpful.
Please chime in with questions, comments, criticisms, or praise.  If you are new to MHR you should know that MHR is full of experts on subjects ranging from coaching to salary caps, to law, to the draft.  No questions are stupid or too simple.  We're glad you're here and hoping to hear from you!
Next week is a Football University special that you won't want to miss!  An interview with the man behind so much of what is important to all of us who love the Denver Broncos and crave everything the team stands for.  Guru himself has scored some pretty amazing interviews in his time as leader of our group, but I promise you that not even the one and only Guru himself could get this interview!
Stay tuned!!!!!!!!!!!!!!    
Poll
The interview will be with...
This poll is closed
2. Terell Davis

(7 votes)

4. Mike Shanahan

(9 votes)

6. Someone else

(10 votes)
42 votes total
Vote Now