The speculation is over, and the first day is done. No moves were made up or down as Denver felt comfortable picking at their given slots.
From a fan perspective this may have been a let down day. After returning home from a day of work I read the comments (all several hundred of them) and saw a lot of dissapointment. No movement up or down, and no flashy picks (we get an offensive lineman and a WR that wasn't on our radar screens).
From a coaching perspective, I think we did what made sense with our 1st round pick, and as I do more research I believe we got ourselves a steal in the 2nd. Do you need to be cheered up?
Read on my friends. Life is good, and the 2nd day is only going to get better! Read more below the fold...
~~~~~~~~~~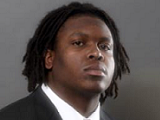 Just how good is Clady?
Look, offensive tackle is never a "sexy" pick. We all know that. But there is a possibility that Clady is not only a good OT, but a great one.
As I've written elsewhere, I don't like TSN for their game preps, for their team reports, or for things as simple as keeping their depth charts correct. But I do like their reports on college players, and this (scouting reports on college talent) is one area where they have a good staff. So below is some of what I gathered from TSN:
Clady is ranked as the 6th best overall player in the draft. Amongst OTs, TSN ranks Clady #1 in initial quickness and #1 in pass blocking. He ranks #2 in mobility, and #3 in run blocking. He is also considered rare at athleticism, size, and nastiness. He is projected to be a pro-bowler down the road, with the ability to start soon.
The inside word is that Denver ranked him as the second best OT in the draft, but still expected Clady to be worth taking between 5 and 8 (regardless of the needs of other teams). Thus, Denver considered Clady a "steal" in draft parlance, and took him right away in accordance with the analysis we were treated to by MHR great Styg50.
In my opinion Clady is clearly a LT player. He may be worth a competition with Harris for LT in the preseason. This would move Kuper back to OG. In such a scenario we would have 3 OTs and 3 OGs in place. Pears stays at RT and either Harris or Clady gets the start at LT. (I believe Clady would have the advantage going in, being a number 12 pick). Kuper and Hamilton would start at OG, with Holland in a back-up role.
A second scenario has Shanahan being truthful about Kuper playing at OT. If so, Pears would be the early favorite at RT. Clady would learn under (and backing) Kuper, and Harris would back Pears at RT.
I think the first scenario is more realistic. Not many number 12 picks start as a protégé. On the other hand Denver likes to train up their offensive linemen for awhile. Was the Kuper statement by Shanahan an indication that they expected Clady to be taken between 5 and 8?
~~~~~~~~~~
Let's talk about the pick that took all of us off guard. Eddie Royal was not the man we focused on, nor even the position many of us wanted. Being a defense guy myself, I desperately wanted a DT here. But Denver did something that MHR Editor in Chief Guru advocated, getting someone who gives us an unreal special teams boost in the return game. And folks, Royal is insanely good at this aspect of the game in punt returns.
Again, I turn to TSN for their scouting. Get ready for some wickedly good surprises:
Of all of the WRs in the 2008 draft, Royal ranks #1 in patterns (route running) and #1 in release. Those traits would compare him to Rod Smith. He ranks #2 in run after catch (which compares him to Brandon Marshall, except that Royal is much, MUCH faster). He ranks #4 in hands. He "only" ranks as the number 12 receiver because his blocking is ranked 20. But in "pure" WR traits he is in the top four in every other category.
On punt returns he averages 14.7 yards. He is considered a "burner", which means he is a deep field threat. Unlike many speed WRs, he has excellent hands and doesn't drop the ball when he takes bone crushing hits. He is considered a danger to score whenever he touches the ball.
Because of his size, he won't be an every down starter. For this reason he should be a slot receiver. Expect him to be the back-up (and to learn) under Stokely. As soon as Stokely retires, Royal will be an immediate and dangerous threat. He will start as a punt returner, and will certainly get a look at the kick return role also.
Still not sold? In his four years at VTech, Royal was used in situations where he went into motion and ended up as a rusher instead of a receiver 24 times. He averaged 9.8 YPC, and scored 2 TDs (that's 1 in 12 times he touched the ball in a role he wasn't even built for).
STILL not sold? Read Styg50's excellent front page article on Royal's character. He is a team guy, and an upright kid. His maturity is unquestioned.
While DeSean Jackson was ranked higher than Royal, most of the other names that we focused on were ranked lower. A lot of us were surprised to see Royal taken above other "better known names", but TSN's scouts seem to have agreed with Denver by ranking Royal higher than other WRs on the radar screens of the MHR faithful. Royal ranked higher than Bennett, Bowman, and Dexter Jackson.
~~~~~~~~~~~~
My conclusion? If you wanted excitement, sex, violence, fireworks and all the food you can eat during the first day of the draft you are not a happy camper. These were "boring" picks.
If you want the assurance that the famed Blue and Orange offensive line is alive and well for years to come, and a Hester clone for punt returns who doubles as an elite slot receiver right out of the gate, then you can give the Broncos a good grade for day one. I didn't get what I wanted, and my first inclination was to open the fridge and drink my brains right out of my head. When I calmed down and did a little research, and set aside my bias for a DT, SAF, or a WR I had heard of, I realized that our team is in good hands.
Now if we don't get a DT or two tomorow, and Coach Shanahan puts all of his eggs in one basket with DRob, I'm going to drink all of the Lambrusco, sangria, and Stolichnaya I can('t) tolerate. But for day one I give the Bronco's war room staff a solid "A-", just above Guru's rank of a "B".
It looks like the Broncos scored a trifecta, winning praises from Guru, Styg50, and myself. Looking at the voting on the poll done in Guru's article, it looks like a lot of the MHR faithful agree that the draft is on track so far.
Oh, one more thought. Do not think about skipping the draft until Denver's picks in the fourth. There's always the possibility of Denver making the pick trades they are famous for. Wouldn't you hate to miss Denver moving up into the third round?