The Carolina Panthers, represented by Panthers' blogger Jaxon select...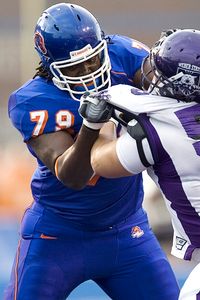 RYAN CLADY, OT -- BOISE ST.
While Jaxon didn't offer a specific reason for this pick, I think it goes without saying that the Panthers need help in a lot of places, most importantly the offensive line.  Clady slipping to them at #13 is almost a no-brainer.
The Draft So Far --
#1 - Miami Dolphins - DE Chris Long, Virginia
#2 - St. Louis Rams - OT Jake Long, Michigan
#3 - Atlanta Falcons - DT Glen Dorsey, LSU
#4 - Oakland Raiders - RB Darren McFadden, Arkansas
#5 - Philadelphia Eagles(via Trade w/ K.C. Chiefs) - DE Vernon Gholston, Ohio St.
#6 - New York Jets - DB Leodis McKelvin, Troy St.
#7 - New England Patriots - CB Dominique Rogers-Cromartie, Tennessee State
#8 - Baltimore Ravens - QB Matt Ryan, Boston College
#9 - Cincinnati Bengals - DT Sedrick Ellis, USC
#10 - New Orleans Saints - CB Mike Jenkins, USF
#11 - Buffalo Bills - WR Malcolm Kelly, Oklahoma
#12 - Minnesota Vikings(via trade with Denver) - DE Derrick Harvey, Florida
The Next 4 Picks --
 Chicago (7-9) -- WCG

 Detroit (7-9) -- tbell61

 Arizona (8-8) -- Broncofornia

 Denver (7-9) -- EJRuiz777