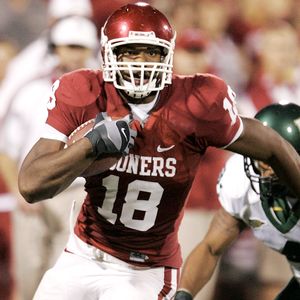 Jermaine Gresham
The website for Ardmore, Oklahoma says that it was twice named an All-American City by the National Municipal League. In 1984, it was the only Sunbelt City on the Elite, Nine-City List. That same year, Hugh Bayless cited Ardmore in his book, the 50 Best Towns in America. He may have understated the case.
Its website also offers you a chance to see the temperature and weather report on a 24/7 basis, but you don't need to bother with their website. If you want to know about Ardmore, you really just need to ask Jermaine Gresham. And maybe he'll tell you, but he probably won't. To learn about Ardmore, you'd have to ask the friends, counselors and coaches of that town. Maybe one of them will let you in on a little of what still remains mostly secret outside the town's borders. They might tell you what Ardmore is all about.
Currently a top prospect for the NFL at tight end from the Oklahoma Sooners, Jermaine Gresham was born in Ardmore OK. His parent's marriage ended, as sometimes happens, and his mother, with Jermaine in tow, moved down the Interstate to Texas. But the young Gresham constantly talked to her about Ardmore, about missing the town and needing to get back. Eventually she relented and while he was still in elementary school she took him back to spend a summer with his father. He never went back to Wichita Falls, Texas. Even then, Ardmore was where he knew he belonged.
His mother and his father gave Jermaine lots of love but they didn't have much else to offer. When Jermaine came back to his house in Ardmore to live, he slept on the couch, no bed, and without a pillow because they didn't have one of those, either. He was one of seven children; he has two sisters and four brothers. There wasn't enough money, there weren't enough beds and at times there wasn't enough food. Jermaine often slept at the houses of friends, and ate there too, just to keep his growing body and soul together.
A substitute teacher in town by the name of Steve Blankenship at first considered Gresham a loudmouth and a problem kid. He ended up supplying a lot of the discipline that would eventually mold the young boy. Blankenship was a counselor and coach at the local YMCA and he also volunteered at day camps. Over time, he began to help Jermaine with his homework. Eventually, Jermaine began to confide in Blankenship. The casual offer of a ride home ended in Blankenship being asked to come in for a few minutes. He has never told what he saw in that house, and he probably never will. But he and his wife, Sharie, began to buy clothes, shoes and other needs for the young boy. Because in Ardmore, that's just how they do things.
There was another man who took Gresham into his heart. That was Mike Loyd, the local football coach. Jermaine was dunking by the time he was in middle school, so it was no surprise that basketball was his first love in sports. Like so many youths, he planned to become the next Michael Jordan. Regardless, Loyd took an interest in him. They would sit in Loyd's tiny office for hours and talk about everything under the sun. They didn't talk about football much, though. But in a single conversation during Jermaine's freshman year, Loyd told him that he was going to be a TE/WR; that he would be 6'6 or 6'7 and a unique player. That at any other position he'd be a dime a dozen.
"He set me straight," says Gresham. "He's very straight forward. Everything that went on in my life, the first person I'd tell probably tell it to would be Coach Loyd."
Loyd said, "He's really a sincere young man with a good heart." Loyd should know. Young Jermaine's heart grew up in the warmth of his.
That didn't mean that the relationship with the Blankenships was any different or any less. Jermaine always spent a lot of time with them, too. Perhaps that existence of those adult relationships goes a long way to explaining the young man's early maturity.
"I think Jermaine adopted us more than we adopted him," said Sharie Blankenship. Gresham isn't legally adopted, nor is the Blankenships or Mike Loyd his legal guardians. Some relationships go far and deeply beyond the slender threads of the law. The human heart can weave a more beautiful net that can hold one young man up where another would fall on through.
The Blankenships have a room at the house on their cattle ranch where Jermaine will stay when he's in town, as he did the week before the Fiesta Bowl this year. They helped him with everything from dentist appointments to checking accounts, helping him with money if he needed it. This all came to light when the NCAA decided to investigate whether any of that money violated their rules. It took time, affidavits and interviews for them to decide that it didn't.
"We fill in the cracks," Sharie, who works at the high school, said. There are a lot less cracks in people's lives because of folks like her, her husband, and Coach Loyd. Some have suggested that Jermaine is going to give back to them financially when he wins his NFL contracts. They forcefully demur. That will go to his family.
Steve said, "We don't do things to get things back…" His wife added, "We never wanted anything from him." They didn't – they wanted something for him. A life filled with an education, love, stability and an understanding of how life works. How you give, because others need that giving. There are others, many others in that town that also helped Jermaine. Young as he is, Gresham seems to get it.
"It drives me at times," he said. "I'm doing it for them."
"I'm not going to let nobody down from my hometown," promised Jermaine. "I guess they've got so much invested in me, I can't let 'em down."
A 6'6 261 lb. junior, Gresham is currently ranked third among TEs by CBS Sportsline.com. He has soft hands; rarely drops a pass, There are several excellent young men at that position this year - Wisconsin's Travis Beckum, Missouri's Chase Coffman, Oklahoma State's Brandon Pettigrew, California's Bear Pascoe, Boston College's Ryan Purvis and Ball State's Darius Hill. That's a ton of talent at the TE position. But Jermaine is determined.
Since he's a junior, the fftoolbox.com said, "With all that talent heading into the draft, Gresham could quickly slide down the draft board. Right now he should be considered on par with many of those quality players, but it will only take an injury or a poor performance at the combine to drop Gresham down a few rounds." Apparently, Gresham took this to heart and recinded his draft elibibility at the last minute.
And that's fine. Because some team is going to look at the film and see the heart, the extra effort and that desire that can make the difference. A scout or two, perhaps a coach, is going to interview this young man and see what the folks of Ardmore OK have instilled into him and willingly give him a spot. It's just an opinion, but I don't think it's going to take much more than that. He already has more gold now than a dozen NFL contracts could reflect. The money and NFL success will come later.
"We truly love Jermaine," smiles Sharie. It shows. That's how Ardmore takes care of its young men. It's why sports matter in towns like Ardmore. It's in the beat of their heart.