Brandon Marshall trade speculation is really heating up, and quite honestly his departure or lack of will dictate our entire draft.  The Broncos are likely to tender the disgruntled receiver around $2.5 million, which would net them a return of a first and third round pick if any team tries to sign him.  Some teams that could be looking at drafting a wide receiver early are the Dolphins, Ravens, Patriots, and Bengals. 
I have been under the impression that the Broncos would trade Marshall ever since he was benched in week 17, and while I might be starting to sound like a broken record on this situation, I really think the Broncos will pursue a trade for him this offseason following the best statistical season of his career.
Marshall might not be the only one on the move either.
Believe it or not, there is a very good chance players like Tony Scheffler, Peyton Hillis, Chris Kuper, and dare I say Elvis Dumervil, who could be on the move this offseason.
Thanks to the CBA, the Broncos have one last shot to receive compensation for these players if they are unable to re-sign them to long term deals.
It was apparent thoughout the course of the season that the Broncos were ready to move on from some of these players, especially in the last couple of weeks. 
The Broncos appear to me to be poised for a playoff run in 2010.  After falling short in 2009, it's clear this team has the pieces in place to be a player in the postseason, but they are still a few pieces away from being an "elite" team in the AFC. 
I'm now going to do my best to play the role of Brian Xanders and Josh McDaniels, and try and build the team that would give us the best chance at a Super Bowl in 2010.
 Free Agents
1.  Elvis Dumervil, OLB
2.  Kyle Orton, QB
3.  Chris Kuper, OL
4.  Matt Prater, K
5.  Chester Taylor, RB (Minnesota)
6.  Ryan Pickett, DT (Green Bay)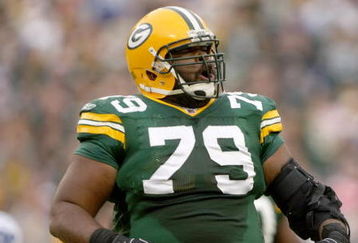 7.  Chad Pennington, QB (Miami)
8.  Lee Evans, WR (Buffalo)
Trades
1.  Brandon Marshall to Miami Dolphins for 1st round pick (12th overall) and 3rd round pick (73rd overall)
2.  Tony Scheffler sign and trade with Cincinnati Bengals for 3rd round pick (84th overall)
3.  Peyton Hillis to Washington Redskins for 5th round pick
4.  Trade 10th overall pick (from Bears) to Baltimore Ravens for 1st round pick (25th overall) and 2nd round pick (57th overall).
5.  Trade 12th overall pick (from Dolphins) to Green Bay Packers for 1st round pick (23rd overall), 3rd round pick (86th overall) and 5th round pick.
Pre-Draft:  Selection Slots
1st Round
23rd overall (from Green Bay)
25th overall (from Baltimore)
2nd Round
45th overall
57th overall (from Ravens)
3rd Round
73rd overall (from Dolphins)
80th overall
84th overall (from Bengals)
86th overall (from Packers)
4th Round
5th Round (from Redskins)
5th Round (from Packers)
6th Round
7th Round
Going into the draft with 13 picks, we can basically dictate our board.  I think this gives us the flexibility to go with defense in the first round, and revamp our offensive line in the second.  The signing of Lee Evans gives us the deep threat we really need, and we can go after a big possession receiver in the draft and use another pick on a different area.
The Draft
1.  First Round, 23rd overall (from Packers):  Mike Iupati, Guard, Idaho
6'5" 330
Iupati (not Lupati, for those who are commonly mistaken) is probably the best guard prospect available in this draft, and the Broncos would be wise to go after him here.  He can shore up the interior of their offensive line.  He is a massive body in the middle with great athleticism. 
2.  First Round, 25th overall (from Ravens):  Dan Williams, Defensive Lineman, Tennessee
6'2" 327
I can't say I'm fully on board with drafting Williams, but if we can get him at this point in the first round I would welcome it with open arms.  Williams is a very athletic nose tackle prospect who could likely make the transition to end in our scheme if need be.  I think adding Pickett and Williams would be great for our defensive line.  I also wouldn't mind seeing Chris Baker in the rotation this year as well.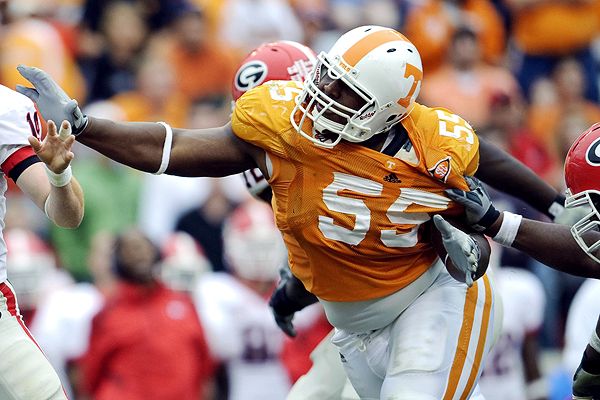 **Projected Trade:  Broncos trade 73rd pick (from Dolphins) and 86th pick (from Packers) to Patriots for 42nd pick (from Tennessee) and 5th round pick**
3.  Second Round, 42nd overall (from Patriots thru Titans):  Brandon Spikes, Linebacker, Florida
6'4" 256
I don't think Rolando McClain will be available with our first pick, but Spikes is an outstanding alternative here.  He has all the tools to be a succssful inside linebacker in the 3-4 defense, and would work well alongside D.J. Williams.  If you have any reservations about him in the second round, I refer you to the likes of James Laurinaitis and Rey Maualuga last year, and DeMeco Ryans in 2006.
4.  Second Round, 45th overall:  Maurkice Pouncey, Center, Florida
6'5" 320
Pouncey is the top center prospect in this draft, and we would have to be ecstatic if he fell to us here.  He's currently rated a high-mid second round pick by most outlets, so it's certainly possible the Broncos can get him here.  He and Iupati represent the future of our interior line, and a bright one at that if both pan out.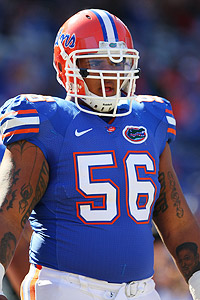 5.  Second Round, 57th overall (from Ravens):  Arrelious Benn, Wide Receiver, Illinois
6'2" 225
Benn is currently rated as the 55th overall prospect on the draft board I reference, so he is a real possibility for this slot if things stay the way they are.  I think he would be a nice replacement for Marshall as our possession receiver.  He was not extremely productive for Illinois, but that's because their quarterback situation was in limbo.
6.  Third Round, 80th overall:  Amari Spievey, Cornerback, Iowa
6'1" 190
Andre Goodman and Champ Bailey are both nearing 32 years of age, and Alphonso Smith's rookie season wasn't enough to comfort any Bronco fan in this area of the field.  Spievey has shutdown potential at the next level, and if he improves his speed he can also be a very effective return man.
7.  Third Round, 84th overall (from Bengals):  Javier Arenas, Cornerback, Alabama
5'9" 198
Speaking of adding a return man, I don't think there is a more perfect fit for that position in this draft han Arenas, arguably the best return man in the history of college football.  Arenas, while a great return man, is also an excellent nickel cornerback.  He has excellent versatility and would be a welcome addition to this team in my opinion.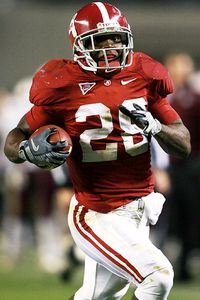 8.  Fourth Round:  Ciron Black, Offensive Lineman, LSU
6'5" 322
At this point, I think Black adds excellent depth to our offensive line.  He can play, and has played every position but center.  I like his size and versatility, though he might be better suited for the guard position I think he can be a solid backup tackle for us as well.
9.  Fifth Round (from Redskins):  Vince Oghobaase, Defensive Lineman, Duke
6'5" 305
Oghobaase could go sooner than this, but in such a deep draft his name often gets a little lost.  I think he'd be a nice value pick right here for us.  He has the size and strength to make the transition to the five technique in the NFL.
10.  Fifth Round (from Packers):  Cameron Sheffield, Outside Linebacker, Troy
6'2" 240
Another pass rushing option for the Broncos who lack one outside of Elvis Dumervil.  Sheffield had a very nice senior season for the Trojans with 62 tackles, 10.5 tackles for loss, and 7 sacks.  I think he could be a good situational pass rusher for the next level.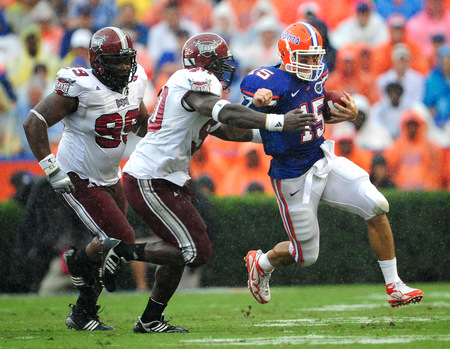 11.  Fifth Round (from Patriots):  Linval Joseph, Nose Tackle, East Carolina
6'6"  322
Just another massive body to add to our front line.  This guy left early from college at East Carolina, so he's got some talent but against lesser competition.  I think he'd be a nice addition to our defensive line.
12.  Sixth Round:  Andre Dixon, Running Back, UConn
6'1" 200
A speedier back to compliment the new trio of Moreno, Buckhalterl, and Taylor.  I think Dixon has been really impressive this offseason, and his combination of size and speed are enticing to me.
13.  Seventh Round:  Brandon Carter, Guard, Texas Tech
6'6" 340
Carter is a big, nasty offensive lineman who plays with a mean streak.  He has the potential to be a great guard at the next level if he keeps his intensity level high.
Depth Chart
QB:  Kyle Orton, Chad Pennington, Tom Brandstater
RB:  Knowshon Moreno, Chester Taylor, Correll Buckhalter, Andre Dixon (r)
FB:  Spencer Larsen
WR:  Eddie Royal, Brandon Stokley
WR:  Lee Evans, Jabar Gaffney
WR:  Arrelious Benn, Kenny McKinley
TE:  Daniel Graham, Richard Quinn, Marquez Branson
LT:  Ryan Clady, Ciron Black (r)
LG:  Mike Iupati (r), Seth Olsen
C:  Maurkice Pouncey (r), Dustin Fry
RG:  Chris Kuper, Brandon Carter (r)
RT:  Ryan Harris, Tyler Polumbus
DE:  Dan Williams (r), Ron Fields, Marcus Thomas
DT:  Ryan Pickett, Chris Baker, Linval Joseph (r)
DE:  Ryan McBean, Vince Oghobaase (r)
OLB:  Elvis Dumervil, Mario Haggan
ILB:  Brandon Spikes (r), Andra Davis
ILB:  D.J. Williams, Wesley Woodyard
OLB:  Robert Ayers, Darrell Reid, Cameron Sheffield (r)
CB:  Champ Bailey, Alphonso Smith, Javier Arenas (r)
CB:  Andre Goodman, Amari Spievey (r)
S:  Brian Dawkins, Darcel McBath
S:  Renaldo Hill, David Bruton, Josh Barrett
K:  Matt Prater
P:  Britton Colquitt
KR:  Amari Spievey
PR:  Javier Arenas
LS:  Lonie Paxton