Before I continue, I beg everyone to continue on in the post before simply commenting on my headline.  I feel everyone has the right to their own opinion, and I acknowledge that a majority of NFL observers are not so hot on Tim Tebow, but I feel the Broncos are the perfect fit for him, have said so numerous times, and will continue to say so until a piece of Broncos brass comes forth and declares that I am wrong.
Now you might all be wondering, "Then why have you not included him in all of your other mocks, Sayre?"
In all honesty, it may have been because I felt due to some of the comments received on this site that my dream of Denver drafting Tebow would never become reality, simply because a majority of you all didn't think so.
I would like to personally apologize to all of you readers right now, because in essence, I questioned my own integrity.  I didn't trust in my own judgements, and to be blunt, I didn't "stick to my guns".  For that, I am deeply sorry.
Now, on to the fun stuff. 
This is already my 13th mock draft, and this one will have a similar feel to the previous ones.  I still think ultimately, the Broncos will try and trade Brandon Marshall, but in my opinion if they cannot get adequate value in return, they should hold on to him if not for another year, for the long term.
With that, here is a mock draft with a little bit of a different twist than the previous ones.
Free Agency Signings
1.  Brandon Marshall, Wide Receiver (RFA)
Gasp!  The Broncos bringing Marshall back doesn't seem likely to a lot of people, but it's certainly a possibility.  This may be a silly analogy, but Brandon Marshall is like a child's first teddy bear.  When the teddy bear is brand new, and the child is young, they are tailor made for each other.  They grow with each other, and the bear becomes a significant part of the child's life, silly as it may be.
As the years pass, we all know what happens to the bear.  It becomes tattered, tainted, and in all honesty, much uglier than it once was.  Only the child remembers the true beauty of the teddy bear, and no matter what happens, the kid is stuck with the bear unless he wants to throw it away.
To the child, the bear is worth so much, it's almost unbelievable to even consider placing a price tag on it.  It's value to the child is worlds above what it is to any other kid, who probably have teddy bears of their own.
Brandon Marshall is like the Broncos' teddy bear.  He was great when we first got him, but he has been tarnished and tainted in his time in the NFL.  But darn it, he gets the job done, and to us fans and the team, his value is much higher than any other team might view him.
Silly analogy?  Maybe, but it makes some kind of sense, and the point of the whole speech here is that it may be in Denver's best interests to keep Marshall.  While his value right now is a first and third round pick, I don't think the Broncos are going to get as productive a player with either of those picks, though it would be nice to have all the draft choices.
In this instance, I think our "teddy bear" gets re-signed.  I think we tender him the highest possible value, and no offer made to him will be high enough (not likely) that we will not match.
Denver signs Marshall to a contract filled with stipulations and restrictions, and the amount of guaranteed money he receives depends on his off-field actions.  If we can figure some kind of contract like that out, I would jump at the opportunity.
2.  Kyle Orton, Quarterback (RFA)
I think Orton played very well (for the most part) in his first year as a Bronco, but I'm not sold he is the long-term answer at the position.  I think if he can continue to grow in this offense, we have a very capable backup on our hands.  A leader you want on your team, and one who can come in and win games if need be.
I still am not sold Orton is a "franchise" quarterback, though I love his mistake free approach to the game.  It's not that I doubt him as a player, it's just that with John Elway/Jake Plummer/Jay Cutler, I was comfortable going into the fourth quarter with the other team having a lead.  With Orton, I'm not exactly giddy.  I think most of Orton's games are won and lost in the first three quarters. 
Denver signs Orton to a three year deal worth 10 million dollars, and Orton is a happy man.
3.  Elvis Dumervil, Outside Linebacker (RFA)
There has been talk that Dumervil is destined for Miami to be closer to his family, to play in his home town, and to reunite with defensive coordinator Mike Nolan.
I don't see it.
Dumervil is the Broncos' best young defensive player.  I think they will sign him to whatever anyone offers him.  If I am the general manager, especially in an uncapped year, I would be ecstatic to bring back such a high character player who brings a pass rush to a defense that otherwise lacks one.
4.  Chris Kuper, Guard (RFA)
Kuper has been a very solid player for this team since he stepped into a starting role.  I think he struggled just as much as any other lineman in the new system this year, but he is a good player, and he will adapt.  I think he is an essential part to rebuilding this offensive line.
5.  Matt Prater, Kicker (RFA)
Prater had, in my opinion, a Pro Bowl caliber season in 2010.  Many were skeptical of what he would be able to accomplish because of his failed second half of 2008.  It appears as though his new conditioning regiment and preparation after a full season he is ready for a long kicking career in the NFL.
6.  Chester Taylor, Running Back (Minnesota)
Taylor is extremely versatile, and his value to the Vikings would indicate to me they will be willing to overpay him to keep him in Minneapolis, but I believe McDaniels will do some hard recruiting on this guy if he hits the open market.  He is an older version of Knowshon Moreno, but I believe he runs harder, and Moreno would benefit greatly from his teaching.
7.  Ryan Pickett, Defensive Tackle (Green Bay)
You all know my views on Pickett.  I think he played extremely well in his first year as a true nose tackle in the 3-4 defense, and he may be a hot commodity on the open market.  I think Denver needs a true nose tackle, and Pickett is better than any player they will find in the draft for 2010.
8.  Jarvis Green, Defensive End (New England)
Patriot fans seem to think Green is a starting caliber end in any other 3-4 defense, and I tend to agree. I think his connection with McDaniels and the Patriots will be a huge factor in his signing with the Broncos, if indeed he chooses to.
Trades
1.  Tony Scheffler to Cincinnati Bengals for 3rd round pick (84th overall)
2.  Peyton Hillis to Washington Redskins for 5th round pick
Draft
1.  First Round, 10th overall:  Tim Tebow, Quarterback, Florida
6'3" 240
We can all think of so many reasons we don't want the Broncos to draft Tim Tebow, but in all honesty, he's going to be the best player available when we pick in all likelihood. 
Rolando McClain?  He'll be gone.  Joe Haden?  Gone.  Many see this as a reach of a pick, but not me.  With Tebow's intangibles and arm strength, if the only thing holding him back is his poor throwing motion then I'd take the guy number one overall, and it wouldn't even be a question.
Players like Tebow are extremely rare.  It's not often you see a player so devoted to his teammates, so devoted to learning anything and everything, and a player who is willing to do whatever it takes to help his team win.
He is a winner.  All the guy ever did in college was win.  Say what you want about him being a "system" quarterback, but he mastered that particular system better than any quarterback before him, and he is arguably the greatest college quarterback of all time because of it.
Tebow is an All-American athlete.  He is an All-American student.  His work ethic and intangibles are off the charts.  His passion for the game is almost unmatched.  His arm strength is elite. 
Seems like all he needs is the right coaching, and with the McDaniels brothers, he has it.  If I'm the one calling the shots, I pull the trigger on Tebow right away.  It looks to me like our coin flip with Jacksonville is going to hold a lot more weight than all of us think.
2.  Second Round, 45th overall:  Maurkice Pouncey, Center, Florida
6'5" 320
What better way to welcome Tebow to the Broncos than to bring in the guy who has snapped him the ball the last three seasons. 
Quick question--if a quarterback can be maligned for not taking a lot of snaps from under center, can a center be criticized for the same thing?
Pouncey is an elite player at this position, and probably will be the best center prospect in the next couple of drafts.  He could go higher than this, but in such a deep draft I just don't see it.
Great value here, and an immediate starter.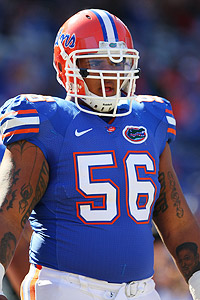 3.  Third Round, 80th overall:  Sean Lee, Inside Linebacker, Penn State
6'2" 240
Lee was a team leader for the Nittany Lions, and in addition to that he was an excellent player.  He seems like he'd be an ideal fit in the 3-4 defense, and though I'm not sold that he would start for us right away, I think he can be a starter either next year or two years from now after learning behind Andra Davis.  Nobody mentions him as a possibility often because many think we will either go with a LB early or later.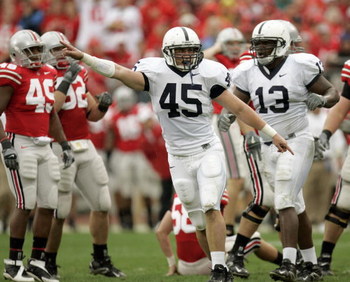 4.  Third Round, 84th overall:  Kareem Jackson, Cornerback, Alabama
5'11" 192
As many of you know, I really like Jackson's teammate from Alabama, Javier Arenas.  However, I think Jackson is better suited for the professional game as a potential starter.  He has good size, good speed, and he comes from a similar defense to that which we run.  I think he would benefit greatly from learning from the best in the NFL, Champ Bailey.
5.  Fourth Round:  Eric Decker, Wide Receiver, Minnesota
6'3" 215
I think Decker's stock is really dropping right now, and I'm not exactly sure why.  Some sites rate him as a mid-late second round pick, and others rate him as a late third-mid fourth round pick.  I think if Denver could get him in the fourth round, they would be ecstatic.  His injury is minor cause for concern, but he can be an impact player at the next level with his size and jump ball ability.
6.  Fifth Round (from Washington):  Brandon Carter, Guard, Texas Tech
6'6" 340
Carter's stock is on the rize because of his brute strength and leadership.  He might seem a little insane with his face paint, but make no mistake this guy is a scary good offensive lineman.  He is probably going to be slow, but his punch at the line of scrimmage is quick and effective, and he finishes on every play.
7.  Sixth Round:  Linval Joseph, Defensive Lineman, East Carolina
6'6" 322
What I like about Joseph is his versatility.  I think he is athletic enough to play either end or nose in the 3-4, and the Broncos should give him a look at both.  Good value pick here.
8.  Seventh Round:  Joe Webb, Wide Receiver, UAB
6'4" 225
Played WR his first year at UAB, and has played QB ever since.  I think he showed great work ethic so far at the combine, and with more coaching he could develop into a fine player at the next level.  His excellent athleticism and ability after the catch attract me.
Depth Chart
QB:  Kyle Orton, Tim Tebow, Tom Brandstater
RB:  Knowshon Moreno, Chester Taylor, Correll Buckhalter, Spencer Larsen
WR:  Brandon Marshall, Jabar Gaffney
WR:  Eric Decker, Kenny McKinley
WR:  Eddie Royal, Brandon Stokley, Joe Webb
TE:  Daniel Graham, Richard Quinn, Marquez Branson
LT:  Ryan Clady, Tyler Polumbus
LG:  Seth Olsen, Brandon Carter
C:  Maurkice Pouncey, Dustin Fry
RG:  Chris Kuper, Brandon Carter
RT:  Ryan Harris, Tyler Polumbus
DE:  Jarvis Green, Marcus Thomas
DT:  Ryan Pickett, Ron Fields, Chris Baker
DE:  Ryan McBean, Linval Joseph
OLB:  Elvis Dumervil, Mario Haggan
ILB:  D.J. Williams, Wesley Woodyard
ILB:  Andra Davis, Sean Lee
OLB:  Robert Ayers, Darrell Reid
CB:  Champ Bailey, Alphonso Smith
CB:  Andre Goodman, Kareem Jackson
S:  Brian Dawkins, Darcel McBath
S:  Renaldo Hill, David Bruton, Josh Barrett
K:  Matt Prater
P:  Britton Colquitt
KR:  Joe Webb, Eddie Royal
PR:  Eddie Royal
LS:  Lonie Paxton