So it seems as though mock drafts are going to come at the very least bi-weekly, or at least it will be until the possibilities are no longer endless, so expect them to slow down in March.  Also, if you don't like mock drafts and think we're making too many, feel free to not read them!
Just kidding, I hope you will all read them because not only are these mock drafts, they are a reflection of the many different players the Broncos could potentially target on draft day based on their versatility, intelligence, toughness, and ability to adapt.
As for the majority of my mock drafts, they have included a trade of wide receiver Brandon Marshall.  My previous mock draft was made with no Marshall trade, but I feel the market for him is too high right now and will continue to grow as the offseason progresses.  Earlier today, I relayed the message from the Tampa Tribune that the Bucs might have some interest in Marshall.
While the Bucs trade seems reasonable, I think the Broncos will be able to get a lot more for their disgruntled superstar than two second round picks and a fifth.
As some have pointed out, and rightly so in this case, it's hard to imagine McDaniels trading a superstar for two or three unproven commodities.  For this reason, I feel any Marshall trade (like the Cutler trade from last year) will have to include not only high draft picks, but a starting caliber player.
Will the Broncos be able to get a strong return package for Marshall?  Read on to find out.
Free Agency
1.  Elvis Dumervil, OLB (RFA)
Dumervil is a high character player and an elite pass rusher in this league.  Denver could let him go to the highest bidder (Miami has been mentioned) for a bunch of high draft picks, or they can do the smart thing and bring him back.  Dumervi's game has been described as one dimensional, and I suppose if Denver felt they could get Michigan DE Brandon Graham they could let him go, but Dumervil proved to me and many others this year he is worthy and deserving of a long-term extension.
2.  Kyle Orton, QB (RFA)
Denver Broncos delivers a pass against the Dallas Cowboys during NFL action at Invesco Field at Mile High on October 4, 2009 in Denver, Colorado." title="Dallas Cowboys v Denver Broncos" id="currentPic" />
To me, Orton isn't the long term answer at this position but he is certainly the short term answer.  He played admirably in 2009 and will likely return as the starter in 2010 barring something unheard of.  Denver could look to a quarterback early in the draft (see Tebow below) for the future, but Orton will likely start in 2010.
3.  Chris Kuper, OG (RFA)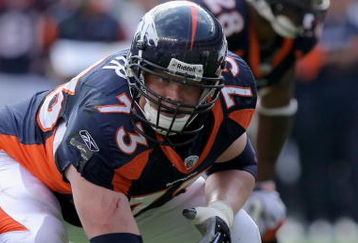 Kuper is an underrated guard in my opinion.  He struggled in his first year in McDaniels' power system, and I think he will make strides in 2010.  He has all the physical tools and is very intelligent.
4.  Matt Prater, K (RFA)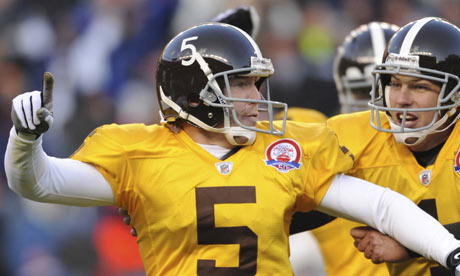 Prater really came on in his third year as a Pro, and should be our new kicker for the long term.
5.  Aubrayo Franklin, NT (San Francisco)
49ers_bears_0_0500835704.jpg" />
Franklin had a very good season for the 49ers this year, and word is they are going to try hard to re-sign him.  If not, he's a good value in the free agent market, and would be a nice anchor for our defensive line.
6.  Jarvis Green, DE (New England)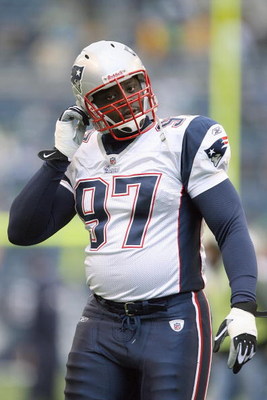 Obviously a connection with McDaniels, and is probably looking for a starting gig somewhere else.  A very solid veteran player who would add nice depth to our defensive line. 
7.  Mike Gandy, OG (Arizona)
Gandy is massive, and a veteran.  He would add some much needed size and depth to our line.  Gandy has solid postseason experience and would be a great fit along our front line.
8.  J.J. Arrington, RB (Free Agent)
Obviously we had interest in J.J. Arrington last offseason, significant enough to get all the way to a physical.  Now that he has healed from a severe injury, I see no reason why we wouldn't have interest in him again as a possible third down back or returner.
Trades
1.  Brandon Marshall to Tampa Bay for two 2nd round picks (35th, 42nd), 2011 3rd round pick, and 5th round pick
2.  Tony Scheffler to Cincinnati for 3rd round pick (84th overall) and 5th round pick
3.  Peyton Hillis to Washington for 5th round pick
4.  2nd round pick (45th overall) and 5th round pick (from Washington) to Arizona for WR Anquan Boldin
We're going to need a top flight receiver to replace Marshall if he goes, and Boldin is a similar type of player but at a cheaper price.  Boldin has great hands, decent speed, and he is arguably the toughest player I have ever had the priviledge of watching at the WR position save for two guys named Rod and Ed.  Boldin wants to be a star, and we can make him one.
5.  1st round (10th overall from Chicago) to Green Bay for 1st round (23rd overall), 2nd round pick (56th overall), and 5th round pick
Draft Slate
1(23) from Green Bay
2(35) from Tampa Bay
2(42) from Tampa Bay
2(56) from Green Bay
3(80)
3(84) from Cincinnati
4
5 from Cincinnati
5 from Green Bay
6
7
Draft
1.  First Round, 23rd overall (from Green Bay):  Jared Odrick, Defensive Lineman, Penn State
6'5" 301
This isn't a knee jerk to his performance in the Senior Bowl, but Odrick has proven to me that he can be an elite five tecnhique at the next level.  He penetrates better than a lot of other prospects, has great height, and brings a good mix of pass rush and run stuffing ability.  A hard worker who fights to the whistle on every play.
2.  Second Round, 35th overall (from Tampa Bay):  Sean Weatherspoon, Linebacker, Missouri
6'1" 240
Weatherspoon seems like an excellent leader on the field, and would be great value in the second round.  He is tough, takes good angles, and is very quick for a linebacker.  I think he and D.J. Williams could form a formidable duo for a long time in the middle of this defense.
3.  Second Round, 42nd overall (from Tampa Bay):  Tim Tebow, Quarterback, Florida
6'3" 240
Don't think I forgot about Tim Tebow.  After his performance in the Senior Bowl, I am convinced that Tebow has every tool to be an NFL quarterback, and he can make every throw.  His release is extremely slow at times, but his footwork greatly improved and he didn't have any trouble taking snaps from under center.  I realize he is a project, but he is a great fit for this city, and the fans would embrace him.
4.  Second Round, 56th overall (from Green Bay):  Matt Tennant, Center, Boston College
6'5" 290
Tennant is a great leader, and a three year starter for the BC Eagles.  He would be a nice alternative if we missed out on Maurkice Pouncey, as he has great size and intelligence.  Possibly a bit of a reach with this pick, but a necessary one.  I think he could start in the NFL for a long time.
5.  Third Round, 80th overall:  Eric Norwood, Linebacker/Defensive End, South Carolina
6'1" 246
The Broncos lack a great pass rushing option on the outside other than Elvis Dumervil, and Norwood has excellent versatility at the linebacker position.  Norwood seems like a taller version of Dumervil to me, actually.  I think he could be a solid outside backer in the 3-4 scheme.
6.  Third Round, 84th overall (from Cincinnati):  Jacoby Ford, Wide Receiver, Clemson
5'9" 185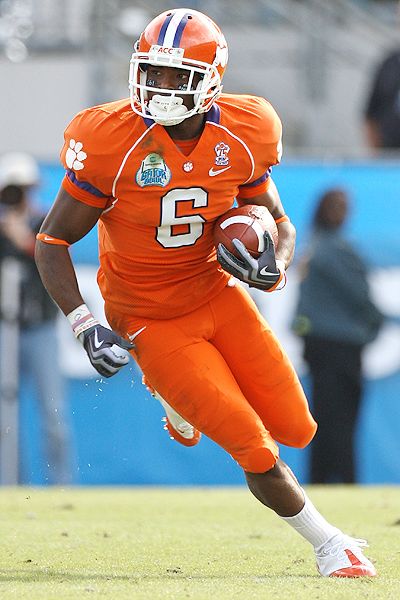 Big play threat whose value immediately in the NFL is as a return man.  I have him penciled in as our starting PR and KR, and I think he could also be a nice addition to the offense as he grows as a route runner.  According to Draft Countdown, he is the only player Scott Wright saw the Broncos contact this past week.  Take that for what it's worth, I suppose.
7.  Fourth Round:  Riley Cooper, Wide Receiver, Florida
6'4" 214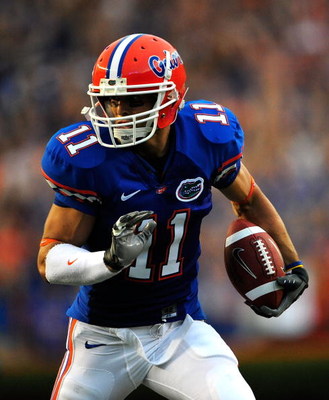 I like Cooper's NFL prospects.  He has great size, speed, and he could be a deep threat this offense really lacks.  I think Tebow would also appreciate us bringing on one of his college teammates.
8.  Fifth Round (from Bengals):  Ciron Black, Offensive Lineman, LSU
6'5" 331
Adds beef and athleticism to our offensive line.  Great value pick here.
9.  Fifth Round (from Packers):  Brandon Carter, Guard, Texas Tech
6'6" 340
Carter is a massive prospect who plays with a chip on his shoulder.  I think he has a chance to start as a pro.
10.  Sixth Round:  Walter Thurmond, Cornerback, Oregon
5'11" 185
Good value here, Thurmond was a jack of all trades for the Ducks before going down with an injury.  He has great speed and athleticism, and he knows what to do with the ball in his hand.
11.  Seventh Round:  Michael Hoomanawanui, Tight End, Illinois
6'4" 267
Had a good week at the Senior Bowl.  Good pass catching prospect whose main strength is blocking.
Depth Chart
Quarterback
1.  Kyle Orton                                           2.  Tom Brandstater                             3.  Tim Tebow (R)
Running Back
1.  Knowshon Moreno            2.  Correll Buckhalter            3.  J.J. Arrington              4.  Spencer Larsen
Wide Receiver
1.  Anquan Boldin      2.  Eddie Royal    3. Jabar Gaffney    4.  Brandon Stokley    5.  Kenny McKinley   6.  Riley Cooper (R)      7.  Jacoby Ford (R)
Tight End
1.  Daniel Graham    2.  Richard Quinn    3.  Michael Hoomanawanui (R)
Left Tackle
1.  Ryan Clady    2.  Ciron Black (R)
Left Guard
1.  Seth Olsen    2.  Mike Gandy    3.  Brandon Carter  (R)
Center
1.  Matt Tennant  (R)   2.  Dustin Fry
Right Guard
1.  Chris Kuper   2.  Mike Gandy   3.  Brandon Carter  (R)
Right Tackle
1.  Ryan Harris    2.  Mike Gandy    3.  Tyler Polumbus
Defensive End
1.  Jarvis Green   2.  Marcus Thomas
Nose Tackle
1.  Aubrayo Franklin    2.  Ron Fields    3.  Chris Baker
Defensive End
1.  Jared Odrick  (R)    2.  Ryan McBean
Outside Linebacker
1.  Elvis Dumervil    2.  Mario Haggan  
Inside Linebacker
1.  D.J. Williams   2.  Wesley Woodyard
Inside Linebacker
1.  Andra Davis    2.  Sean Weatherspoon  (R)
Outside Linebacker
1.  Robert Ayers    2.  Eric Norwood  (R)
Cornerback
1.  Champ Bailey    2.  Alphonso Smith
Cornerback
1.  Andre' Goodman    2.  Walter Thurmond  (R)
Safety
1.  Brian Dawkins    2.  Darcel McBath
Safety
1.  Renaldo Hill    2.  David Bruton    3.  Josh Barrett
Kicker
Matt Prater
Punter
Britton Colquitt
Kick Returner
1.  Jacoby Ford    2.  Walter Thurmond
Punt Returner
1.  Jacoby Ford    2.  Walter Thurmond
Long Snapper
Lonie Paxton