For your pre-NFL Scouting Combine entertainment, I will provide you with my final Broncos mock draft before the biggest scouting spectacle NFL fans will observe.  I really don't have a lot to say before we get started other than this mock will follow a similar style to that of the last one I made in that it will have multiple looks at our drafts, one that includes trades and one that does not.
I think both versions of these drafts present a certain emphasis, which are unique to each one.  As you may be able to tell from my format, I am partialed to a mock draft with trades as I see a deal or multiple deals for the Broncos very likely, if not imminent. 
There is no question this is a deep draft, and while the Broncos may not be looking to overhaul their roster through the draft, I think they will try to add at least two more picks to the fray in order to add depth to key positions. 
More after the break...
Mock With No Trades
1.  First Round, 10th overall:  Rolando McClain, Inside Linebacker, Alabama (NFLDraftScout.com #12) -2 reach
6'4" 256
2.  Second Round, 45th overall:  Demaryius Thomas, Wide Receiver, Georgia Tech  (NFLDraftScout.com #39) +6 reach
6'3" 225
3.  Third Round, 80th overall:  Cam Thomas, Defensive Lineman, North Carolina (NFLDraftScout.com #76)   +4 reach
6'4" 331
4.  Fourth Round, 116th overall (roughly):  Arthur Jones, Defensive Lineman, Syracuse (NFLDraftScout.com #122)  -6 reach
6'3" 295
5.  Sixth Round, 187th overall (roughly):  Devin Ross, Cornerback, Arizona  (NFLDraftScout.com #188)  -1 reach
5'10" 184
6.  Seventh Round, 222nd overall (roughly):  Erik Cook, Center, New Mexico  (NFLDraftScout.com #259)  -37 reach
6'6" 320
Mock Draft with Trades
**Tony Scheffler to Cincinnati Bengals for 3rd round pick (compensation pick for T.J. Houshmandzadeh, roughly 96th overall) and 6th round pick**
1.  First round, 10th overall:  Mike Iupati, Guard, Idaho  (NFLDraftScout.com #15)  -5 reach
6'5" 330
Pick Analysis:  This was a very tough decision.  We had to choose between a player we felt could start for a decade at middle linebacker and help stop the run or a guy who is going to be a mauler on our offensive line for the next ten years.  When it came down to it, it was a pretty easy decision.  Our offense was abysmal in short yardage situations, and a lot of that had to do with the poor play of our interior offensive line.
We feel Mike addressed a specific need up front at left guard, where he will compete for a starting position with veteran Russ Hochstein in his rookie season.  Mike is still learning the nuances of the game, but his athletic skills, strength, and mean streak are something you love to see in an offensive lineman. 
Mike is the perfect fit for this power offensive system, and we think his production as a first year player will exceed expectations.  He will pair with Ryan Clady on the left side of our line to form one of the top young G/T duos in the NFL, and his arrival allows second year player Seth Olsen to transition to center. 
We also feel that Mike gives us a ton of options up front with his versatility.  If Ryan Harris' injury does not progress, Mike can step in at right tackle to begin his career, while Olsen and Hochstein can man the left guard and center positions respectively. 
Mike is a great personality.  He is a joy to be around, and he has a great sense of humor.  The fans will respond well to him.   
via Jodatoa Blog
2.  Second Round, 45th overall:  Demaryius Thomas, Wide Receiver, Georgia Tech
6'3" 229
Pick Analysis:  We had an objective coming into this offseason at the wide receiver position.  Our first priority was to re-sign Brandon Marshall to a long term contract, and that was completed in the first weeks of free agency.  Marshall will be a Bronco for at least the next five years as long as he has no trouble with the law.  We are all happy campers in that regard. 
It's also no question that third year player Eddie Royal was under utilized severely in his second season.  He was targeted only 77 times, which is unacceptable for a player of his caliber.  Our second objective was to ensure Eddie that he would receive a good amount of looks in the receiving game.
We feel he can be best utilized as a slot receiver in our three wide sets.  Royal's quickness, route running skills, and ability to beat his man off the line of scrimmage are best used inside.  We realize that Jabar and Brandon (Stokley) won't be around forever, and we feel Kenny is going to play a similar role to what Jabar does for us right now.
It seems like the only thing we're missing at this position is a deep threat to compliment the smashmouth style of Brandon Marshall, and Thomas fits the bill.  He is a first round talent who fell to us here in the second because of a broken foot, and we are excited to have him.
Despite playing in an option offense at Georgia Tech, Demaryius put up All-American numbers, and he has the ideal size to speed ratio you look for in a receiver.  He is an extremely underrated prospect who has huge upside, and we think he can be an early contributor in this offense with his big play ability.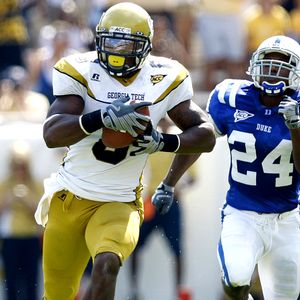 via ESPN
3.  Third Round, 80th overall:   Amari Spievey, Cornerback, Iowa  (NFLDraftScout.com #93) -13 reach
6'0" 190
Pick Analysis:  We're really excited about adding Amari to our cornerback mix, which includes two very solid veterans in Champ Bailey and Andre' Goodman, but also a youg guy we love in Alphonso Smith.  We think Smith's game translates to the type of game Goodman plays, and Amari is a guy whose physical tools remind us of a young Champ Bailey.
Amari was extremely productive for an Iowa team that boasted one of the nation's top defensive units over the last couple of years.  He was widely considered to be the Champ Bailey of his league, virtually shutting down an entire half of the field at times. 
He has some work to do with his hip movement, but we feel our coaching staff can fix any minor mechanical flaws in Amari's game, and we also think the veteran leadership around him is critical to his development.
The hope is that Amari can learn for a year while contributing any way he can on special teams as an immediate role.  We feel he has that versatility having been a return man for the Hawkeyes and one of the team's best tacklers in the open field. 
Overall, this was a very positive addition to our team.  We feel he can be a star in this league with the right coaching. 
via Gazetteonline.com
4.  Third Round, 96th overall (from Cincinnati):  Alex Carrington, Defensive End, Arkansas State  (NFLDraftScout.com #99)  -3 reach
6'5" 285
Pick Analysis:   On this team, we place a high value on versatility.  The defensive line is an area where we need our guys to be able to play multiple different positions.  We think Alex is the quintessential 3-4 defensive lineman.  He played and excelled in the 3-4 and 4-3 defenses in college, so his experience in different looks of defenses is not an issue. 
Alex is a guy whose specialty is stopping the run, and he does it with his excellent ability to keep contain.  We like that he plays with a low center of gravity, and he is quicker than any defensive end we currently have on the roster.  His lack of ideal size is not an issue because he has the frame to grow, and he gets great leverage despite his 6'5" height.
His height is also an attractive asset in the passing game.  His length allow him to knock down passes at the line of scrimmage, and his ability to get an effective bull rush make it all the more difficult for quarterbacks to see over the line. 
via Outside the Pen
5.  Fourth Round, 116th overall:  Javier Arenas, Cornerback/Return Specialist, Alabama
5'9" 198
Pick Analysis:  Quite honestly, we were stunned to see Javier available at this point in the draft, and we are thrilled to have him.  As we've stated before, we place a high value on a player's versatility.  We feel Javier can help us in a few different areas immediately, and we have a long term plan for him as well.
Initially, he will make an impact for us in the same area he made the biggest splash at Alabama, which is in the return game.  Going into the draft, we didn't see a return man who had better field vision than Javier.  He has great patience in terms of allowing his blocks to develop, he has a great awareness of where he is on the field and how close he is to the sideline, and his combination of strength and a low center of gravity allow him to earn the extra yardage upon contact.
In addition to his excellent return skills, Javier comes from a defense that is very similar to the one we employ, and he is a very polished nickel cornerback.  What we are really impressed with is his ability to blitz on third down, which we believe will be invaluable as his career develops.  He had five sacks as a senior, which is extremely impressive from a defensive back, let alone a cornerback.
We are excited to add this player, and he will be a fan favorite from the start.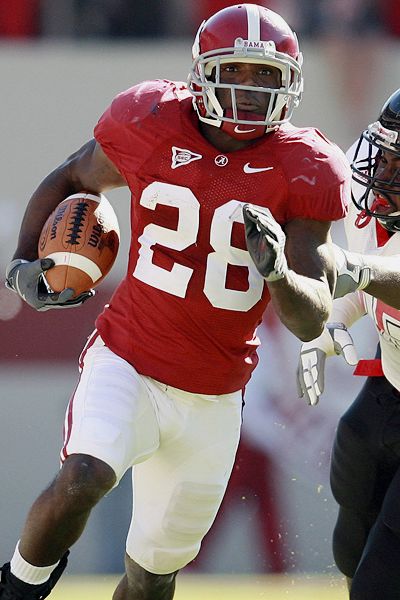 via Bleacher Report/Getty Images
6.  Sixth Round, 187th overall:  Patrick Angerer, Inside Linebacker, Iowa  (NFLDraftScout.com #199)  -12 reach
6'1" 240
Pick Analysis:  Though Iowa employs a 4-3 defensive scheme, we feel that Pat can eventually become a very solid starting inside linebacker in this league. 
At this point in the draft, you are looking for guys that provide depth and special teams ability.  Angerer does both things, and we couldn't think of a better player to bring aboard at this point in the draft. 
In his time with the Hawkeyes, Angerer displayed his versatility as a linebacker.  He was consistently around the play, making plays, recovering fumbles, tipping passes--you name it.  The guy does everything.  We know he has been labeled an overachiever in his college career, but he really has developed a nice natural instinct for where he has to be on the field at all times. 
Patrick is very instinctive.  He is rarely out of place, takes great angles, and plays with an unparalleled chip on his shoulder.  He will contribute on punt and kick coverage right away, and we hope he can eventually contribute as an every down linebacker in our scheme.
via Sports Then and Now
7.  Sixth Round, 200th overall (roughly, from Cincinnati):  John Skelton, Quarterback, Fordham  (NFLDraftScout.com #216)  -16 reach
6'5" 245
Pick Analysis:  When evaluating this quarterback class, there weren't many who possessed such intriguing measurables as John.  By bringing in John, we feel that Tom Brandstater is ready to step in as this team's number two quarterback behind Kyle Orton, and we think he gives us a nice prospect to evaluate in the future.
John's footwork was some of the best we evaluated in this year's class.  He has a good feel for the flow of the game, and while his competition level wasn't ideal, you look at his skill set and wonder why this kid wasn't playing for a big time college program. 
He has a very lively arm, and while he tends to be more accurate in the short range, we feel his deep ball can be extremely effective with a few minor mechanical tweaks.  Despite what his size may indicate, he has a good feel for pressure, and is able to avoid the pass rush by using his legs more often than not.
via Roar Lions Roar
8.  Seventh Round:  Erik Cook, Center, New Mexico  (NFLDraftScout.com #259)
6'6" 320
Pick Analysis:  Erik is a guy we really liked heading into the draft, and is one we see with legitimate starting potential in the NFL.  He has played virtually every position on the offensive line, and was voted an offensive MVP two years in a row by his peers.
His leadership is something we really value, especially at this point in the draft.  He is a very large body, and he has the mental capacity to take on our difficult offensive scheme and make adjustments before the snap. 
Erik caps off a very busy but very productive draft day for us.  We feel that we addressed every glaring need on this team with this draft as well as depth at certain positions. 
Vikings/images/ryan_cook.jpg" />
via Vikings Underground
Draft Recap
1.  Mike Iupati, G, Idaho
2.  Demaryius Thomas, WR, Georgia Tech
3a.  Amari Spievey, CB, Iowa
3b.  Alex Carrington, DL, Arkansas State
4.  Javier Arenas, CB/RS, Alabama
6a.  Patrick Angerer, ILB, Iowa
6b.  John Skelton, QB, Fordham
7.  Erik Cook, C, New Mexico