Draftivus is in full form, and I personally am in rare form. This is my 15th (unofficially) Broncos mock this offseason so far. I'll admit, I started even before Denver was out of the playoff mix, so technically this would only be my 10th following the regular season.
Regardless, I have a very new and fresh slate of picks for you all today. Some may surprise, and some may cause head scratching, but that's what this process is all about. I severely doubt we will all have a consensus agreement to the picks Mr. McBowleX decide to do on draft day, so we need to be prepared for all options.
This site does an excellent job of providing scouting reports, analysis, and multiple player options for the Broncos in this offseason, and I've seen hundreds of different players picked for the team, which can only mean good things.
The Broncos this offseason are going to be big players on the trade market, whether it's purely speculative or not. Brandon Marshall is and will be a huge topic in the coming months, and there is already floating around the idea that Denver will look to move down in the first round by some fans, including myself.
I think you will find this mock most debate worthy, so have at it!
Free Agents
1. Elvis Dumervil, RFA
2. Kyle Orton, RFA
3. Chris Kuper, RFA
4. Matt Prater, RFA
5. Russ Hochstein, UFA
6. LaDainian Tomlinson, RB, UFA (Chargers)
I very much respect Tomlinson. I think he is exactly the type of player McDaniels wants for this team. He is versatile, and after the comments he made about his future in San Diego, I would not be surprised if he chooses to stick it to his former team twice this year. What better way to do that than to sign with the Broncos, and become a mentor for our young buck, Knowshon?
7. Eugine Amano, G/C, UFA (Titans)
Big, strong offensive lineman who can play guard or center for us. Immediately, I like him to start at center while Seth Olsen mans the left guard spot.
8. Jarvis Green, DL, UFA (Patriots)
9. Aubrayo Franklin, NT, UFA (49ers)
10. Kevin Walter, WR, UFA (Texans)
Trades
1. Brandon Marshall to Baltimore for 1st round pick (25th overall), 3rd round pick (88th overall), and G Marshal Yanda
2. Tony Scheffler to Miami for WR Ted Ginn Jr.
3. Brandon Stokley to Houston for 5th round pick
Pre Draft
Round One
10, 25
Round Two
45
Round Three
80, 88
Round Four
Round Five (from Houston)
Round Six
Round Seven
Draft
1. St. Louis Rams: Ndamukong Suh, Defensive Tackle, Nebraska
2. Detroit Lions: Gerald McCoy, Defensive Tackle, Oklahoma
3. Tampa Bay Buccaneers: Eric Berry, Safety, Tennessee
4. Washington Redskins: Russell Okung, Tackle, Oklahoma State
5. Kansas City Chiefs: Rolando McClain, Linebacker, Alabama
6. Seattle Seahawks: Anthony Davis, Tackle, Rutgers
7. Cleveland Browns: Joe Haden, Cornerback, Florida
8. Oakland Raiders: Derrick Morgan, Defensive End, Georgia Tech
9. Buffalo Bills: Dez Bryant, Wide Receiver, Oklahoma State
1. First Round, 10th overall: Sam Bradford, Quarterback, Oklahoma
6'4" 215
Pick Analysis
I wouldn't call this a "worst case scenario" but I also definitely wouldn't consider it plan A. The fact that Rolando McClain, Joe Haden, and even Dez Bryant are off the board make this the logical pick, whether the Broncos are making it or not.
I personally am a fan of this pick. As much as I love Tim Tebow, the Broncos could not pass on Bradford here without taking a player who shouldn't go in this slot. For their money, Bradford is the best pick for this spot. His physical makeup reminds me a lot of Tom Brady, and his skills compare favorably as well.
Bradford is an extremely accurate passer, and though he is coming off of a shoulder injury all indications are he will be fully recovered for his pro day. Due to that fact alone, he too may be gone by the time Denver is set to select, and if all four of the Broncos' main targets are gone, they should look to trade down. Here is a scouting report on Bradford.
(From Draft Board Insider)
Scouting Report: Bradford has an NFL caliber arm, first and foremost. He can make every throw on the field. He also has an NFL caliber head. He's a smart player who makes quick reads and good decisions on the field. He does a good job working through his progressions and shows nice touch, especially on the short and intermediate routes. Bradford is smart in the pocket, always looking to step up and extend the play with his arm. He also has a quick release and is incredibly accurate on his throws. One nice thing about Bradford's game is his ability to work of play action. Also for a player who runs out of the shotgun as much as he does, when he is asked to drop back, he shows excellent footwork. On the downside, Bradford has had to deal with a nasty shoulder injury this season, and a lot of his draft status will be on his health. Also, Bradford isn't the most athletic guy and doesn't do well when forced out of the pocket and asked to make throws. Overall he doesn't handle the pass rush very well often taking sacks he shouldn't, and not throwing the ball away. Also, without this season, it's tough to say if Bradford has a lot of upside to his game.

Draft Status: Bradford will be drafted according to the health of that surgically repaired throwing shoulder, the status of other underclassmen quarterbacks entering the draft, and what he can show in the offseason in terms of his ability to make throws on the move and does he have elite arm strength. He's almost certainly a first round pick regardless but how high or low in the round could vary greatly between now and next April.

Final Analysis: Bradford made a huge mistake by coming back this season. He was almost certainly the number one overall pick last year. Instead he came back to try and get that national title he missed last year(which is admirable) and it all went wrong after that. He was already going to struggle to get no.1 overall in 2010 even with another great season, but now, there's really no shot at it. He doesn't have a huge arm, but is the best decision maker in the draft, and easily the most accurate of the bunch. It'll really depend on his health and is the risk/reward proposition worth it?

Reminds me of: Peyton Manning, QB Indianapolis Colts-No, I don't think Bradford will end up the player Manning is. But their games are very similar. Both excellent in play action, make great reads and decisions with the football, and shows pinpoint accuracy on their throws.
11. Jacksonville Jaguars: C.J. Spiller, Running Back, Clemson
12. Miami Dolphins: Dan Williams, Defensive Tackle, Tennessee
13. San Francisco 49ers: Bryan Bulaga, Offensive Tackle, Iowa
14. Seattle Seahawks: Taylor Mays, Safety, USC
15. New York Giants: Earl Thomas, Safety, Texas
16. Tennessee Titans: Everson Griffen, Defensive End, USC
17. San Francisco 49ers: Mike Iupati, Guard, Idaho
18. Pittsburgh Steelers: Trent Williams, Offensive Tackle, Oklahoma
19. Atlanta Falcons: Carlos Dunlap, Defensive End, Florida
20. Houston Texans: Golden Tate, Wide Receiver, Notre Dame
21. Cincinnati Bengals: Brandon Graham, Defensive End, Michigan
22. New England Patriots: Sergio Kindle, Outside Linebacker, Texas
23. Green Bay Packers: Bruce Campbell, Offensive Tackle, Maryland
24. Philadelphia Eagles: Ricky Sapp, Outside Linebacker, Clemson
2. First Round, 25th overall (from Baltimore): Jared Odrick, Defensive Lineman, Penn State
6'5" 301
I think Odrick is one of the more underrated prospects available in this draft. He has the size to play inside in a 3-4 defense, or as a defensive end in the 4-3. I see him as an ideal five technique. An athletic, hard working defensive lineman who plays to the whistle and who is rarely out of place. He would be an effective late first round add.
Here is a scouting report from Walter Football
Strengths:
Good body frame with room to bulk
Outstanding penetrator; knows how to get up the field and disrupt
Very quick; nice agility
Energizer bunny; love his motor
Very fast, strong hands
Nice balance and athleticism
Physical football player
Very active and focused on the field
Flashes great instincts
Displays some upside
Can play 3-technique; potential to play 5-technique (3-4 DE)
Weaknesses:
Inconsistent with leverage; will get too high
A little thin in upper body; must bulk up
Lacks a base
Can be run at
Struggles against bigger linemen
Has some off-field issues

Summary: I really like Odrick as a prospect if teams view him as coachable. If he adds some strength, he has a lot of potential as a 3-4 defensive end, or 5-technique. However, he will NOT fit every 4-3 scheme. His bread and butter is getting up the field using his quickness and hands. Teams like Buffalo, Minnesota, and Indianapolis might be interested. Odrick is a second-round prospect, but a darkhorse for the first round.

Player Comparison:

Tony Brown

. Brown is a one-gap penetrator in Tennessee; he is very quick, has great hands, but struggles when teams run at him.


Not quite sure how much I agree with Walter Football's assessment of Odrick, but I find myself disagreeing a lot with what he says (though his four round mock has the Broncos taking Dez Bryant, Alex Carrington, Colt McCoy, and Ryan Matthews, which I totally wouldn't mind). In watching Odrick against Iowa this year, one of the better rushing attacks in the nation, I think he displayed excellent ability to get into the backfield and stop the run.
I personally believe he has tremendous upside as a five technique, maybe even a three technique in our defense. He is a versatile performer who is quick, agile, and has good length.
26. Arizona Cardinals: Jimmy Clausen, Quarterback, Notre Dame
27. Dallas Cowboys: Brian Price, Defensive Tackle, UCLA
28. San Diego Chargers: Jonathan Dwyer, Running Back, Georgia Tech
29. New York Jets: Jahvid Best, Running Back, California
30. Minnesota Vikings: Patrick Robinson, Cornerback, Florida State
31. New Orleans Saints: Sean Weatherspoon, Outside Linebacker, Missouri
32. Indianapolis Colts: Devin McCourty, Cornerback, Rutgers
Round Two
33. St. Louis Rams: Jermaine Gresham, Tight End, Oklahoma
34. Detroit Lions: Charles Brown, Offensive Tackle, USC
35. Tampa Bay Buccaneers: Jason Pierre-Paul, Defensive End, South Florida
36. Kansas City Chiefs: Brandon LaFell, Wide Receiver, LSU
37. Washington Redskins: Ryan Matthews, Running Back, Fresno State
38. Cleveland Browns: Demaryius Thomas, Wide Receiver, Georgia Tech
39. Oakland Raiders: Jared Veldheer, Offensive Tackle, Hillsdale
40. Seattle Seahawks: Tim Tebow, Quarterback, Florida
41. Buffalo Bills: Vladimir Ducasse, Offensive Tackle, UMass
42. New England Patriots: Corey Wootton, Defensive End, Northwestern
43. Miami Dolphins: Brandon Spikes, Inside Linebacker, Florida
44. Tampa Bay Buccaneers: Terrence Cody, Defensive Tackle, Alabama
3. Second Round, 45th overall: Damian Williams, Wide Receiver, USC
6'1" 195
Maybe the Broncos would be getting a bit superfluous on the wide receiver position, but this is too good of value to pass up. With Marshall and Stokley departed, and Brandon Lloyd off as a free agent, this team would have three openings at the receiver spot. I like the trade of Scheffler to Miami for Ted Ginn Jr., and I also think Damian Williams would be a great addition to this squad.

He is a smart receiver, great route runner, and don't worry about the USC receiver tag he carries, because he compares very favorably to Steve Smith rather than a Keary Colbert or Dwayne Jarrett.
Here is a scouting report from Mocking the Draft
Acceleration/Burst/Quickness: Accelerates off the line well initially, but lacks the gear that can get him to top speed quickly. Very light feet that can change direction well.
Agility/Leaping Ability: Very elusive with the ball in his hands. Misses the meat of a tackle and can break free if the defender does not wrap on. Does not out jump many defensive backs downfield. Does a poor job at timing his leaps.
Blocking: Not a physical blocker. Lets aggressive moving safeties blow right past him on the outside. Takes poor angles at the second level.
Body Control/Ball Adjustment: Very well balanced athlete that consistently has his feet under him. Able to adjust in tight spaces to make himself small and tough to get a hold of. Can make the late, subtle movements to adjust to a poorly thrown ball.
Concentration/Hands: Reliable receiver that looks the ball in to his hands. Will sometimes let the ball get in to his body, increasing the chance of a drop. Able to zero in on the ball through traffic. Catches and moves north in one motion.
Release: Does not battle press coverage physically, often tries to juke the cornerback. Will take too long to get in to his route against good press coverage. Does take advantage of a little bit of space however because of his ability to shake a defender and run free.
Route Running: The best part of his game. Excels at getting in and out of breaks at a high speed. Can run the full route tree. Sells the double moves with the little details that corners zero in on. Uses the head and arms to improve his routes.
Separation: Can create space underneath with his strong plant-and-go steps. But does not maintain separation downfield, lacks the deep field speed. A weapon on the third and five plays because of the space he can create in the short routes.
Size/Length/Hand Size: Average on all accounts. Stands at only 6'1, weighs under 200 pounds. Needs to add some bulk to be able to fight the jam at the point of attack. Has long arms for his frame.
Speed: Can run away from most defenders but he lacks the top tier speed in the open field. More of a quick mover than a fast mover. Lacks the high gear when running deep routes.
Vision/Run After the Catch: One of the top punt returners in the country in 2008. Reads blocks well and can slip thorough small windows to spring himself in to the open field. A weapon in the screen game that lets blocks develop and chooses the right time to explode. Does not break a lot of tackles but he does miss the meat of a lot of hits.
Final Word: Williams, because he transferred from Arkansas following the 2006 season, played three seasons at the collegiate level despite being in school for four years. His record off the field is clean and Pete Caroll raves about his character. On the field, Williams led the Trojans offense in receving for two straight seasons as he proved to be a guy that can do it in a variety of ways. He is mainly a short-to-intermediate threat that runs impeccable routes and catches most passes near his body. He is very elusive with the ball in his hands and more than capable of being a big time playmaker at the next level. The forty time may not be as low as some prefer thus the chances of him breaking in to the first round are questionable. Should be a good pro, closer to Steve Smith than Dwayne Jarrett production wise.
4. Third Round, 80th overall: Arthur Jones, Defensive Lineman, Syracuse
6'3" 295
I had a nice discussion with our own Sharpe as a Tack the other day about the defensive line prospects, and in that discussion I became very excited about the prospect of adding both Jared Odrick and Art Jones. Jones is a more stout lineman and might be even better suited for the five technique. With Odrick manning the three, Jones could man the five and give the Broncos a very formidable line for the future.
Early in the offseason, Jones was considered a late first round pick until his injury woes caught up with him. Most notably, a pectoral injury in 2009 and a knee injury have caused his stock to drop fairly dramatically, but I think he'd be excellent value in this spot.
Here is a scouting report from Mocking the Draft
Pass rush: Because of the position he plays and an overall lack of great athleticism, Jones struggled at times getting after the passer. He doesn't have a good counter move after his initial post-snap maneuver. Needs to learn how to use his hands better in the pass rush.
Pursuit: Jones is better suited in making plays in front of him instead of chasing down a ball carrier. It will be interesting to see how a recent knee injury impacts his pursuit ability.
Quickness: Jones is fairly quick off the snap. He's really good at bursting through gaps and getting after the ball. Shows good snap anticipation.
Run defend: Keeps a good anchor against double teams. Has the leg drive to maintain his space. Big and strong enough to play nose in a 3-4 scheme. Showed he could be a factor against the run -- see 2008 Notre Dame game.
Size: Officially listed by Syracuse as 6-foot-4 and 293 pounds. This season Jones looked much bigger. His frame appears to be maxed out, but he's built very stout.
Strength: Powerful throughout his frame. As a senior was not affected by a torn pectoral muscle suffered in the summer. Was a high school state champion in wrestling and has great core strength, which makes him hard to move.
Tackling: When Jones get in on a play, he's hard to avoid because he stays low while tackling. Can disengage from blockers and make one-arm tackles.
Technique: Too frequently comes off the snap high, which allows linemen to get under his pads. Needs to do a better job of dropping his butt and bending his knees to get leverage. Gets good placement but he could do a better job of hand fighting. Hand/arm jolt is good.
Versatility: Jones has the size and strength to play tackle in either a 3-4 or a 4-3. Syracuse used a three-man front in 2009 and Jones held the nose. While it limited some of Jones' playmaking ability, he was still a factor, particularly against the run.
Final word: Jones is flying far below the radar, especially after Gerald McCoy and Brian Price declared and Dan Williams emerged. But also causing the low profile are some serious injury concerns. He tore a pectoral muscle in the 2009 offseason and saw his senior year shortened by a torn left lateral meniscus.
Jones is an attractive prospect because his ability to play the 3-4 or 4-3. This would allow teams the luxury of presenting different looks on defense.
Jones' injuries may have knocked him out of the first 50 picks of the draft, but he's a very good player. Despite his injuries, Big East head coaches named him a first-team all-conference player in 2009.
Comes from an athletic family. His brother is UFC star-in-the-making Jon "Bones" Jones.
5. Third Round, 88th overall: Sean Lee, Inside Linebacker, Penn State
6'2" 240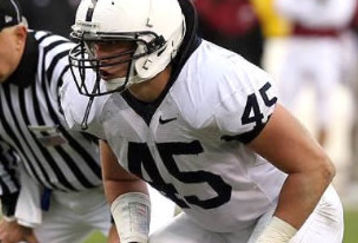 Well, if we go after Odrick we might as well fill another need by drafting his All American teammate Sean Lee, who has "steal" written all over him in invisible ink. Let's hope the Broncos somehow discover it in the third round, because this kid is going to be a special player at the next level.
His leadership skills are great, and his instincts are elite for a linebacker prospect. He hasn't got great experience in man coverage, but in this scheme he will be playing a lot of zone or blitzing most likely, as I see him as an heir apparent to Andra Davis.
Here is a scouting report from FF Toolbox
Sean Lee is one the most talented linebackers in the country. The only downside is Lee's inability to stay healthy the past few seasons. Lee was a huge surprise for the Nittany Lions as a sophomore when he earned a starting job at outside linebacker. He finished that season with 89 tackles, 8 tackles for loss, 5.5 sacks, and an interception. He improved upon those numbers as a junior, when he recorded 138 tackles, 10.5 tackles for loss, 3.5 sacks, broke up 9 passes, and forced 3 fumbles. Unfortunately, he missed all of last season with an ACL tear that kept him out until spring practice. Lee moved to inside linebacker for his senior year, and has played very well when he's been on the field. He finished the season with 86 tackles, 11 tackles for loss, and 2 sacks, in just 10 games. Despite all his talents, teams will be scared by the fact that he missed three games this season with a sprained knee. Lee can play all three linebacker positions in the 4-3 defense, and still has the speed to cover sideline to sideline despite those injuries. Sean Lee's draft status will depend heavily on what combine doctors have to say about his injuries. Depending on his post season performance, Lee could sneak into the bottom of round two, but is most likely a third round pick.
6. Fourth Round: Colin Peek, Tight End, Alabama
6'5" 255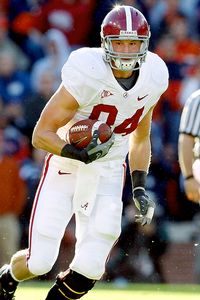 Peek has been suggested on these boards before, and while I've personally been partialed to Iowa's Tony Moeaki, I think Peek has excellent value as a massive blocker, but also as a legitimate red zone threat. I think he compares quite favorably to Todd Heap of the Ravens, or Daniel Graham with better height and hands.
Here is a scouting report from Scott Wright at Draft Countdown
Strengths:
Tall with a large frame --- Good bulk --- Soft hands --- Can make the difficult catch --- Solid ball skills --- A decent route runner --- Excellent blocker --- Nice awareness --- Smart --- Hard worker --- Still has upside.

Weaknesses:
Limited athletically --- Just average speed and quickness --- Does not get a lot of separation --- Isn't a vertical threat --- Won't do much after the catch --- Has minor durability concerns --- Relatively inexperienced.

Notes:
Father, Gene, and three uncles played football at Florida --- Cousin, Scott Peek, is a linebacker for the Gators --- Began his college career at Georgia Tech but transferred when Paul Johnson was hired since the tight end isn't used much in a triple-option offense --- Named 2nd Team All-SEC in 2009 --- Dealt with foot and knee injuries --- Really improved his draft stock as a senior --- Likely profiles as more of a backup in the pros but could compete for a starting job in the right situation --- Not flashy but might be one of the better all-around tight ends in this class.
7. Fifth Round (from Houston): Ciron Black, Offensive Tackle, LSU
6'5" 320
Black showed off his excellent athleticism in the Senior Bowl as he ran step for step down the field with a running back, and I wish I could remember which one. The Broncos lack depth on their offensive line, both on the interior and outside at the tackle spots, and I have full confidence that Black could step in and play any line position besides center.
He has championship experience, great size, and excellent athleticism. I think he is a great fit for this offense.
Here is a scouting report from FF Toolbox
Black has been the pillar of the LSU offensive line for four consecutive seasons, and he is one of the most experienced players in all of college football. Since redshirting in 2005, the senior tackle has started an incredible 52 straight games for the Tigers; 13 as a freshman, 14 as a sophomore, 13 as a junior, and so far 12 in his final campaign in Baton Rouge. Black was named a First-Team Freshman All-American by several publications in 2006, and he was an All-SEC performer in each of his next two seasons. The Tigers have been plagued by injuries this year so the offense has not been piling up a ton of yards, but Charles Scott (4.7 yards per carry) and Keiland Williams (5.3 ypc) have found success running behind a stellar offensive front.
Black also projects well to the NFL, and not just because he is extremely durable. In the mold of most LSU linemen, Black stands at an imposing 6'5'' and 322 pounds. He runs in the mid-5.3s of the 40-yard dash and has been clocked faster than 5.30 at that distance; impressive speed for a man of his size. Scouts will also love the fact that Black is an outstanding person off the field who excels in the classroom. The only real drawback--if you can call it that--is that Black, who has played both right and left tackle for the Tigers, is not an NFL left tackle (the more valuable position). He is an excellent run-blocker, but he must improve in the pass-blocking department if he is ever to protect a quarterback's blind side. Even so, Black is a lock to be off the board before the end of the second round, and he even has a shot at a late first-round selection.
8. Sixth Round: Walter Thurmond, Cornerback, Oregon
5'11" 190
I realize that after his performance in the Senior Bowl, and the fact that he is working with Tony Dungy, many would like to see LeGarrette Blount with this pick, and I myself wouldn't oppose it. I pegged Thurmond as a second rounder early this offseason without reading into his injury status, so I think he is an awesome find this late in the draft.
When this guy has the ball in his hands, he is an absolute wizard. He has all the raw ability you look for in a corner, and if he can come back from injury effectively he will be a late round gem.
Here is some scouting info from NFL Draft Scout and CBSSports.com
Thurmond, who is still expected to get some looks from the NFL, helped out while continuing his rehabilitation, which has progressed rapidly enough that he expects to ready for the NFL Combine in February. "The rehab is going really well right now," he said. "I met with the doctor (this week) and he said I should be ready by the Combine, and if I'm not ready, I'll have a Pro Day in March. "Everything's looking good and I'm just trying to get back in football shape." Kelly likes his chances. "He's just a real student of the game, and an unbelievable competitor," the Oregon coach said. "You never have to worry about him, because he comes hard every day and just competes harder than anyone I've ever been associated with. "He has the God-given athletic ability, and I believe if he didn't get hurt, he was going to be a first-round pick. I think wherever he ends up going at the next level - and I think he is going to be playing at the next level - they are going to get a great one." But first Thurmond hopes to encourage his team to one more victory. "I won't be playing in the Rose Bowl, but it does mean a lot, even in my situation."
9. Seventh Round: Reggie Stephens, Guard, Iowa State
6'3" 322
You saw it here first, folks. A devout Iowa Hawkeye fan picking two PSU alum, and an Iowa State Cyclone, all in one draft without any representation from the Hawks.
Laugh it up.
In all fairness, this is the type of player you want with your seventh round pick. A hard-working offensive line prospect who will simply try and out-work himself to a spot on the roster. Stephens is no exception. He is a massive space eater at 6'3" 322, and has great versatility.
Here is a scouting report from FF Toolbox
Reggie Stephens stepped into a starting role as a freshman at Iowa State and four years later he had started 36 consecutive games until he missed a contest during his senior season following an appendectomy.
Stephens' strength is his versatility. As a redshirt freshman in 2006 he started the last four games of the season at right guard. In 2007 he started all 12 games at left guard. In 2008 he started at both guard spots and in 2009 he even spent some time at the center position. He is an experienced player who can fill an important role off the bench in the interior of the offensive line for any NFL team. Stephens even earned some national recognition during his senior campaign and was an honorable mention on the All-Big 12 team.
Stephens has gone under the radar for the most part due to the lack of a potent offense at Iowa State. While the 6-3, 333 pound Rowlett, Texas native has plenty of strength, his footwork is a concern. He will need to prove that he can compete day in and day out with the big boys if he wants to hear his name on draft day. His best chance to do that is if he can get invited to the NFL Combine and some of the events during Senior Week.