First of all, many congratulations to the New Orleans Saints. They capped off one of the more balanced NFL seasons in terms of competition level that I have ever witnessed in my 20 years of life, and they were the last team standing. To get to their first ever Super Bowl, they had to beat Tom Brady's Patriots, Kurt Warner's Cardinals, Brett Favre's Vikings, and Peyton Manning's Colts.
Tonight capped off a great season of football, and darn it The Who also put on a dynamite show. Again, congratulations to the New Orleans Saints. They deserved to win tonight, and they had an excellent season.
Enough sappy stories. It's now officially time to move on from the 2009 NFL season. The offseason is less than one month away from getting into full form.
With a full season to evaluate not only the talent available in free agency and the draft, the Broncos and their new front office have had a full year to evaluate the players on the roster already. Denver's reloading project is 60 percent completed from last season. Josh McDaniels has nearly cemented his style on this team, though there are still some players left from the Shanahan era who clearly do not fit.
That will likely change this offseason.
As per lately, I've been using these mock drafts as a way to throw out every possibility the Broncos could encounter this offseason, and I likely have not even made a dent in the never ending amount of possibilities. Now that the season is officially over, I am going to start changing up the style of these posts.
Instead of presenting fantasy options, I'm going to go with what I actually believe will happen. Obviously it's a long shot at this point, but the picture will only become clearer and clearer as the NFL Draft approaches.
And without further adieu...
Free Agency
1. Brandon Marshall, WR, RFA
2. Elvis Dumervil, OLB, RFA
3. Kyle Orton, QB, RFA
Denver Broncos passes against the Baltimore Ravens at M&T Bank Stadium on November 1, 2009 in Baltimore, Maryland." title="Denver Broncos v Baltimore Ravens" id="currentPic" />
4. Chris Kuper, OG, RFA
5. Matt Prater, K, RFA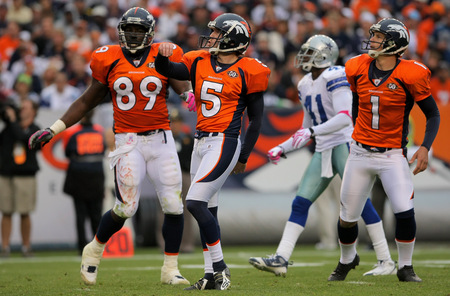 6. Kevin Walter, WR, UFA (Houston)
7. Jarvis Green, DL, UFA (New England)
8. Eugene Amano, OL, UFA (Tennessee)
9. Ben Watson, TE, UFA (New England)
Trades
1. Tony Scheffler to Cincinnati for 3rd round pick (84th overall)
2. Brandon Stokley to Houston for future 5th round pick
Draft
1. St. Louis Rams: Ndamukong Suh, DL, Nebraska
2. Detroit Lions: Gerald McCoy, DL, Oklahoma
3. Tampa Bay Buccaneers: Eric Berry, S, Tennessee
4. Washington Redskins: Sam Bradford, QB, Oklahoma
5. Kansas City Chiefs: Russell Okung, OL, Oklahoma State
6. Seattle Seahawks: Anthony Davis, OL, Rutgers
7. Cleveland Browns: Joe Haden, CB, Florida
8. Oakland Raiders: Bruce Campbell, OL, Maryland
9. Buffalo Bills: Dez Bryant, WR, Oklahoma State
This is a very tough choice here. The Broncos would be in quite the bind if they had to choose between their quarterback of the future in Jimmy Clausen, or their defensive quarterback of the future in Rolando McClain. Many on this site have a large preference toward McClain. We all read Pat Bowlen's comments about hoping for a young signal caller for the future.
I don't know that the Broncos could have asked for a more bittersweet situation if this one were to come to fruition. McClain is an ideal fit for ILB in the 3-4 defense, and is unquestionably the best 3-4 LB prospect in this entire draft. On the flip side, Clausen is an ideal fit for Denver because he ran their offense in college to a certain extent.
I have a feeling this selection would spark quite a debate.
First Round, 10th overall: James "Jimmy" Clausen, Quarterback, Notre Dame
6'3" 225
Obviously if the draft plays out this way, the Broncos will have a tough choice, as I pointed out before. I just cannot see them passing on a quarterback who has already been learning their system for the last three years. McClain would be a nice talent to add, and quite frankly I am surprised that even I had him lasting to this pick, which seems highly unlikely to me.
Maybe the same is true for Clausen, but in my last mock I had him lasting to 26th overall to Arizona, so there is a possibility for anything. You can hate on selecting a quarterback in the first round all you want, but Kyle Orton either didn't take advantage of the bounty of weapons at his disposal this year, or McD didn't open the playbook enough and trust him enough to allow him to spread the ball around as he should have. Clausen is a guy who McDaniels could rely on to spread the ball round effectively, and utilize our weapons. Here is a good, in-depth report on Clausen from Mocking the Draft.
Accuracy: Clausen has the incredible ability to complete just about every pass of 15 yards or less. Puts very good touch and zips on his short and intermediate throws. When his deep pass is on, he leads the receiver well. Needs to improve his trajectory on deep throws. His throws tend to come in low on deeper passes. Can throw on the move well and his passes don't lose a lot of velocity. Completed 68 percent of his passes as a junior.
Arm strength: While Clausen's arm is strong enough for the NFL, he can't accurately make all deep throws. On deep outs Clausen will take some zip off the ball and not deliver it as quickly. It will also take him a while to get deep passes out as he has to rely on his body to get the ball out. His arm will never be confused for Joe Flacco's or Matt Stafford's, but it's every bit as strong as Mark Sanchez's.
Athleticism/mobility: Clausen has good quickness in the pocket to slip around rushers and get rid of the ball. When he's on the move, Clausen needs to do a better job of securing the ball while he's on the move. Players at the next level will be more capable of stripping the ball away. Won't make a lot of deep runs in the open field. Runs mostly erect.
Decision making: Rarely will you see Clausen throw into bad coverage situations. Even when he does, he tends to put the ball only where his receiver can catch it. Intelligently throws away passes instead of passing into coverage or taking a sack.
Field vision: Works through his progressions better than just about any quarterback in college football. This is a display of his excellent football intelligence. When Clausen's first two reads are unavailable, he frequently found tight end Kyle Rudolph or checked off to a running back. As a junior, Clausen really improved his ability to move safeties with his eyes.
Mechanics: Possesses a quick, smooth delivery. Has a slight windup, but it's very correctable. Looks to have great balance and control driving back from under center. Quickly gets his feet into position. Clearly most comfortable in five-step drops. Where Clausen could improve is planting his feet in the ground. He'll frequently shuffle his feet in the pocket.
Pocket awareness/poise: Clausen is generally calm and poised in the pocket, but he'll often get antsy and start shuffling his feet around. This was especially evident following a mid-season foot injury. Loses some steam on his passes in the face of pressure when he tries to get rid of the ball more quickly.
Final word: After Notre Dame fired head coach Charlie Weis, there was no reason for Clausen to return to school. Playing for a new coach, Clausen's pro potential could have only struggled by switching offensive systems. He also would have risked injury.
Where Clausen showed the most intangible improvement during his career was in his leadership ability. After looking somewhat tentative early in his career, Clausen was clearly an on-field leader for the Irish. He has no known character flaws.
Clausen will go into the 2010 NFL Draft as a probable top 10 selection and could be the first quarterback selected. He improved leaps and bounds at South Bend after starting out as an inconsistent 190-pound freshman. He's an incredibly accurate passer and finished 2009 with a stunning 28:4 touchdown-to-interception ratio.
Second Round, 45th overall: Maurkice Pouncey, Center, Florida
6'5" 320
Pouncey is a no-brainer with this selection. We must solidify the interior of our offensive line in this offseason for the future, because I can't say from free agency or the draft who else we could get to start for us next year if Wiegmann is not brought back. Do we really have that much faith in Dustin Fry? He's a massive body and as of now, I project him to make the final roster. But he's not Pouncey in terms of versatility and athletic ability.
Here are a couple of tidbits from NFL Draft Scout:
- OL Maurkice Pouncey, one of five Florida Gators this season to declare early for the NFL draft, is working out at Disney's Wide World of Sports while twin brother Mike Pouncey prepares for another year in Gainesville. The decision to leave his brother was difficult but necessary, Pouncey told the Sentinel on Monday. Mike, a guard, will play center, Maurkice's old position, in 2010. "I felt like I wanted to start something new with my life," said Pouncey, who trains with Tom Shaw's Performance Enhancement. "Once we got a lot of information back, we talked about the fact that if he came back, he'd do a great job at center and be more versatile at the next level. The decision became a little easier once we both realized that." Pouncey, a potential firstrounder and top center in the draft, said he has accepted an invitation to the NFL Scouting Combine beginning Feb. 24. The Gators lost four other juniors - TE Aaron Hernandez, DE Carlos Dunlap, CB Joe Haden and S Major Wright -to the draft. "I'm a competitor, a leader," said Pouncey about why a team should draft him. "I'm all for the team. I feel like I'm athletic enough." Urban Meyer's job flipflopping and uncertainty surrounding the program did not affect Pouncey's decision, he said. "He's definitely going to be back," Pouncey said. "When he did decide to take time off, it was just a little bit of stress." - The Orlando Sentinel.com
A first-round already flooded with underclassman prospects gained two more as Florida Gators defensive end Carlos Dunlap and offensive lineman Maurkice Pouncey announced they will enter the 2010 NFL Draft. Pouncey might also hear his name called on the draft's first Thursday night primetime airing, along with linebacker Brandon Spikes, H-back Aaron Hernandez and quarterback Tim Tebow (if he can improve his delivery at the Senior Bowl and postseason workouts). Pouncey's twin brother, Mike, decided to stay in Gainesville one more season despite likely being one of the top five interior offensive linemen in the draft. "I am glad that my brother and I made the decision to be Gators, Maurkice Pouncey said in a statement. "God gave us the knowledge, strength and ability to be great players, but it is now time for my brother and me to part ways." Don't let Meyer's spread offense fool you: Pouncey is not a finesse lineman. The All-American and 2009 Rimington Trophy winner is tough, strong and athletic enough to start at guard or center in any NFL system. Known to play through the whistle, the 6-5, 310-pound junior started at right guard in his true freshman season and never looked back. As for his character, Meyer stated Pouncey "has been like a son to me." If Pouncey isn't selected in the first round, it will only be because of the few interior linemen typically selected in the draft's initial stanza and team needs. No matter where he is selected, however, his new team will get a long-time starter and potential Pro Bowl candidate. - Chad Reuter, The Sports Xchange, NFLDraftScout.com
Third Round, 80th overall: Jacoby Ford, Wide Receiver, Clemson
5'9" 185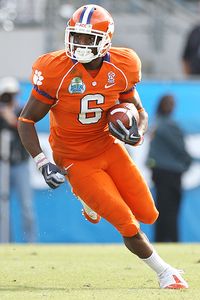 Ford was the only player Scott Wright of Draft Countdown noticed the Broncos talking to at the Senior Bowl, which I think is significant. Don't get me wrong, I love having Eddie Royal, but if he could focus on being a wide receiver and pass off the return man duty torch to someone else, I would greatly appreciate it as a fan.
Ford is one of the most electrifying return men available in this draft, and his playmaking skills and track star speed make him an enticing choice at this point in the draft. Complain all you want, but one of the Broncos' biggest problems this year was starting field position, and Ford can fix that. He all but guaranteed he would run a sub 4.30 40 yard dash at the combine, and that alone could elevate him from a fifth round pick to a third round pick.
In addition to being an excellent return man, he has potential early on to contribute in a slot receiver role, and give the Broncos a much needed deep threat offensively. Here is a quick take on Ford from the NFL Draft Bible:
Ford doesn't have great size at only 5-9 182 pounds but he is a fast and explosive receiver. To go along with his blazing straight line speed he has the quickness to go with it and show that when either he has the ball in his hands or when he is running routes. He also averaged 32.8 yards per kickoff return. Because of the lack of his size some teams are only going to be looking at him as a slot receiver and a return man to start out with, but could turn into more like what Steve Smith of Carolina did when he first come into the NFL.
Third Round, 84th overall: Sean Lee, Inside Linebacker, Penn State
6'2" 236
This pick comes from Cincinnati, and I don't think we could use it any better. There are many on this site who really like Micah Johnson out of Kentucky, and for good reason. I simply believe Lee to be a better value with this pick, and a more proven commodity at the collegiate level. He is a leader in every sense of the word, and he has the work ethic and talent to be an effective ILB for the next decade plus.
His toughness will attract NFL scouts, and his ability to read plays will entice McDaniels in particular. I could not find an adequate scouting report elsewhere, but I do know that many scouts feel Lee is best suited as an outside backer in the 4-3 or inside in the 3-4, so that's a plus. He had an ACL injury derail his entire 2008 season, but his production didn't falter all that much. In fact, his TFL total increased from 10.5 to 11. Coaches rave about his toughness and versatility.
Fourth Round: Arthur Jones, Defensive Lineman, Syracuse
6'3" 295
This pick may seem like a stretch, but Jones is rated as the 129th overall prospect according to my most reliable source (NFL Draft Scout), and if their ranking proves true I think Jones is a phenomenal value here. He is a versatile defensive lineman who has a short history of injuries, so that could cause his stock to fall.
I have not seen him play as much as I would have liked, but I think it's impressive that he was named first team All Big East with only a couple of games played this year. That is a testament to his talent and reputation among the coaches as a high character kid. Here is a scouting report from Mocking the Draft:
Pass rush: Because of the position he plays and an overall lack of great athleticism, Jones struggled at times getting after the passer. He doesn't have a good counter move after his initial post-snap maneuver. Needs to learn how to use his hands better in the pass rush.
Pursuit: Jones is better suited in making plays in front of him instead of chasing down a ball carrier. It will be interesting to see how a recent knee injury impacts his pursuit ability.
Quickness: Jones is fairly quick off the snap. He's really good at bursting through gaps and getting after the ball. Shows good snap anticipation.
Run defend: Keeps a good anchor against double teams. Has the leg drive to maintain his space. Big and strong enough to play nose in a 3-4 scheme. Showed he could be a factor against the run -- see 2008 Notre Dame game.
Size: Officially listed by Syracuse as 6-foot-4 and 293 pounds. This season Jones looked much bigger. His frame appears to be maxed out, but he's built very stout.
Strength: Powerful throughout his frame. As a senior was not affected by a torn pectoral muscle suffered in the summer. Was a high school state champion in wrestling and has great core strength, which makes him hard to move.
Tackling: When Jones get in on a play, he's hard to avoid because he stays low while tackling. Can disengage from blockers and make one-arm tackles.
Technique: Too frequently comes off the snap high, which allows linemen to get under his pads. Needs to do a better job of dropping his butt and bending his knees to get leverage. Gets good placement but he could do a better job of hand fighting. Hand/arm jolt is good.
Versatility: Jones has the size and strength to play tackle in either a 3-4 or a 4-3. Syracuse used a three-man front in 2009 and Jones held the nose. While it limited some of Jones' playmaking ability, he was still a factor, particularly against the run.
Final word: Jones is flying far below the radar, especially after Gerald McCoy and Brian Price declared and Dan Williams emerged. But also causing the low profile are some serious injury concerns. He tore a pectoral muscle in the 2009 offseason and saw his senior year shortened by a torn left lateral meniscus.
Jones is an attractive prospect because his ability to play the 3-4 or 4-3. This would allow teams the luxury of presenting different looks on defense.
Jones' injuries may have knocked him out of the first 50 picks of the draft, but he's a very good player. Despite his injuries, Big East head coaches named him a first-team all-conference player in 2009.
Sixth Round: Walter Thurmond, Cornerback, Oregon
5'11" 185
No change here. I think Thurmond is an excellent value this late in the draft. He has return capabilities if need be, but I see his best value as a situational corner early on. I think he adds great depth to our defensive back unit, and brings great versatility to our special teams.
Seventh Round: Dace Richardson, Offensive Lineman, Iowa
6'6" 305
Just going with what I know here. Richardson's career was riddled with injuries, but when he came to Iowa he was all but guaranteed to be a first or second round pick coming to the NFL. Richardson performed very well as a fifth year junior for Iowa, and he was a first team All Big Ten performer this past year. He excels in the power offensive attack. Kirk Ferentz runs a similar offense in Iowa that the Broncos use, as he worked with Bill Belicheck during their Cleveland days.
Undrafted Free Agents
1. A.J. Jefferson, CB/RS, Fresno State 6'0" 190 4.45
A guy who has a chance to come in and compete for the KR job, though he could make an impact elsewhere on special teams. Probably wouldn't make the final roster, but is a nice athlete who would bring in a fresh set of legs for training camp.
Stafon Johnson, RB, USC 5'11" 215 4.54
Probably got the coolest comeback story of any running back in this draft. He's not exceptional in any particular area of his game, and USC RB's tend to be a bit underrated to me because they have so many talented guys there. I think Johnson is the most complete back coming out of USC in a long time, and he has a chance to be a nice find.
Reggie Stephens, OG, Iowa State 6'3" 322
I had us drafting Stephens in my previous mock, but I think he could be a nice UFA tryout player as well. With the free agent signings, he might not have a great shot at making the final roster, but his versatility gives him better chance than most.
J'Marcus Webb, OT, West Texas A&M 6'7" 335
Gigantic tackle prospect who went to a small school. If the Broncos pick him up, I think they put him on the practice squad for a year and try him out in 2011 as a backup prospect.
Travis Ivey, NT, Maryland 6'4" 341
Very gifted athletically as evidenced by this photo. He carries his 341 pounds very well and has potential to break a rotation eventually.
Abe Koroma, NT, Western Illinois 6'3" 317
Not unlike our own Chris Baker, this former highly touted Penn State recruit had to switch colleges for off field reasons. I still think he's worth a look in training camp, and like Baker, Koroma could be a nice steal. I believe he left school early to enter the draft, so he obviously has been advised by someone.
Doug Worthington, DL, Ohio State 6'5" 288
Worthington has the frame to add weight and become an ideal three technique in a 3-4 defensive scheme. The Broncos might look to him for competition and possibly depth, but he seems like a practice squad guy in his first year.
Kerry Meier, TE/WR/FB, Kansas 6'3" 220
An extremely versatile athlete who started his KU career as a quarterback. He turned into a great receiver and some on this site have had him going as high as the fifth round. He doesn't have great speed, but he runs good routes, has reliable hands, and is a big time threat in the red zone.
Chris Hall, C, Texas 6'4" 300
Just looking for competition at the center position from an experienced guy coming from a big time program.
Joe Pawelek, ILB, Baylor 6'2" 240
Mark this guy down for the active roster immediately. If the Broncos see him on the open market, they will entice him by offering him an immediate spot on special teams. Pawelek reaks of intangibles, and scouts call him quick and instinctive. He has good pass coverage skills, but is currently being overlooked because of a lack of natural athleticism.
Depth Chart (projected)
Offense
QB: Kyle Orton, Jimmy Clausen, Tom Brandstater
RB: Knowshon Moreno, Correll Buckhalter, Peyton Hillis, Stafon Johnson
WR: Brandon Marshall, Jabar Gaffney
WR: Kevin Walter, Jacoby Ford
WR: Eddie Royal, Kenny McKinley
TE: Daniel Graham, Ben Watson, Richard Quinn
LT: Ryan Clady, Tyler Polumbus, Reggie Stephens
LG: Eugene Amano, Seth Olsen
C: Maurkice Pouncey, Dustin Fry
RG: Chris Kuper, Dace Richardson, Stephens
RT: Ryan Harris, Seth Olsen, Dace Richardson
K: Matt Prater
LS: Lonie Paxton
KR: Jacoby Ford
Defense
DE: Jarvis Green, Marcus Thomas
DT: Ronald Fields, Chris Baker, Travis Ivey
DE: Ryan McBean, Arthur Jones
OLB: Elvis Dumervil, Mario Haggan
ILB: D.J. Williams, Wesley Woodyard, Joe Pawelek
ILB: Andra Davis, Sean Lee, Spencer Larsen
OLB: Robert Ayers, Darrell Reid
CB: Champ Bailey, Alphonso Smith
CB: Andre Goodman, Walter Thurmond
S: Brian Dawkins, Darcel McBath
S: Renaldo Hill, David Bruton, Josh Barrett
P: Britton Colquitt
PR: Jacoby Ford
Practice Squad Additions
WR Kerry Meier
DL Doug Worthington
RB Brandon James, Florida
There you have it, all. Hope you enjoyed this edition!