With this mock what I'm really trying to accomplish is establishing the interior lines on both sides of the ball, as well as improving our depth at certain positions, mainly our linebacker spots.  With the recent release of Andra Davis, it is speculated that we will move Mario Haggan to the inside while giving Robert Ayers a starting slot on the outside. 
I think the Broncos have established a fine defensive line for the coming season, but like many have indicated around this site, that area of the team can also stand to be improved as well, particularly our youth at the nose tackle position. 
You will also see some depth added to positions like running back and wide receiver.  I think the players I have added via this draft will help our depth issues immensely, while giving us some solid special teams candidates for the coming year. 
**Projected Trade:  New England trades picks #22, #47, and sixth rounder for pick #11**
Why in the world would New England trade up?  Do I just think Bill Belicheck has a need to help his former protege out by dealing him some picks?  No.  I think a trade up makes a ton of sense for the Patriots.  They have three second round picks, which allows them a ton of flexibility in the draft as a whole. 
I believe the Patriots will be targeting a big name receiver on draft day, some guy named Dez Bryant and the Broncos benefit greatly by moving down because they need to compile picks in order to effectively complete their roster turnover.  Say what you want about Bryant, but the kid has skill, and the Patriots are getting long in the tooth at the wide receiver position. 
1.  First round, 22nd overall:  Maurkice Pouncey, Center, Florida
6'5" 306
Any time you can come away from the first round of the draft with the best prospect at a certain position (save for kicker, punter, and other obvious positions) that fits an immediate area of need, you have to consider yourself fortunate.  Maurkice is widely considered to be the top center prospect available not only in this year's draft, but in next year's draft as well. 
He fits our scheme perfectly.  We were looking to add size to this position, and we did just that with this pick.  Pouncey is more than 20 pounds heavier than Casey Wiegmann, and he's extremely intelligent and athletic.  He made all the offensive line calls for the Gators and really grew as a player the last few years. 
This pick comes with the knowledge that Seth Olsen can start at either guard or center this season and beyond, and we feel Pouncey has that same capability.  Since Maurkice has more familiarity with the position, it would be ideal for him to start at center, and Seth at left guard. 
We want to establish a powerful offensive attack, and last season the lack of production from our interior line was a main reason our offense struggled down the stretch.  Maurkice has enormous potential, and many view him as a guy who will start in this league for a decade or more. 
Scouting Report from CBS Sports:

The 2009 class of centers was one of the richest in modern league history. Three -- Alex Mack, Eric Wood and Max Unger -- were drafted among the top 50 picks -- which last occurred 20 years ago. The last time two centers were selected in the first round, as Mack and Wood were last April, occurred 50 years ago.

This year's class was lacking a top 50 prospect until Pouncey elected to come out early. The veteran of 40 starts for the Gators emerged as the country's top center this season, earning All-American honors and winning the Rimington Trophy as the nation's best center.

NFL scouts know that collegiate awards can be popularity contests, so they'll do their due diligence with Pouncey. What they'll find is that despite playing on an offense known more for its finesse and trickery, Pouncey is smart, strong and athletic. He'll need to prove he can handle the adjustment to the traditional snap after two seasons at the pivot in Florida's shotgun offense, but scouts don't feel this will be a problem.

Capable of moving outside to guard again in the NFL (he started 11 of 13 games at right guard as a true freshman), the versatile interior lineman should be able to make an immediate impact in the NFL

Pass blocking: Adept at the shotgun snap. Good quickness and accuracy in firing the snap back and catching the defensive tackle. Stout at the point of attack. Quick, accurate hand placement and impressive strength to handle the bull rush. Big and strong enough to handle the nose guard one on one. Good lateral agility and balance to handle quicker defensive tackles. Keeps his head on a swivel and looks to help his teammates.

Run blocking: Rare combination of size, leverage and power as a drive blocker. Stays low and gets under the pads of his opponent to move him off the line of scrimmage. Very good combination blocker; capable of helping out the guard initially on the double-team and releasing to get to the second level. Good quickness, balance for the trap block. Plays with some nastiness. Looks to pancake his opponent when he feels he's off-balance. Good effort to sustain. Finishes the block.

Pulling/trapping: Not often asked to pull from the center position in this offense, but was asked to do this some as a freshman at right guard. Quick out of his stance and has the straight-line speed and balance to get out in front of the back. Good recognition to find his target and has the body control to adjust to the smaller opponent. Can be a punishing trap blocker. Good quickness and explodes into his opponent to knock him out of the play.

Initial Quickness: One of his best traits. Capable of making the accurate snap and still get his hands up quickly to catch the defensive tackle without losing much ground. Explosiveness as a trap blocker is impressive.

Downfield: Good, not grea,t speed to get to the second level. Good balance and agility to hit the moving target. Hustles downfield and looks for someone to hit.

Intangibles: Intelligent. Made all the line calls for Gators. Showed his toughness by starting in the 2009-10 Sugar Bowl only hours after receiving four bags of IV fluids and being treated for kidney stones. Underwent a CT scan that showed no obstruction in his kidneys and was cleared to play. Identical twin, Mike, plays right guard for the Gators and elected to return for his senior season.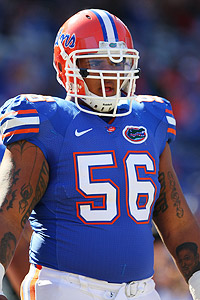 via ESPN.com
2.  Second round, 45th overall: 
Donald Butler, Inside Linebacker, Washington
6'1" 245
Donald is an instinctive defender who flies around the field.  He is a good leader and a playmaker that we desperately need in the middle of our defense along with D.J. Williams for the future.  He has starting capabilities, and can help us immediately on special teams and passing downs. 
We view him as the prototypical 3-4 inside linebacker, much similar to New England's Jerod Mayo both in size and the way both players fly around the field.  He should have an instant impact on this team in the running game with his superb lateral speed and quickness, but he is probably the best coverage inside linebacker available in this draft as well. 
Scouting Report from CBS Sports:

Butler didn't begin to make a name for himself on a national level until his senior campaign.

Moved back to inside linebacker under new head coach Steve Sarkisian and former USC defensive coordinator Nick Holt -- Butler split time inside and outside as a junior -- he enjoyed a breakout season in 2009, finishing third in the Pac-10 in total tackles (94) and second in tackles for loss (15.5) on his way to earning second-team all-conference honors.

Though not initially among those invited to the Combine, Butler's strong showing during the week of practice at the Senior Bowl forced scouts to make him one of 19 seniors added late.

Butler is aggressive in taking on blocks, but has to pick a side of the oncoming offensive lineman and slide off, rather than facing him fully. His narrow build might make it difficult for him to add the size and strength necessary to handle the bigger, stronger guards in the NFL. His relentlessness and good open-field tackling skills will help him rack up tackles, but too many may come yards downfield. Considering his frame and relative comfort in coverage, some teams will view Butler as an outside linebacker prospect.

Read & React: Leans forward pre-snap, almost falling forward in anticipation of the run on early downs. Takes a tentative step forward at the snap and explodes out of his stance toward the line of scrimmage. At his best defending the stretch play, as he has the burst to break through the line when he sees a gap to make the tackle for loss. A bit over-aggressive stretching plays out wide. Can get ahead of himself and leave cut-back angles for the quick back to exploit. His false-step toward the line leaves him vulnerable to quick passes, but he's athletic enough to re-direct quickly.

Run defense: Reacts aggressively to the run. Quick to the hole and has the burst upfield to take advantage of gaps and close for impressive tackles for loss on outside runs. Takes on the fullback with a violent pop and uses strong hands to disengage quickly on the isolation. Isn't as effective against offensive linemen, as he has to pick a side as they arrive. Athletic enough to slip off as the back comes by to latch on for the drag-down tackle, but is too often engulfed by the blocker when the runner correctly reads the direction of the block. Good speed to the sideline. Is too fast, at times, coming in a bit out of control and leaving cutback lanes. Strong pursuit laterally and downfield. A reliable open-field tackler.

Pass defense: Takes a false step at the snap, but has good balance and quick feet to change directions and recover for quick passes. Good route-recognition and overall athleticism for an inside linebacker. Focuses on his assignment, rather than the quarterback and is athletic enough to react and maintain good coverage. Often forced the quarterback to look elsewhere due to his sticky coverage. Has a burst to close when the ball is thrown.

Tackling: Not an explosive hitter, but is a generally an efficient wrap-up tackler that plays with good balance in the open field to make the secure stop. Can be a bit out of control when he crashes the line at full speed and is forced to lunge at the ballcarrier. Good strength for the grab on and drag-down tackle as he's fighting off blocks. Good hustle in pursuit.

Pass Rush/Blitz: Shows good straight-line speed to close when he has an open lane. Good lateral agility and balance to avoid blocks. Dips his shoulder to get under the reach of the guard. Attacks the running back with a full head of steam and has enough strength and use of leverage to drive him into the pocket as a bull-rusher, but his overall lack of size and strength is exposed when taking on linemen, who typically are able to simply absorb his initial hit and engulf him. Doesn't show much in terms of pass rush technique. Good effort.

Intangibles: Voted a team captain in 2009. Earned Most Improved Defender honors in 2008 while switching between inside and outside linebacker due to injuries to teammates. Has a knack for making big plays in big games. Named national defensive player of the week by Walter Camp Foundation the Huskies' 16-13 win over No. 3 USC, when he had 12 tackles, two tackles for loss, a forced fumble and an interception. Posted six tackles, a TFL and a sack against Cal; 3 tackles, including a TFL and an interception in the overtime loss to Notre Dame.
via Husky Herald
3.  Second round, 47th overall (from Patriots):  Damian Williams, Wide Receiver, USC
6'1" 197
Damian comes from a very prestigious program, one in which he exceeded expectations as a junior and one we expect to have a significant impact on this offense.  He is one of the quickest receivers in the draft, and one of the big things we're looking for in a wideout is route running skill.  Damian is probably the most polished route runner in this draft, and he excels in the short range game.
Not only is he a receiver who is willing to put his body in the open across the middle, but Williams is a kid who can make plays after the catch and downfield.  He has superb field vision, and though he has a bit of a slender frame, we feel he has tremendous potential on the opposite side of the field of Brandon Marshall, and he allows us to move Eddie Royal into the slot. 
Furthermore, if we decided his short range game were better suited for the slot, we feel very comfortable in the present and future with Brandon Stokley and Jabar Gaffney teaching these young guys (Eddie, Kenny McKinley, and Williams) on the fly. 
Damian is not a "box out" type of receiver, but he has very reliable hands and we think he can make a huge impact as a downfield receiver in this league. 
via LATimes.com
 4.  Third round, 80th overall:  Ben Tate, Running Back, Auburn
5'11" 220
Ben is perhaps the most physically gifted of any running back prospect in this year's draft, and he has some serious skill and production to go along with it.  Tate has speed (4.34 40 yard dash), strength (26 bench press reps at 225 pounds), and superb athleticism (40.5 inch vertical leap, 10'4" horizontal jump).
With ideal size at 5'11" 220 pounds, he has the potential to be the biggest steal of the draft, especially here in the third round.  We felt it necessary to add Tate to our running back fray which includes last year's leading rusher and first round pick Knowshon Moreno.  These two SEC studs will combine with J.J. Arrington and Correll Buckhalter to form what we believe to be one of the deepest running back groups in the NFL. 
Ben is a confident kid who does just about everything well, and we love what he brings to the table as a powerful runner in the open field.  He craves contact, and is one of the best running back prospects in this draft at breaking tackles.
Scouting Report from CBS Sports

Despite being Auburn's leading rusher as a sophomore and junior, Tate entered his senior campaign hungry for a chance to showcase his skills. A classic I-formation back, Tate had impressed scouts early with his tough interior running, but was miscast as an east-west runner when Auburn converted to more of a spread offense in 2008.

Though he only started two games as a junior and had mediocre production (664 rushing yards), Tate considered leaving early for the NFL. He was rewarded with a return to more traditional rushing attack in 2009, and his production rose accordingly. Tate rushed for 1,362 yards, the fourth-highest single-season total in school history. He leaves with 3,321 career rushing yards, good for fifth in Auburn's storied past.

Tate lacks the agility and straight-line speed to be effective in every NFL scheme. Clubs looking for a traditional power back with underrated receiving skills, however, would be wise to consider him. His lack of flashy test numbers should push him down the board enough that he'll be available in the middle rounds - a point in which his durability and consistency should make him a terrific value.

Inside: At his best as a downhill runner. Thick build with good musculature throughout. Attacks the line of scrimmage and takes what the defense gives him. Lowers his shoulder and will take on the defender in the hole. Good toughness to run through arm tackles and get to and through the second level and into the open field. Keeps his eyes up and has enough lateral agility and acceleration to take advantage of cut-back lanes. Good balance, but is not special in this area. Protects the ball with both hands in traffic, but has had some issues with fumbles over his career. Good short-yardage who runs with competitive fire and seems to have a legitimate nose for the end zone.

Outside: Only adequate speed to beat NFL linebackers to the edge or to pull away in the open field. Flashes a quick lateral burst and shifty shoulders to fake out the defender, but has only moderate overall agility and acceleration to elude.

Breaking tackles: Arguably his best skill. Though a bit upright in the open field, he squares his shoulders and runs with good pad level when in traffic, presenting little other than shoulders and thigh pads for defenders to target. Keeps his legs churning after contact and will spin through tackles to generate extra yardage. Runs with good forward lean, almost always falling forward for extra yardage.

Blocking: Thick built with the strength and effort to remain on the field in pass protection. Became a more reliable pass blocker as a senior, showing improved awareness and consistency in squaring to the defender and providing a consistent pop. Remains too inconsistent as a cut-blocker, lunging and missing too often.

Receiving: Experienced receiver out of the backfield. Often lines up wide in this offense, but is typically used on screens and simple dump-off routes as a senior. Looks natural extending to pluck the ball out of the air.

Intangibles: Tough runner who seems to enjoy the physical aspects of the game. Has enjoyed success in a variety of offenses, leading the team in rushing yards each of the past three seasons. Voted MVP by his teammates after his senior season. Doesn't lack for confidence. Has characterized himself as the best back in the country and as better Heisman winner Mark Ingram.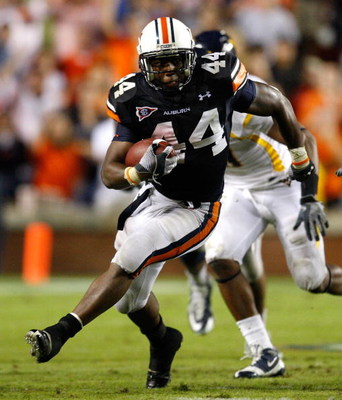 via Bleacher Report
**Projected trade:  Tony Scheffler traded to Cincinnati Bengals for 3rd round pick (84th overall)**
5.  Third round, 84th overall:  Terrence Cody, Defensive Tackle, Alabama
6'5" 349
Last season, we ranked 26th in the NFL in stopping the run.  I have not been the biggest advocate of Terrence Cody to date, but let me tell you all:  This kid is the best true nose tackle available in this year's draft.  We are getting a guy who instantly upgrades our run defense, and will learn behind a very similar talent in Jamal Williams. 
Terrence is a guy who has been an All American two years in a row despite a lack of pure statistical production.  His ability to consistently take up two blockers on a given play will make our linebackers that much better as well.  Cody was once considered the top defensive line prospect in the country, and we acknowledge his prior problems with his weight and work ethic.  We feel the leadership on this team and our training staff will be able to set his ship in the right direction, because his talent and run stopping abilities are worth the risk for a player who was once considered a top ten pick.
Our new look defensive line will feature a few rotations, which we feel give us a ton of flexibility.  On running downs, we will look to a bigger lineup with guys like Jamal, Justin Bannan, and Ronald Fields to clog the middle and keep opposing running games in check.  Cody will hopefully contribute as part of that group sooner rather than later, and we also think we have a solid pass rushing defensive line unit with Ryan McBean, Marcus Thomas, Jarvis Green, and Chris Baker. 
Scouting Report from CBS Sports

The difference between a good Alabama defense in 2007 and a great one in '08 might have been the emergence of Cody. Like most nose guards, Cody's value starts with his size. In his case, it's also in his ability to force teams to dedicate two blockers to stopping him.

Cody's production shouldn't be defined by his statistics. In two seasons, he posted a combined 52 tackles, 10.5 tackles for loss, two blocked kicks and only a half-sack, yet earned consecutive first-team All-American accolades.

No running back rushed for 100 yards against the Tide after Cody transferred from Mississippi Gulf Coast Community Colleeg. As dominant as he is in this role, he is a bit of a one-trick pony. Alabama rotated or substituted at the position enough that some teams view Cody as a specialist, which will no doubt impact his draft standing with those teams.

Pass rush: Offers only a minimal pass rush with a marginal burst off the snap. Lacks the agility and straight-line speed to close on the quarterback and turn pressures into sacks. Will become lazy in his fundamentals and even stops moving his feet to just lean on blockers on passing plays.

Run defense: Rarely moved off the line of scrimmage by one offensive lineman and even against double teams is often able to create such a pile in the middle that opponents can't run inside. At his best in short-yardage situations and can create a pile. Can slip off blocks as the ballcarrier goes by to make tackles at the line.

Explosion: Adequate burst off the snap, but has explosive power to knock the offensive lineman back into the pocket.

Strength: Massive defender with rare strength. Rarely moved off the line of scrimmage by one blocker and is often able to hold up against double-teams due to his leg drive and leverage. Capable of knocking back the long-snapper back and getting his hands up to block kicks. Tires easily and quickly loses leverage when he does so.

Tackling: Heavy drag-down tackler and catches most of his tackles by simply sliding off blocks as the back runs by. Lacks agility necessary to break down in space and is therefore forced to lunge at ballcarriers in the open field. Typically pushes his opponent to the ground, rather than wrapping up.

Intangibles: Too heavy to be an every-down player. Used as part of a rotation at Alabama and will have to be used in a similar role in the NFL. Wasn't nearly as effective in the second half of last season, prompting concern about his ability to stay fresh in a 16-game NFL season. Utilized as a fullback in short-yardage situations at times. Intimidating presence in the backfield, but typically is effective in this manner only due to defenders moving out of his way. Rarely gets his hands on the defender and makes a true block.

NFL Comparison: Ted Washington, ex-NFL
via Al.com
6.  Fourth round:  Greg Hardy, Defensive End/Outside Linebacker, Ole Miss
6'4" 281
At this stage of the draft, we were looking for a pass rusher, and what do we find?  One of the most highly touted pass rushers college football has seen over the last four years. 
Greg is a guy who has battled injuries, but he's also one who has the size, strength, and athleticism to make an elite level pass rusher at this level.  He has been an absolute force when healthy, but he has battled a ton of nagging injuries since his junior year. 
We feel Hardy can come in as a rookie and make an Elvis Dumervil type impact as a situational pass rusher, and we would not be surprised if he wound up with a starting position early on in his career provided he can stay healthy. 
Scouting Report from CBS Sports:

Blessed with a combination of size, strength and overall athleticism that has drawn comparisons to Julius Peppers and Mario Williams, Hardy entered his senior campaign among the highest rated prospects for the 2010 draft. But his stock dropped as he continued to battle injuries.

Hardy didn't start a game in 2008 due to his struggles following surgery on the fifth metatarsal of his left foot in the offseason and aggravated the injury again last spring in car accident. Before he was able to fully regain his health, Hardy was knocked out of the regular season with a broken left wrist. He returned to play against Russell Okung and Oklahoma State in the Cotton Bowl, but was held without a tackle.

When healthy, Hardy is a dominant force, as demonstrated by the 64 tackles, 18.5 tackles for loss and 10 sacks he posted in only 10 games his junior season. He finished the 2009 season with only 16 tackles (including 6.5 tackles for loss and five sacks) through nine games.

Hardy's ability to collapse the pocket (26.5 career sacks and seven forced fumbles) is certainly intriguing, but teams will have a hard time assigning a top 50 grade to a player unable to finish a single full season of college football.

Pass rush: Good, not great quickness off the ball, but accelerates quickly and can explode past the tackle off the edge. Very good use of hands to ward off the tackle's block. Slaps away opponents' hands quickly with good hand placement and underrated upper-body strength. Strength shows up with a good bull rush. Can drive the tackle into the quarterback. Has a tendency to get his sacks in bunches and disappear for long stretches.

Run defense: Good lateral agility to beat the tackle outside and force the sweep wide. Good strength and use of leverage to control the tackle. Feels the cut block coming and sprawls effectively to protect his legs and maintain his balance. Good effort and closing speed behind the line of scrimmage. Showed good effort in pursuit downfield in 2007, but struggled in this area in 2008 (possibly due to recurring foot injuries).

Explosion: Good, not great initial burst off the snap. Lacked the burst he had shown in previous years and struggled to redirect in 2008. Flashes explosive hitting ability, especially when given space to gain momentum.

Strength: A vastly underrated component of Hardy's effectiveness as a pass rusher. Good upper-body strength to disengage from the pass blocker. Good strength for the bull rush. Good leverage and leg drive to anchor when necessary.

Tackling: Rangy defender who can break down in space and make the secure tackle. Good strength to make the one-armed drag-down tackle when occupied with a blocker. Inconsistent effort in pursuit downfield in 2008.

Intangibles: Rare athleticism for the position. Actually used as a wide receiver early in his career and had three receiving touchdowns. Struggled with a foot injury in 2008 and was only used as part of a rotation. Will require an extensive medical check at the Combine. Has undergone two separate surgeries on his right foot for stress fractures, the second of which required a screw be placed in his foot for stabilization. The injury was aggravated by an automobile accident suffered on July 11, 2009, though Hardy was cleared for football by team doctors shortly thereafter. Missed the second half of the 2009 season after breaking his left wrist. Underwent surgery and had a pin inserted to stabilize the joint.

NFL Comparison: Julius Peppers, Panthers
via Al.com
7.  Sixth round:  Adrian Tracy, Defensive End/Outside Linebacker, William and Mary
6'3" 248
At this stage of the draft, we were looking for players who could come in as rookies and make an impact as situational players or possibly on special teams, and we believe Tracy can do both of those things.  With the status of Darrell Reid in question, and Mario Haggan moving to middle linebacker, we felt it necessary to look at pass rushing options at this point in the draft, and not many are more decorated than Adrian.
He led the nation among active players with 62.5 tackles for loss over the last four years, and set a school record with 31 sacks over that timeframe while also posting 47 career starts.  We feel he can develop into a situational pass rusher and special teams player, and a guy who can hold his ground against the run as well.  He should be a fun player to watch over the next few years.
Scouting Report from CBS Sports:

 Honored by five organizations as an All-American in 2009, Tracy established himself as one of the nation's top defensive players and recently competed in the Texas vs. the Nation All-Star Game. A Buchanan Award candidate and a two-time first-team All-Colonial Athletic Association honoree, the Sterling, Va., native ranked seventh nationally with 1.57 tackles for a loss per game and 15th with 0.79 sacks per game last season. With 12 sacks, he equaled the single-season school record established by Luke Cullinane in 1996. Additionally, Tracy ranked sixth in the conference in tackles among defensive linemen with 5.6 per game. In addition to registering an outstanding senior season, the two-time ECAC All-Star was one of the country's top defensive players throughout his career. His 62.5 tackles for a loss led the nation among all active players, while he ranked third with 31 career sacks - a W&M record. He also started every game of his career (47) en route to establishing a school record. - William and Mary football

Texas vs. Nation Game Review: William & Mary's Adrian Tracy looked very good in space as a linebacker after playing defensive end in college. He tackled running backs and receivers adeptly and even took on a fullback to blow up a goal line play. - Chad Reuter, The Sports Xchange, NFLDraftScout.com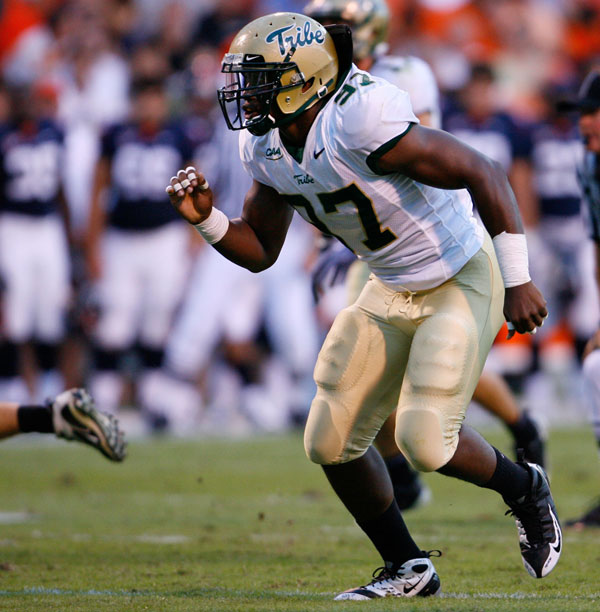 via HamptonRoads.com
8.  Sixth round (from Patriots):  Roddrick Muckelroy, Linebacker, Texas
6'2" 246
When talking about a guy who can come in and have an impact on special teams, Rodderick almost tops that list for us.  In addition to our open competition for a starting inside linebacker spot, which is currently being filled by Mario Haggan, Roddrick will compete in various areas and positions. 
When scouting the nation's best run defenses, Alabama and Texas topped the list.  We already added the reason for Alabama's run stuffing success, and Muckelroy was an absolutely huge reason for Texas'.  We think Roddrick will turn out to be a late round bargain here, and you could hear his name called early and often.
Scouting Report from CBS Sports:

Muckelroy started the Longhorns' first three games as a redshirt freshman in 2006, but his season ended abruptly with a ruptured tendon in his right ring finger.

His only start as a sophomore was in Texas' bowl, but he contributed 68 tackles as a top reserve. Starting on the weak side in 2008, Muckelroy was honorable mention All-Big 12 with his first of two straight 102-tackles seasons. He was second-team all-conference playing middle linebacker in 2009, making 11 tackles for loss, two sacks and five pass breakups.

More quick than he is fast, Muckleroy's lack of elite speed and bulk will be considered a detriment for teams considering him in the second round. But his explosive hitting, work ethic on and off the field, versatility, and potential as a special teams coverage ace should earn him a spot in the top half of the draft.

Read & React: Typical weak-side linebacker who flows to the ball well. Plays faster than 40 time indicates. Keeps his eyes in the backfield in coverage, and is quick enough to get sideline angle to prevent long QB runs or force throws across the body. Stays home against misdirection and does not take many false steps.

Run defense: Attacks holes in the line and fills quickly. Gets pads low to make tackles near the line. Chases plays to the opposite sideline and down the line of scrimmage. Shows great downfield hustle to prevent long touchdown runs. Uses his hands to avoid cut blocks in space. Could be stronger against tight end blocks, and gets taken out the play instead of punching to get off. Chooses to run around blocks for that reason. High-cut and a bit thin in the hips, he might struggle against NFL offensive linemen.

Pass defense: Has a safety's build and agility. Recognizes and attacks receiver screens. Agile enough to drop into medium zones; good ball awareness, and will hit the receiver quickly after the ball arrives -- if he doesn't get to it first. Has the quickness to recover if fooled by misdirection. Handles coverage responsibilities in the flat but may not have the speed to stay with backs downfield. Physical with tight ends on the line but is at a height disadvantage downfield.

Tackling: Brings down ballcarriers effectively when on the attack using his length and change-of-direction ability. Likes to lay the wood when possible. Should wrap and secure more often in space, however, instead of going for the big shoulder-first hit. Able to strip the ball when he does wrap. Plays with speed and aggression inside on special teams coverage units. Lacks the bulk to bring down big backs or receivers with a head of steam.

Pass Rush/Blitz: Used as a pass rusher from the middle in 2009, he has the quickness and the tackling ability to attack the QB or be effective in the run blitz. Agile enough to jump over running back cut blocks. Good change-of-direction agility to track the quarterback down outside the pocket. Must prove he is strong enough to get off NFL fullback blocks and drag down stronger pro quarterbacks and running backs in the backfield.

Intangibles: Quiet intimidator. Hustles on the field and knows his responsibilities. Known for his knowledge of the game and film study. Earned Frank Medina Rehabilitation Award for coming back from ruptured tendon in right ring finger suffered in 2006. No major character issues.

NFL Comparison: Michael Boley, New York Giants
via Photo Bucket
9.  Seventh round:  Trindon Holliday, Return Specialist, LSU
5'5" 166
You want to talk about getting bang for you buck, and this is it right here.  Trindon is a guy we've had our eye on for quite some time now, and this is a kid we think is going to be a very special return man at the next level.  Trindon is the fastest player in this draft and we feel he can put us in great starting position immediately as a punt returner and kick returner. 
The hope eventually is that he will contribute on the offensive side of the ball, and his explosiveness and speed will allow him to do that.  For the immediate future though, he will be our return man, and we expect him to have a huge impact in that area of the game. 
Scouting Report from CBS Sports:

Holliday is likely to be not only the smallest player to suit up for an NFL team in quite some time, but also the fastest. The diminutive playmaker made his name known as a track star for the Tigers, a two-time NCAA champion and eight-time All-American. He ran two separate 10.0-second 100 meter races last year.

NFL teams appreciate that speed, but aren't sure where Holliday fits into an NFL offense; he caught only seven passes for 72 yards and carried the ball 114 times for 762 yards and four touchdowns in four years.

He could be a change-of-pace back in the Darren Sproles/Garrett Wolfe mold, but gives up an inch or two and 20-plus pounds to both. His lack of size hurts him as a receiver as well, although long-time pro Troy Walters (5-7, 172) showed there can be a place for smaller receivers in the NFL.

One place Holliday will definitely get a chance to prove himself is as a return specialist. He averaged 24.7 yards per kick return with two scores and 15 yards per punt return and two more touchdowns during his career in Baton Rouge.

During the week of the Texas vs. the Nation Challenge, Holliday displayed the explosiveness and inconsistency teams expected. In practices, he was much quicker than any defender in his path and flashes excellent hands, but also dropped multiple passes he'll be expected to make at the next level.

In the all-star game, he was a threat as a receiver (67-yard touchdown) and returner (133 total yards), albeit against players not experienced covering kicks. That performance, combined with explosiveness shown at the Scouting Combine, may have earned him a late draft slot as a player who, no matter where he lines up, will be tough to check.

Release: Has not been challenged with the jam, as he is often lined up well behind the line in the slot or in the backfield. When free to take a step or two off the snap, is very tough to stay with in the second level or beyond in man coverage because of pure quickness and straight-line speed.

Hands: Small hands that are suspect as a receiver, rusher and returner. However, can make tough catches in traffic, against the sidelines and when gunners are bearing down on him. Able to extend away from his frame to snap up wide throws but has a tougher time reaching over his head, which is a problem for a smaller receiver. Allows the ball too far into his body when facing the quarterback.

Route running: Great quickness on his cuts, but could run his routes more crisply and get on the same page as his quarterback based on the coverage. Tough to find on crossing routes over the middle without a clear lane because of his lack of size. Has the speed to be a deep threat but will not win many jump ball battles despite a nice vertical.

After the catch: Extremely quick when running with the ball in his hands. Shows good vision to find holes in traffic, and is tough to find among the big bodies on returns and as a running back. Difficult to bring down even when visible to would-be tacklers, often bouncing off due to his strong running and low center of gravity. Doesn't have immediate acceleration, but finds a second and third gear once in the open.

Blocking: Won't offer a lot as a blocker because of his size, but is not afraid of contact. Has a relatively strong build for his size. Gets in the way of cornerbacks and safeties in the few chances he gets to run block from the slot. Willing to mix it up in pass protection but lacks the bulk and length to hold off blitzing pro linebackers for long.

Intangibles: Plays with a chip on his shoulder from being labeled too small to play major college football. Is tougher than one would expect given his size; is a football player with track speed, not vice versa.
via NashvilleCityPaper.com
Draft Recap
1.  Maurkice Pouncey, C, Florida  (NFLDraftScout.com #32)
2.  Donald Butler, ILB, Washington  (NFLDraftScout.com #101)
3.  Damian Williams, WR, USC (NFLDraftScout.com #52)
4.  Ben Tate, RB, Auburn  (NFLDraftScout.com #119)
5.  Terrence Cody, DL, Alabama  (NFLDraftScout.com #44)
6.  Greg Hardy, DE/OLB, Ole Miss  (NFLDraftScout.com #109)
7.  Adrian Tracy, DE/OLB, William & Mary  (NFLDraftScout.com #220)
8.  Roddrick Muckelroy, ILB, Texas  (NFLDraftScout.com #200)
9.  Trindon Holliday, RS, LSU  (NFLDraftScout.com #340)
Mock Two:  No Trades
1.  First round, 11th overall:  Maurkice Pouncey, C, Florida
6'5" 306
2.  Second round, 45th overall:  Donald Butler, ILB, Washington
6'1" 245
3.  Third round, 80th overall:  Terrence Cody, DL, Alabama
6'5" 349
4.  Fourth round:  Riley Cooper, WR, Florida
6'4" 220
5.  Sixth round:  Adrian Tracy, Defensive End/Outside Linebacker, William and Mary
6'3" 248
6.  Seventh round:  Trindon Holliday, Return Specialist, LSU
5'5" 166