Kudos to our own Horse Stance for putting out a mock draft today that included a list of players the Broncos have had workouts with.  His mock is not identical to mine, but it does involve a few similar picks, and a couple of very similar trades. 
It is clear based on the players the Broncos have worked out that they are prepared to move on without Brandon Marshall and Tony Scheffler, because this draft is rich in talent at the wide receiver position, which Scheffler and Marshall both essentially played in 2009. 
The Broncos have a nice short list of prospects who they will target on draft day, and I think you will see them as one of the most active trading teams in the entire league on that particular weekend. 
After the jump, mock draft part 25...
***Projected Trade:  Brandon Marshall to Tampa Bay Buccaneers for picks #42, #67***
***Projected Trade:  Tony Scheffler to Cincinnati Bengals for pick #84***
***Projected Trade:  Broncos trade pick #11 to New York Giants for pick #15 and pick #76***
1.  First round, 15th overall:  Sean Weatherspoon, Linebacker, Missouri
6'1" 240

I have previously blasted the idea of Sean Weatherspoon this early in the draft, essentially with the notion that taking Weatherspoon over McClain in the first round seems counter productive.  But after turning on the film, Weatherspoon appears to be more technically refined than McClain, and quite frankly is a better athlete overall. 
So why make this pick now?
As you will note with many of my picks in this mock draft, Sean Weatherspoon is one of a handful of prospects who reportedly will have a private workout/visit with the Denver Broncos in the coming weeks.  That is significant at this point in the process, especially when we're talking about a guy like Weatherspoon who is a vocal leader and a very versatile performer.  
An All Big 12 performer, Weatherspoon really caught my attention at the Senior Bowl when he displayed elite level athleticism and leadership skills.  I have previously mocked Weatherspoon to the Broncos in the early second round, but it looks as though he could have a suitor in the Atlanta Falcons, who pick at 19 overall.  The Broncos may have to invest a top 15 pick to ensure his services.
via NFL Draft Bible
2.  Second round, 42nd overall:  Damian Williams, Wide Receiver, USC
6'1" 197
The process to replace Brandon Marshall has officially begun with this pick.  Broncos fans surely will miss the services of Marshall, but he is not irreplaceable, especially when you consider the depth at wide receiver in this year's draft. 
Damian Williams is another guy the Broncos have put a close eye on, and for good reason.  Williams is widely considered to be THE best route runner in this year's draft, and probably the most pro-ready in terms of that facet of his game.  He has been fumble prone in his time at USC, but he has the size and quickness to be a very effective wide receiver in this scheme.
Williams not only excels in route running, but he also has been a huge factor in the screen game.  Surprised the Broncos have interest?  Denver will host Williams for a private workout/visit in the coming weeks much like Sean Weatherspoon, so it is clear they have a significant amount of interest in him.  If Marshall is dealt, and if the Broncos settle for a package of picks less than a first rounder (which they may), then this would be a nice add.
via College Football talk
3.  Second round, 45th overall:  Vladimir Ducasse, Offensive Lineman, UMass
6'5" 331
I am going into this mock draft with the plan that Seth Olsen will step in as the starting center, so Ducasse makes a lot of sense here.  The Broncos also have had a private workout with the immensely talented offensive line prospect, and this is the perfect spot for him to go in the draft. 
Ducasse has played right tackle and left tackle in college, but scouts love his athleticism to be used as a guard on the interior line, which is where the Broncos will use him.  The hope would be for Ducasse to step in as the starting left guard immediately, and he certainly has the skill set to do so. 
via Boston.com
4.  Third round, 67th overall: Toby Gerhart, Running Back, Stanford
6'1" 231
Toby Gerhart has been described as Peyton Hillis, but with actual running back skills.  Gerhart quickly became one of my personal favorite collegiate prospects this past year when he ran for nearly 2,000 yards and seemed to find the end zone every other time he touched the ball (just ask USC). 
Gerhart has already held a private workout with the Broncos, and he will be coming for another private visit in the next couple of weeks. 
Gerhart is a power back who would instantly solve the Broncos' woes in short yardages situations.  He is a bruiser who has a nose for the end zone, and who runs with a chip on his shoulder.  Great value pick here by the Broncos, and a great athlete in Gerhart.
via 2nd and Short
 5.  Third round, 76th overall:   Torrell Troup, Defensive Tackle, Central Florida
6'3" 314
The Broncos are already very deep on the defensive line, but Josh McDaniels hinted at his Scouting Combine press conference that there is always room to improve via the draft, and I agree. 

I don't think the Broncos are going to make defensive line a high priority in the draft, but they are (according to their visit list) only targeting a certain few defensive linemen, and Troup is one of them. 
The UCF space eating tackle is known as a hard worker, a leader, and a team player.  That's just the kind of intangible list the Broncos and their new regime are very high on when it comes to adding new personnel. 
via UCF Athletics
6.  Third round, 80th overall:  Matt Tennant, Center, Boston College
6'5" 300
Even though we're going into this mock with the idea that Seth Olsen can step in as the starting center this season, I think it's important to ensure the Broncos get a guy who can potentially start as well in case Olsen flops and turns out to be a better fit at the guard position. 
The Broncos also obviously have placed a high value on guard Chris Kuper, but if he bolts after the 2010 season they will need to replace him anyway.  Perhaps Olsen can be groomed to start at right guard for the future and Tennant can step in as the starting center in 2011.  The Broncos have many options here, but they need to get bigger along the offensive line and this pick accomplishes that, and it gives them much needed depth.
via Boston.com
7.  Third round, 84th overall:  Jacoby Ford, Wide Receiver, Clemson
5'9" 186
This is a name Broncos fans should become very familiar with.  The team's interest in Ford has been blatantly obvious.  Scott Wright of NFL Draft Countdown indicated throughout Senior Bowl week what team's sat down with which prospects, and Ford was the only player he reported that met with the Broncos. 
Now, the Broncos have lined up a private workout and visit with the Clemson speedster, who many people have already decided is going to be an Oakland Raider. 
I contend that Denver is arguably the most interested team in the NFL based on the logic that has been distributed through the media, and I would not be surprised if they reached for him earlier than this pick, but this seems like the most appropriate slot for him.  Ford is blazing fast and would give the Broncos a spark in the return game and offensively.
via flickr
8.  Fourth round, 114th overall:  Alterraun Verner, Cornerback, UCLA
5'10" 189
Even though the Broncos have already invested quite a bit of time and money into the cornerback position, they seem to have taken a liking to Verner, who is one of the top special teams players available in this draft.
Verner fits the mold of what this team has targeted at the cornerback position in terms of size and speed, and he is a very cerebral players as well.  Verner was an All-Academic selection for the Bruins, and played in all 51 games at UCLA.  He also started 35 consecutive games, so he is a durable player.
via College Football News
9.  Sixth round, 183rd overall:  George Selvie, Defensive End/Outside Linebacker, South Florida
6'5" 252
This is my first pick where I have veered away from players the Broncos have had private workouts with, but they have a significant hole at the DE/OLB position this offseason, especially if Darrell Reid is not ready for the start of the season.
Selvie's stock is free-falling right now, and he has not worked out extremely well for scouts this offseason, but he is an extremely gifted pass rusher who is worth the risk in the sixth round. 
via NFL Draft Dog
10.  Seventh round, 220th overall:  Adrian Tracy, Defensive End/Outside Linebacker, William & Mary
6'3" 248
Another guy who I am not sure the Broncos have officially worked out or not, but another guy who is extremely versatile and who can get pressure on the quarterback.  Tracy has been one of the top performers in college football over the last three years in terms of making plays in the backfield both against the run and pass, and scouts think he may be a diamond in the rough as a pass rusher.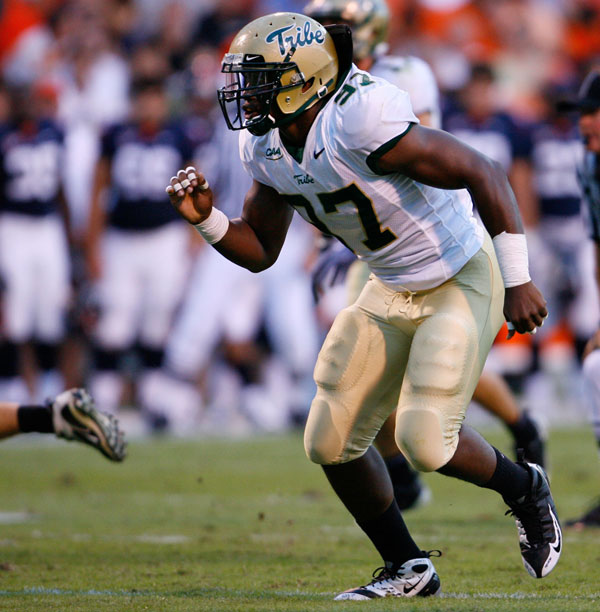 via Hampton Roads.com