It's time for part five in my mock draft series. For this one though, I am only going to project one trade, and it is the trade that I feel is almost certain to happen barring a surprising development.
Should the CBA situation get resolved, I believe very firmly that Kyle Orton will be on his way out of Denver, and I think there are no fewer than 10 teams who would love to have him as their starting quarterback. The Denver Broncos are not one of them. Yes, Tim Tebow is raw, and it would be nice to have a fall-back plan, but the Broncos have to move on. 
I think this is also a team that spent too many draft picks on washed up veteran players, and it has cost them, specifically for this draft because they only have six picks as it stands right now. Trading Orton could recover a couple of those picks, and I think the Broncos will stick to their 2nd round value, but that does not mean they will require a 2nd round choice in return.
**Broncos trade quarterback Kyle Orton to Arizona for 3rd round pick (69th overall), 4th round pick, and future conditional pick (up to a 3rd)**
A trade like this is entirely acceptable to me, because it gives the Broncos some much needed ammunition for this season as well as next year.
1.  First Round, 2nd overall:  Patrick Peterson, Cornerback/Safety, LSU
6'1" 222
from the Orlando Sentinel
Sayre's Scouting Report/Pick Analysis
Simply put, there is not a more NFL ready prospect in this year's draft, and there might not be a player with more upside than Patrick Peterson. This is a guy who has outstanding size, speed, length, quickness, and instincts. His ball skills are unmatched in this year's draft, and he is also one of the nation's best punt returners, if not THE very best. Peterson stepped in at LSU as a true freshman, and has been great from the very start.
Peterson has been so great, in fact, that at the ripe old age of 20, the only things scouts say he needs to improve upon at this point is reading the play pre-snap and proving he can be dominant throughout the course of a full season. Of course, there are other things Peterson can get better at, and if Jim Mora Jr. is hired as defensive coordinator as expected, he will have one of the better defensive back tutors in the league.
One scout described Peterson with this one sentence: Patrick Peterson is a rare lockdown corner who loves contact.
Yikes. If Peterson can bring that to the NFL, it looks like the Broncos will be getting a great one.
Alternative Picks
Nick Fairley, DL, Auburn

Da'Quan Bowers, DE, Clemson
2.  Second Round, 36th overall:  Corey Liuget, Defensive Tackle, Illinois
6'3" 300
from OverOll.com
Sayre's Scouting Report/Pick Analysis
Why pass on Da'Quan Bowers or Nick Fairley with the second overall pick? Well, here you have it. Corey Liuget is a great fit for what the Broncos might be looking to do defensively, and he really had a breakout junior season for the Illini. He showed the ability to be an anchor for the defensive line, but where he really makes his mark is as a gap penetrator. Liuget has a nasty initial punch off the snap, and he uses his elite quickness and strength to make plays in the backfield.
This is one of the better tacklers among defensive linemen in the draft, and the Broncos would probably love to keep him in orange and blue. He has great potential as a rookie because the Broncos don't have to make him a starter from day one, but he can be a rotational guy and simply get acclimated to the league learning behind a guy like Justin Bannan. 
Eventually, the plan will be for Liuget to be a full time starter, and he certainly has that potential. He's a high energy player who will make a living torturing quarterbacks and running backs. He is great at taking on a double team, and will really make the guys playing linebacker behind him better.
3.  Second Round, 46th overall (from Miami):  Allen Bailey, Defensive End, Miami
6'4" 287
from NEPatriots Draft
Sayre's Scouting Report/Pick Analysis
If you thought I was done rebuilding the defensive line, think again. Allen Bailey was once considered a top ten prospect, but has since fallen way off the radar due to the depth of this draft class and somewhat inconsistent play in his senior season. Bailey started his career at Miami as a linebacker, and if you Google his name, just look at the first picture to see how he has transformed himself into the massive 285 pounder he is today.
Obviously, this is a guy who as worked hard in the weight room, and he is an incredible athlete. There are certainly questions about his speed, likely a reason he moved to the defensive line when he came into college. He has proven, though, to be a very good bull rusher and he gives relentless effort on a play-by-play basis.
The problem with Bailey, and the reason he won't be a top ten pick, is his closing speed. Can he get to the quarterback in time? This is a question I have with our own Robert Ayers, but under the tutelage of Wayne Nunnely and with the help of some other new talent along the defensive line, I think he can be even more effective.
The Broncos would likely use Bailey as an end on certain running plays, and they could slide him in as a tackle on passing downs. He's got great size and quickness off the snap, so he should be an asset and would be a fine second round selection.
4.  Third Round, 67th overall:  Marvin Austin, Defensive Tackle, North Carolina
6'3" 310
from Patriots Daily
Sayre's Scouting Report/Pick Analysis
It should be no surprise this week as you hear all about how North Carolina defensive tackle Marvin Austin is dominating the East-West Shrine Game practices, and I wouldn't be shocked if he is the best overall player to come out of the game regardless of position.
Austin had three huge seasons for the Tar Heels before controversy seemingly surrounded the entire team prior to the 2010 campaign. If you need any indication as to how good this guy really is, here's a scouting report from Mocking the Draft:
In scouting defensive tackles lately, we have been blessed to see the likes of Glenn Dorsey, Ndamukong Suh, Gerald McCoyand Sedrick Ellis. In 2009 we proclaimed Ndamukong Suh the best defensive player we had ever scouting- and we are sticking to this. However, Marvin Austin is the most athletic defensive tackle we have seen to date. His ability to chase down the ball carrier and his freakish speed make him among the most dangerous defensive players in college football. He has the full arsenal of strength, size, speed and awareness that NFL General Managers are looking for in today's defensive tackle.

While Austin may not be the pure player Suh is, he is a deadly combination of Suh's ability to collapse the pocket and Gerald McCoy's speed and athleticism.
So then why has Austin fallen so far off the map? Well, the reason is pretty obvious--he's battling some character problems, and was dismissed from North Carolina's football program. He did not finish his senior season, and has fallen way out of favor, to the point that he's considered a third round pick at this point.
I wouldn't be shocked to see Austin go earlier than this to a team willing to take an even bigger risk on him, but if I'm the Broncos I wait it out and take him with a lower pick. Our first pick in the third round is the perfect spot to pull the trigger.
5.  Third Round, 69th overall (From Arizona):  Ras-I Dowling, Cornerback, Virginia
6'2" 200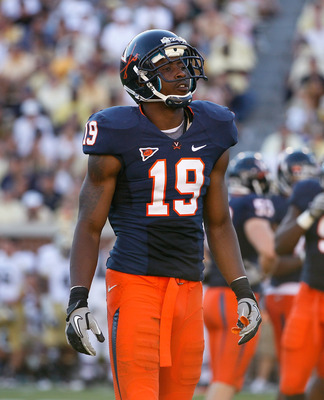 from Bleacher Report
Sayre's Scouting Report/Pick Analysis
It's sad when a prospect decides to return to school to hone his craft and he gets it taken away almost completely. Dowling, like Austin, was considered to be one of the top ten or fifteen prospects heading into the 2010 season, but Dowling's year was derailed by a season-ending injury.
When healthy, this is a guy who can be a shut-down corner, and one who reminds me a lot of Nnamdi Asomugha in terms of his size and coverage ability. Based on that fact alone, there's a chance some team could take a flyer on him before this, but as we saw with Eric Decker, that doesn't always happen.
If the Broncos have the opportunity to grab Dowling with this pick, it almost has to happen. He has shut-down ability, and could probably play safety down the road if the Broncos needed. I think a cornerback group of Champ Bailey, Andre' Goodman, Patrick Peterson, Perrish Cox, Ras-I Dowling, and Syd'Quan Thompson sounds like a
6.  Fourth Round (from Arizona):  Kelvin Sheppard, Linebacker, LSU
6'2" 240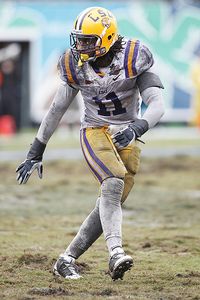 from ESPN.com
Sayre's Scouting Report/Pick Analysis
Sheppard is a talented kid who will likely perform higher than his draft status come April. Right now, he's right in the third or fourth round range, but I'm leaning more  towards the fourth for him at the moment. He is a fiery leader of one of the SEC's best defenses. The Broncos have really lacked a personality like Sheppard's since Al Wilson left, and that's not to say that he is going to come in and provide what Wilson did, but he has that same intensity.
At 6'2" and around 240 pounds, I am thinking Sheppard can play either inside or outside for us. With the impending move to a 4-3, it appears as though our starting linebackers next year would be Mario Haggan, D.J. Williams, and Joe Mays. I would love to see Wesley Woodyard get some more time as well, but that is a spot the Broncos are going to need to address in free agency and the draft, if for no other reason than because they need depth.
Sheppard can provide that depth, and he appears to have a good head on his shoulders. This is a good spot to take a flyer on him. He's been a starter for three years for LSU, and that usually means something.
7. Sixth Round (from Detroit):  Josh Bynes, Linebacker, Auburn
6'2" 235
from Operation Sports
Sayre's Scouting Report/Pick Analysis
Bynes is another high energy player, much like his SEC counterpart Sheppard from the previous pick. Despite playing in one of the toughest, fastest, and most physical conferences in the country, Bynes has started more than 20 straight games dating back to the 2008 campaign, including Auburn's impressive National Championship victory over previously unbeaten Oregon. 
His experience against top level competition and his intensity are attractive to me, and at this point in the draft, he provides solid depth at the linebacker positions, and he can go out on special teams and knock somebody out.
8. Sixth Round (from New England):  Weslye Saunders, Tight End, South Carolina
6'5" 275
from Go Upstate
Sayre's Scouting Report/Pick Analysis
I am very on the fence about this pick. Part of me thinks we should take a different player here and wait to see if Saunders hits the open market as a free agent, but to me, his situation is similar to that of LeGarrette Blount from last year. Sure, Blount punched a guy, and got dismissed for it. Still, he's a good football player, and everyone deserves a second chance.
Saunders' offenses were not even in the same league of Blount, but the end result was the same. He did not play football this season, but likely has been preparing himself for the rigors of the NFL, because he has all of the physical tools to succeed at the next level.
At 6'5" and nearly 280 pounds, Saunders is like an additional offensive linemen, not unlike Daniel Graham. Unlike Graham also, Saunders is a pass catching machine, and can be a real weapon in the red zone. If the Broncos can get past his character flaws, they should take a risk on this guy late in the draft.
Breakdown by Conference
SEC--Four
ACC--Three
Big Ten--One
For this mock, I used the rankings at NFL Draft Scout, which are the rankings I use on a consistent basis. Until this point, however, they did not have underclassmen rankings updated in their system. Now that they do, I have a better guess of who could be going where. 
As for the rest of the holes on this team, I think tight end and linebacker are going to be positions the Broncos look to in free agency for a stop-gap, or possibly a long term solution here or there. Same with the running back spot. I am not going to mock free agents, but there are some guys I definitely have in mind. Namely, I think the Broncos should strongly pursure Owen Daniels, the tight end from Houston. When healthy, he is one of the best pass-catching tight ends in the game, and the Texans have invested multiple high picks in tight ends over the last couple of years, so he might be expendable.
At running back, I would love nothing more than to see one of our former rivals in Darren Sproles or Michael Bush come to town and give us a much needed boost. With the emergence of Mike Tolbert and the drafting of Ryan Mathews, Sproles may look to greener pastures. Bush will lose carries to Darren McFadden, and the Raiders have a plethora of free agent players they need to re-up with.
Defensively, I would like to see John Fox bring some of his old crew to Denver with him. James Anderson is a guy who emerged in the absence of Thomas Davis at outside linebacker, and he could be of great value to the Broncos who need to revamp their linebacker corps. Chad Greenway is my top target on the free agent market, but I'm not sure the Vikings are going to let him be the one that gets away, even though they also have to re-sign Sidney Rice.
More likely, it seems Ray Edwards will be the one let go by Minnesota, and he is one of the better defensive ends that will be available on the open market. I would not be opposed to the Broncos looking into signing Edwards. Free agent defensive end Charles Johnson is also a former Panther that would look nice in orange and blue.
Stay tuned for part six!