So I logged in to my brother's Game Rewind access at about 11pm MST to watch next week's opponents for the Broncos, the Miami Dolphins - but was disappointed to find out that although all of Sunday's games are available by midnight of the same day, NFL.com does not post the Monday Night Football game until 24 hours after it airs. I had to go dig into the fine print a little to figure out the exact details.
While doing so, I also found out that purchasing the Game Rewind for the 2011 Regular Season also includes all the archived footage from 2009 and 2010 (not that most Broncos fans have ANY desire whatsoever to go back and rewatch that mess... that is... unless you are an MHR diehard with a fresh story in mind). Initially I just wanted to skip through the first game and watch Stokely's game winning catch that lifted us over the Bengals in the final seconds of the game... but it dawned on me that there were actually quite a few amazing moments from the 2009 (and even 2010 season) that would be worth looking at again.
As I began the stream of the game, I hesitated before dragging the slider to the final minutes of the game... You see... I was curious. My memory was quite foggy (probably intentionally). I just couldn't recall all the events that led up to that amazingly warm and memorable Broncos moment. I remembered vividly why that memory had been so easily pushed back into the deep recesses of my mind, but I wanted to remember why it felt so good. So I didn't budge that slider one bit. I watched every single second of that game (with the exception of skipping several ten-second intervals between snaps of empty talking heads and no action or sideline shots). At first I began to make a few comparisons to our 2009 team and what we have now. Remembering a very bright and pleasant 6-0 start got me thinking... where did we go wrong? What happened that year that toppled our young, new, and confident 2009 Josh McDaniels led team that began the chain reaction of misery?
What made that team any different than the team that started out this year with such a hopeful preseason? And more importantly, what are the differences happening on the field between these two teams that differentiate them. Both are rebuilding efforts with the same endgoal... but the last one failed and failed MISERABLY. So I want to take a look on a game by game basis comparing as many different factors as I possibly can between McDaniels first two years. And John Fox's first two years. This is probably the largest task here at MHR I have ever imposed upon myself, but it's just too intriguing to deny. It will be considerably more challenging given the fact that I am currently 5 games behind. I've already taken down my notes from Game 1 of 2009, so after a refresher on 2011's Game 1 I will pump out the first article this week and try and knock out two or three games per week to get on track with the 2011 season. Let's jump.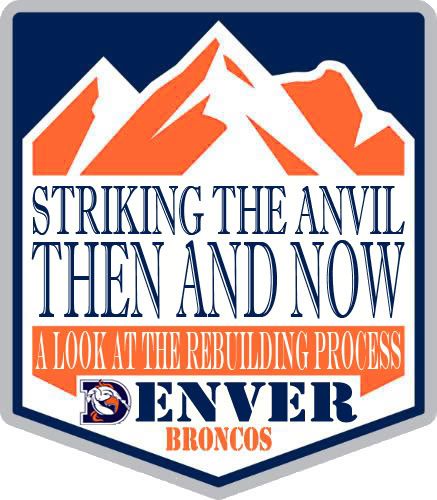 So this is your official preview for the upcoming series, a full 32 game to 32 game comparison of picking up the pieces of a fallen franchise and ushering in a new era. Before the official Game 1 Article I will begin with a short review and side-by-side look at the initial draft choices and the circumstances surrounding them and also some of the big events that took place during the drafts - as I actually happened to watch both of these drafts in almost their complete entirety. That being said... I've got a bit of homework and refreshing to do. It's going to a busy first couple of weeks, but after I catch up it should be quite manageable.
Prior to McDaniels hiring of course, we have to go back and rip of a scab of information. The shocking and controversial (though not entirely unwarranted) firing of long time and back to back Superbowl winning Coach Mike Shanahan.
December 28th 2008... Shanahan looks on as Cutler scrambles in a devastating blowout loss to the San Diego Chargers at Qualcomm Stadium. This final showdown would elevate the Chargers over the Broncos into the playoffs with tie-breaking procedures over matching 8-8 records. The Denver Broncos blew a three game Division lead over San Diego with three games to go, ending another disappointing season leaving no doubt that the Broncos didn't deserve to see the post season that year.
Following that loss, Broncos owner Pat Bowlen announces Mike Shanahans departure and fires him on about as good of terms as was possible - which still weren't all to pleasant. A team that was already experiencing some dramatic turbulence the last couple of years with players sustaining career ending injuries, a teamate's death, and multiple off-field distractions prepares to dig in for a regime change that would shake the very foundations of Broncos Football. For a fanbase that believed it was right on the cusp of Superbowl contention... a new era was about to begin... one that would uproot Shanahan's old-shaky foundations for a new look offense and a 3-4 defense that our passionate fanbase CLEARLY wasn't quite ready for. As we all know, that era came crashing down before it ever really left the ground. McDaniels got less than two years to try and turn around a deceivingly bad football team, and was yanked amidst the transition. We will take a look at some of the moves made, both good and bad. And compare the 2009-2010 rebuilding process Game-to-Game with the one we are currently embarking on.
Keep your eyes peeled for the upcoming "First Look" at the initial off-season comparison for both Head Coaches Josh McDaniels and John Fox.
Until next time... Over and Out.
Additionally... even if you don't get the time to read through each of these articles, try to pop in and vote on the accompanying polls - as they will try to seek some insight into YOUR opinions on different aspects of this arduous and daunting process.