First of all, thanks to all who voted and congratulations to Toni for winning Round Seven of our cheerleader tournament. Also, another big Mile High Salute to Lindsey for her showing. I'm always surprised that there are blowouts in this tournament when all the cheerleaders are all so great, but this is the first time I've been on the losing end of one. Still shocked that the lifelong Bronco fan lost out. But enough of my mopping around.
For those of you who are new to this series, here's the usual introduction: I got the idea for this while visiting the Phinsider website. They were doing a short bracket of cheerleaders from around the league. I figured that wouldn't work for us though since we all know we have the best cheerleaders there are. So, I built bracket for the best of the best. To be fair, all entries were selected with a random number generator. I'd like to wrap this up on Super Bowl Sunday, so that means a new vote every 3 or 4 days. It doesn't matter how you vote, but I'll be giving the information and pictures from the Broncos' website. You can base your vote on who you perceive to be the biggest fan, whose personality you like the best or plain and simple looks (of course, the info will still probably have to play a part since they're all obviously 10s of course).
So, without further adieu, I present Round Eight of the tournament .
If you can't see the full bracket, just click on the picture. It should take you to the source image.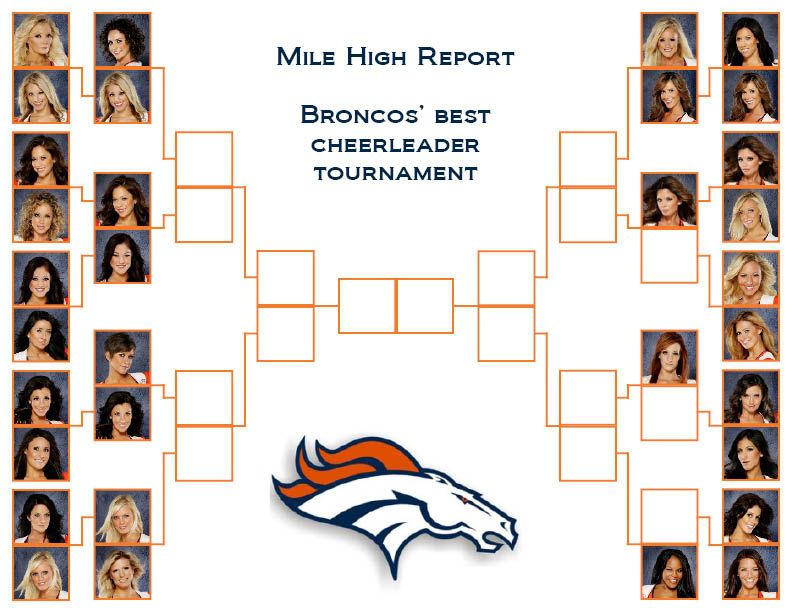 Round Eight: Jenna Jaeger versus Lauren Giangregorio
Jenna Jaeger

Jenna didn't answer how long she has been a fan of the Broncos, but this is her second season cheering for us. She's a graduate of the University of Kansas, majoring in Communication Studies and is currently working in Guest Services and as a Nanny.
Occupation and how does Broncos affect your work?
I currently work Guest Services for Ocean Prime, as well as Nanny for a wonderful family! Both jobs give me great flexibility throughout the Broncos season! I am able to pursue my dream of being a Denver Broncos Cheerleader while maintaining a fun and balanced work life!
What is the most important attribute of a Denver Broncos cheerleader?
Positive Energy and Dedication!
Most memorable experience?
So far....the night I became a Denver Broncos Cheerleader! The feeling was incredible when my name was called and I put on a DBC uniform for the very first time! Excitement filled the room and I was ecstatic!
Who has been your greatest inspiration?
My family! My mom because she is a strong and caring person who always puts others before herself. My dad because he always supports me in everything I do. My brother for his strong will and motivating attitude, which shows me I can overcome anything!
What is one thing about being a DBC that most people don't know?
All the hard work that goes on behind the scenes... All the blood, sweat, and tears!
Best advice to kids?
Follow your dreams and never give up on your passions in life! Live each moment to its fullest because life is too short! Always keep your head up and stay positive!
What sports do you enjoy watching or playing?
Football, Hockey and I love watching both the winter and summer Olympics!
What top three things do you hope to accomplish in your lifetime?
Dancing for a professional team has always been a lifetime goal, and I am blessed to be a DBC dancing with 25 extremely talented women!
Being a college graduate is a major lifetime accomplishment for myself, which I was very proud to achieve in May 2009! Although, I would like to go back to school and get my masters in Education.
I do hope someday to achieve a fun and successful career in Education or media broadcasting and eventually start a family of my own.
What do you value most in your life?
My family and friends mean the world to me! If it weren't for them I wouldn't be who I am today! I value every relationship I have because those are the people you share your life with.
Place you would most like to visit and why?
Italy and Australia! Both places have amazing sights to see!
Who do you admire most in the sports industry?
Being a Chicago girl, I have to say Michael Jordan. He was an incredible athlete to watch while growing up. I admire his ambition and talent which led him to great success.
What is the best thing about Broncos fans?
The heart and soul behind every Broncos Fan. They show true loyalty and pride!
What book are you currently reading?
Eat, Pray, Love by Elizabeth Gilbert
In what charities or community service organizations are you most involved and why?
Most of my time throughout the year is dedicated to a variety of charity and community service organizations. I love working with the local charities in the Denver community, especially the ones that involve kids! I enjoy giving back and supporting all the great causes! Some major organizations I have worked with include Boys and Girls Club of Denver, the Tennyson Center, Habitat for Humanity and our own Broncos Bunch organization!
So far this season I have participated in a golf and a kickball tournament both supporting diseases and raising money to find a cure, a Shooting benefit for Craig's Hospital, and local events promoting Breast Cancer awareness. I am also a camp instructor for Dare to Cheer, which is a program supporting the Global Down Syndrome Foundation and Ed McCaffrey's Dare to Play Football camps!
I look forward to participating in and supporting many more charities this season!
What is something about you that fans might not know?
This is my first Pro Dance Team experience, but I spent time pursuing ballroom dance and competed, just like the "Dancing with the Stars!"
What makes you laugh?
Classic, comical movies! Anything with Chevy Chase, Jim Carey or Vince Vaughn.
How do you challenge yourself?
I set goals for myself and always try to aim higher in everything I do.
How do you spend your time in the offseason?
I stay busy with work, visiting family, staying in shape by working out and taking dance classes, and planning fun getaway vacations!
In what area of your life have you achieved the most success?
Even though I'm at an early phase of my life, I feel very fulfilled and grateful for my accomplishments thus far. I have great friends and a loving family, I have a college education and I'm currently living my dream!
Lauren Giangregorio

Lauren has liked the Broncos for awhile because her stepmom is from Colorado, but she says she wasn't a huge fan until her first game experience in 2008. She was obviously hooked since this is her third year cheering for us. She attended the University of Colorado at Boulder and got a BS in Advertising from the School of Journalism and Mass Communication and a BA in Dance from the School of Arts and Sciences. She now works in Advertising and Dance.
Occupation & How does Broncos affect your work?
Since rehearsals for Broncos are in the evening, I am still able to work during the day, then teach dance classes in the evenings we have off from practice. Our Junior Broncos Cheerleading Program has, and will continue to help me grow as a role model for young children. I am continuously improving in my goal, which is to help young girls develop a passion and love for both dance and charity work.
What is the most important attribute of a Denver Broncos Cheerleader?
I admire the Denver Broncos Cheerleader Organization for keeping the legacy alive. Everyone who has been a DBC still returns to help out and give back. They helped start this program to be unlike many others in the NFL. Promotions and Charity events are not a way to make money, but a way to get to know our fans on a deeper level and to give back to the community. All drama is left at the door when you walk in for practice, and each and every girl prides herself on working her hardest and being supportive of her teammates.
Most memorable experience?
I would have to say my most memorable experience was during the 2009 audition finals. From the time when Teresa called my number, all the way until we finished performing, 'Boom Boom Pow'. Looking back, the whole experience is a blur and I don't remember anything except the audience going wild and me thinking to myself, "I can't believe I just made it!"
Who has been your greatest inspiration?
My maternal grandmother has been such an inspiration to me. She always reminds me of how important women's rights are and how hard women worked to earn them. My grandmother was one of 1,500 women among an outnumbering amount of men to be part of the Los Angeles County Police Department. She worked against traditional stereotypes and was very strong. Also, my grandmother inspires me through education because she went back to college in her sixties. She is now a psychologist and has even opened up her own practice.
What is one thing about being a DBC that most people don't know?
Our practices are challenging. We work out and train each practice before we start stretching and dancing. Everything we do needs to have 110% energy and be absolutely perfect, or you will get called out! Always say 'Thank You' when receiving a critique and NEVER ask for water!
Best advice to kids?
Don't just follow your dreams … run after them, catch them, and get the most out of them. There might be things in life that you never would have gotten to experience if you hadn't taken a chance. So put yourself out on the line and never turn down an opportunity.
What sports do you enjoy watching or playing?
I'm all about watching (definitely not participating in!) the Summer Olympics. I loved watching Michael Phelps break world records with his dolphin-like body and setting such a good example for young Americans. I also cherish my moments watching the floor routines in gymnastics. It's probably the closest thing to dancing, so maybe that's why I enjoy it so much!
What top three things do you hope to accomplish in your lifetime?
First, I can't wait to get into a career in my field of choice, either strategic advertising or even marketing. Second, I want to change the world. I don't want to sound like a broken Miss America record, but I truly believe that there are small ways you can help out that make a big difference, such as volunteering and possibly working at a non-profit. Third, I hope to marry and eventually start a family of my own.
What do you value most in life?
I am so thankful that I was not only born with amazing dance abilities, but that my family was so eager to help me develop my talent. My dancing skills have taken me to some incredible places and have allowed me to meet people I never would have met otherwise. I've danced my way through Europe and the United States and I've seen more places than many people twice my age. Throughout it all, my family helped me get lessons from some of the most talented teachers and choreographers and supported every opportunity that was thrown my way.
Place you would most like to visit and why?
I would love to travel to Africa. I had a professor my first year of college from Ghana. He would tell stories of how his people back home were so appreciative of every experience and if we were to visit, everyone in town would go out of their way to make us feel comfortable. I would love to visit and experience their acceptance for everyone and also their love of dancing! Children sing and dance all day long and it would be amazing to witness how important the art of dance is within different cultures.
Who do you admire most in the sports industry?
Growing up in LA without a football team, I definitely appreciate the Lakers and loved when Shaquille O'Neal was on the team. Christmas is my favorite holiday, and I make an effort to donate gifts and work at the food pantry every year. I loved to hear that Shaq donated a truck load of toys for thousands of children for Christmas and I hope he and I both continue our Christmas charity traditions.
What is the best thing about Broncos Fans?
Broncos Fans are CRAZY!!! I love how involved they are with their team and how much they appreciate us being out there and cheering on our players. I never would have imagined how many fans showed up to Fan Fair this year, each one dressed up in orange and blue from head to toe. I really could not believe it!
What book are you currently reading?
I'm trying to go back and catch up on all the classics I either forgot or missed when I was younger. Right now, I'm reading To Kill A Mockingbird by Harper Lee.
In what charities or community service organizations are you most involved and why?
Back in California, I was involved in National Charity League, which was a mother and daughter charitable organization where we worked and donated our time to six different philanthropies. My mom and I both got involved with a charity known as Operation Gratitude, where we would ship packages off to the soldiers. My first Broncos promotion also involved our troops, where five of us went to Fort Hood, Texas to entertain the 115th Fire Brigade. Giving something, even if it is just a letter and package, an autograph, or a short performance, to the people who give their life for our country, is such an honor and something I hope to continue.
What is something about you that fans might not know?
I have a fish phobia!! I don't mind eating them, but having them in my house as pets, or swimming with them totally freaks me out! Whenever I go snorkeling, I suck my stomach in really tight and barely skim the surface of the water. My college roommate had a pet fish and it brought daily nightmares. Now I only have the reoccurring one of the day when she went to clean the tank out. While the fish waited impatiently, it then decided to jump out into the kitchen sink drain. I woke up early for practice the next morning, ran the garbage disposal, and was doused in fish guts!
What makes you laugh?
My previous teammate and captain Brianne makes me laugh so hard! Her laugh is extremely contagious, and whenever I'm trying to do my ultimate ghetto hip hop moves, she just looks at me and we both cannot stop laughing!
How do you challenge yourself?
I've always pushed myself to never give up, no matter how tough a situation may be. Whether I'm at a job or even an intense work out, I pride myself on never quitting and always following through until the end. There are going to be things in life that I absolutely hate, but I know that there are plenty more good times and rewards if you push yourself through the hard stuff.
How do you spend your time in the off season?
It is nice to have a few months to just sit around and take a break! You forget how busy you are during the season, so when it is over, I love to (and need to!) SPRING CLEAN! Everything gets reorganized and cleaned out.
In what area of your life have you achieved the most success?
At this moment in my life, success definitely does not equate to anything material. I'd have to say that besides having a great relationship with my family, and being able to stay in touch with them even though I'm thousands of miles away, dancing has brought me the most success. Dancing for my high school and college, the CU Express, I got to experience athletic events in a way many people will never get to. I've worked behind the scenes with marketing as well as being an engager and spirit leader for the crowds. Now being on a professional team, I feel like dance has helped me add something special to a specific sport, football, and I know the Denver Broncos would not be the same without the cheerleaders!
So Round Eight brings us a battle with five years experience total. They're both college grads and looking to make it into the next round of our tournament. Once again, please feel free to add your opinions and any info you can find on these lovely ladies, and let me know if there's anything I can do to improve this series.
And I just want to say thank you again to MHR. My knowledge of football has expanded exponentially since I started coming to this site and I still find myself so far behind some of the great members here. I figured this contest would be a good way to give something back. Go Broncos!