The
Denver Broncos
have a ton of cap space and four picks in the top 67 coming up this offseason. They also have some tradeable assets on the roster, so it could be another event-filled offseason in the Mile High City. The Broncos' big board is growing smaller by the week as players continue to be evaluated and interviewed and dissected.
I think this is a team that could be looking to make a splash in free agency, maybe not to rebuild the whole roster but possibly to get a couple of key pieces. A huge part of that process is going to be new VP John Elway, who we hope can be one of the best recruiters in the NFL.
The Broncos have weaknesses all over the defensive side of the ball, so I expect that to be a big area of focus over the next couple of months, especially in the draft. This team has a lot of work to do on both sides of the ball, but I think this is a team that could be on the rise. With John Fox and John Elway leading this team going forward, I think there is reason to be optimistic.
My sixth mock draft will be the first to feature free agent acquisitions to go along with the draft picks, so buckle in, and enjoy!
1.  First Round, 2nd overall:  Patrick Peterson, Cornerback, LSU
6'1" 215
I have to admit, the options are growing larger as the draft comes closer, but right now, I think with Nick Fairley being projected to go first overall, the best player the Broncos could take here is Patrick Peterson, the LSU cornerback.
I am on record as saying that Nick Fairley is not a great option for the Broncos. I personally have problems with his work ethic and questions about his "dirty" play, but there's no denying what he did on the field in 2010. If the Broncos have the chance to take him, I think my reservations about Fairley show a slight lack of confidence in our coaching staff to keep him disciplined, and for that, I am sorry.
That being said, I think the Broncos' prospect list is probably about four players long right now, and it includes Peterson, Fairley, Da'Quan Bowers, and Marcell Dareus. Dareus would be a bit of a wildcard, but I think after doing some extra digging on him, he has been consistently dominant for a couple of years.
On Da'Quan Bowers, I have really come around on him lately as well. Bowers has everything you look for in a defensive end prospect, and he's got great upside. Looking three or four years down the road, Bowers would be 24, and
Robert Ayers
would be 28 or 29, and who knows where he will be at that point in his career?

Ayers has made great strides, so I'm not so sure the Broncos are going to use the 2nd overall pick on a position where they already have a young first round pick jockeying for a starting position.
Let me just say--I would not be upset with taking any of these four players, and I suppose you could even put Texas A&M linebacker Von Miller at the tail end of the discussion. So the Broncos really have five options at the second overall pick. Could they look to trade down? It's definitely not out of the question. With a great player like A.J. Green on the board, some team might be willing to give the Broncos a king's ransom for the chance to draft him or possibly some quarterback.
At this point, the reasons I like Peterson are evident. Here is a scouting report from the good folks over at NFL Draft Scout:
Peterson entered the 2010 season hoping to establish himself as the top cornerback in the country. In winning the Bednarik Award as the nation's best defender, the Thorpe Award as the nation's best defensive back and being named the SEC's Defensive and Special Teams MVPs, he may have proven himself to be the nation's best player at any position.

Voted the USA Today Defensive Player of the Year in 2007, Peterson could have signed with any program in the country. He proved well worth the hype, becoming a rare freshman standout with the Tigers, playing in 13 games and registering 41 tackles, three passes broken up and an interception. Peterson started the 10th game of the Tigers' season in 2008 (Troy) and hasn't left the starting lineup in LSU's 28 games since.

Peterson emerged as a star in his second season, registering 52 tackles (including 43 solos), 15 passes broken up and two interceptions in earning first-team All-SEC and second-team All-American honors.

He was even better his junior season, seeing his tackle numbers drop (36) only because opponents learned to stay away from his side of the field.

He turned more of his passes defensed (10) into interceptions (four) and was allowed for the first time to participate as a punt and kick returner in 2010. Not surprisingly, Peterson demonstrated standout ability in this area as well, ranking fourth in the SEC in all-purpose yardage (116.9 yards per game) despite not playing a single down on offense. Peterson returned 26 punts for 418 yards (a 16.08-yard average) and two touchdowns and returned 29 kickoffs for a school-record 851 yards and a 29.3-yard average.

Having proven himself to be a shutdown corner and dynamic returner against SEC competition, Peterson rates as one of the elite prospects of the 2011 draft. In fact, some view Peterson as the draft's top player. He's likely to earn a top five selection and could challenge former Ohio State star Shawn Springs (drafted No. 3 overall by Seattle in 1997) as the highest drafted cornerback in modern league history.

 

Read & React: Possesses good instincts for the position. Reads his man and will sneak a peek at the quarterback, showing the anticipation necessary to make the big play. Can get over-aggressive and bite on double-moves, though he shows good straight-line speed to recover and possesses excellent ball skills. Could come up more aggressively when he reads run, as he's content with allowing teammates to make the tackle, but isn't afraid to come up in run support when he has to.

Man Coverage: Rare fluidity and straight-line speed for a defender of his size. Quick feet and balance when backpedaling and when he switches to a side shuffle technique. Rarely uses his hands to jam the receiver, opting instead simply to turn and run with his opponent. Will occasionally misjudge the speed of his opponent when in off-man coverage, allowing the receiver to eat up too much of the cushion. Easily flips his hips and shows very good burst out of his breaks (especially considering his size) to mirror the receiver. Good acceleration and has a burst to close. Good route-recognition. Good body lean and use of the sideline to ride wideouts out of bounds. Excellent size, overall physicality and competitiveness for jump-ball situations. Times his leaps well and can high-point the ball due to excellent hand-eye coordination.

Zone Coverage: Good recognition for zone coverage, but will drift out of position when he's reading the eyes of quarterbacks, resulting in some big-play interceptions, but also in allowing receptions when savvy passers bait him. Quick feet and balance to change directions. Good route anticipation. Switches off his target quickly when he sees the quarterback throwing elsewhere. Closes on the ball quickly.

Closing/Recovery: Some concern over what his time in the 40-yard dash will be, but shows very good field speed and possesses a second gear of acceleration to close on the ball. Locates the ball quickly and has the long arms to break up passes (or even make the interception) when it appears that he is beaten. Has good, but not elite burst to break downhill out of his cuts, making him susceptible to comeback routes against bigger receivers who challenge him vertically (see Alabama, Texas A&M). Among best attributes is his size, leaping ability and ball skills on fade and go-routes against bigger receivers. Matches up well in jump-ball situations. Isn't afraid to get physical in these confrontations, but because he's going for the ball, doesn't draw the flag. Very good ball skills. Times his leap well, showing a good vertical and possesses the long arms and soft, strong hands to pluck the ball out of the air. Excellent return skills once he has the ball in his hands.

Run Support: When not in press coverage, reads run quickly and either provides the contain to push the runner back inside or makes the tackle himself. Focuses on his primary target - the receiver - when he's in press coverage and can be a step slower to recognize run. Trusts his teammates to make the play, showing good strength and toughness to fight through blocks, but not always the sense of urgency scouts would prefer. Good effort in pursuit. Takes good angles to the ball and has the speed to run down the ballcarrier.

Tackling: Reliable open-field tackler. Breaks down well in space to make the stop against elusive athletes. Willing to take on the bigger ballcarrier and does a nice of wrapping his arms securely around the legs to make the effective stop. Good effort in pursuit. Not an explosive hitter, but plays his size, strength and long arms help him knock down ballcarriers quickly.

 

Intangibles: Confident, almost cocky demeanor on the field. Possesses the short memory of all great cornerbacks. Extremely competitive. Seems to relish the battles against top receivers in man coverage. Campaigned to be used on special teams and even offense while at LSU due to his natural playmaking skills. Good bloodlines. Cousins of NFL cornerback Bryant McFadden and wide receivers Santana and Sinorice Moss. Characterized as "freak" athlete.
2.  Second Round, 36th overall:  Phil Taylor, Defensive Tackle, Baylor
6'4" 337
Previously, I've considered Taylor to be a fifth round prospect. After a very strong senior season and obvious dedication to the weight room this offseason, it's clear that the former Penn State bad boy has turned into a very solid pro prospect, and one whose stock has elevated higher than I ever imagined possible. Taylor is very light on his feet for a big guy, and has great strength. He can occupy blockers, and will free up our linebackers to make plays.
Here is a scouting report from NFL Draft Scout:
In the NFL, size matters. Taylor has always had plenty of that, but other aspects of his game and life off the field have held him back in scouts' eyes -- until this year. He earned second-team All-Big 12 accolades in his final collegiate season, putting up 52 tackles, seven for loss, and two sacks for the Bears.

Taylor's career began at Penn State, where he matriculated after being named an All-Washington, D.C. metro player in high school. He played sparingly in seven games as a true freshman (no tackles), then flashed playmaking ability as a sophomore, making 20 tackles, 6.5 for loss and three sacks in a reserve role for the Nittany Lions. After sitting out the 2008 season transferring from Happy Valley to Waco, Taylor didn't exactly light up the world in his nine starts (25 tackles, 2.5 for los, 0.5 sack, interception, two blocked kicks).

Taylor's transfer was forced by suspension, then eventual dismissal, from the Penn State football team several months after his alleged role in a fight during a fraternity function at the student union. If scouts are willing to put that incident in the past, Taylor's excellent strength and mobility for his size, and the need for dominant 3-4 nose tackles, should push his draft stock high.

 

Pass rush: Though his job is usually not to provide primary pass rush, he can push the pocket with strength and flashes quickness off the snap and a swim move to get past lesser centers. Gives good effort to reach the quarterback if he sits in the pocket too long. Tries violent hands to shed blocks. Not very effective on inside twists, though he can take out the left tackle when twisting outside to free up the defensive end. Once stood up by initial contact, it's tough for him to re-start his rush.

Run defense: Shows excellent strength and mobility as a run defender. Plays with leverage against double-teams and keeps his shoulders square to the line of scrimmage. Pushes back his man and spins off single and tandem blocks with balance to make the play. Moves down the line well, stays low despite his height to wrap up shorter backs. Willing and able to reach the sideline, takes deep angles to prevent huge runs. Defeats cut blocks and maintains balance to track down ballcarriers. Gets low in short-yardage and goal-line situations. Does not dominate smaller centers. At his best when used in a rotation.

Explosion: Explodes from four-point stance into blockers, consistently getting push up front. Gets off low and quick near goal line to set the line backwards. Despite his size, flashes the quickness to penetrate the "A" gap. Requires double-teams to keep him out of the backfield.

Strength: Huge frame and upper-body development give him the strength to be a 3-4 nose tackle at the next level. Moves offensive linemen to either side with relative ease when covering two gaps. Forces fumbles with one hand punching at the ball while ballcarrier comes through the hole. Uses leverage to hold the line against double teams.

Tackling: Running backs get swallowed up when crossing his path, and he can separate the ball from a ballcarrier with pure strength. Stays low despite his height and will capture backs from behind if they have not yet hit their stride. Chase and hustle are impressive for his size, will chase backs down the line, help linebackers make stops at the second level, and takes deep angles to chase down running backs 20 yards down the sideline.

 

Intangibles: Sprained his knee in 2007 preseason at Penn State, losing starting job to future first-round pick Jared Odrick. Charged with felony aggravated assault during a fraternity function at a Penn State student union in October 2007; the charge was eventually dropped. Really turned up his game the second half of 2010; scouts could see that as maturity or wonder if he can maintain that level of play.
3.  Second Round, 46th overall:  Drake Nevis, Defensive Tackle, LSU
6'1" 290
If not for Nick Fairley's monster junior season, Nevis would likely have been the SEC defensive player of the year. He has been an absolute beast for the Tigers over the last couple of years for a school that seems to put out top tier defensive line talent like clockwork. Nevis could fall to the second round because of his lack of pure height, but he gets great leverage and simply knows how to make plays in the backfield. With these last two picks, I'm envisioning a rotation between
Justin Bannan
, Nevis, Taylor, and
Kevin Vickerson
. I think that would be a very potent combination, and you could potentially use Nevis and Ayers on the inside on passing downs and get another speed rusher for the outside.
4.  Third Round, 67th overall:  Tyler Sash, Safety, Iowa
6'1" 210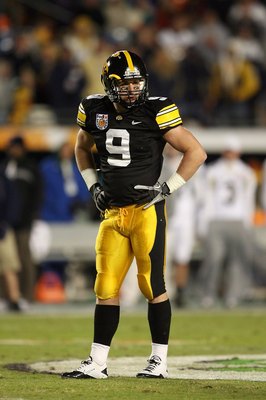 via Bleacher Report
I can't think of a more perfect scenario for Tyler Sash than to learn the tricks of the trade from a guy like Brian Dawkins. The plan eventually would be for Sash to team up as the hard-hitter to go along with
Darcel McBath
, the ball-hawk, though Sash had his share of interceptions at Iowa, and probably the most impressive play I have ever seen in watching football other than the Music City Miracle. You really have to YouTube "Tyler Sash Indiana Interception" and see for yourself. You'll need to watch it a few times to actually get what happened, but yes, it happened, and it came at a critical time for the Hawkeyes, who were on pace to lose that game.
This is a guy who is going to come in and be a leader. He's got a good head on his shoulders, and he can be a future captain of our defense who will do anything to make a play.
Ranked second in the Big Ten and 11th nationally in interceptions (.5) and ranked fifth in the league in pass break-ups (.92) for all games played . . . holds Iowa career record for interception return yards with 350 yards on 11 interceptions . . . 350 return yards ranks fifth in Big Ten history . . . 86-yard touchdown return vs. Indiana ranks as fifth longest interception return in school history . . . tied Iowa single-game record with three pass interceptions in 35-3 win at Iowa State . . . set Iowa bowl records for longest interception return (48 yards) and interception return yards in a game (74) in 2009 Outback Bowl win over South Carolina, along with tying Iowa bowl record with two interceptions . . . one of four juniors named to 2010 Leadership Group . . . one of four sophomores named to 2009 Leadership Group.
**Kyle Orton traded to Arizona Cardinals for 3rd, 4th round picks in 2011, conditional 2012 pick**
5.  Third Round, 69th overall (from Cardinals):  Ben Ijalana, Offensive Tackle, Villanova
6'4" 315
via Fact on Villanova Sports
It doesn't exactly tickle me that the Broncos will need an offensive tackle in the coming draft. I think Ryan Harris is very underrated and a perfect fit for the zone blocking scheme, so it would seem to make a lot of sense for the Broncos to keep him around. However, right now, it doesn't sound as though that is the plan right now.
If the Broncos can keep Ryan Harris around on a semi-reasonable three year deal, I think this pick could change. However, even if Harris returns, the Broncos' depth on the offensive line is atrocious, and you should always be planning for the future. Ijalana is a guy coming from a small school who has very good footwork and was absolutely dominant for Villanova.
He could go sooner than this based on the premium that is placed on good offensive tackles, but many people see him as a guard or right tackle at the next level, and I think with his elite footwork, he would be a nice fit to protect the blind side of our franchise quarterback moving forward.
UMass left tackle Vladimir Ducasse impressed scouts enough through his career and in Mobile for the 2010 Senior Bowl to earn a second-round draft slot. Ijalana, who joined Ducasse on the All-Colonial Athletic Association first team in 2009 but beat out the Minuteman for a spot on the Walter Camp FCS All-American squad while helping his team win the FCS national title, is a very similar prospect with great potential as an NFL lineman.

Ijalana has started every game in his three-year career with the Wildcats, all at left tackle. No redshirt season was needed for the southern New Jersey product. He stepped in to start in all 11 games of his true freshman season. Another 13 starts piled up in 2008 before the Wildcats' 15-game title run in Ijalana's junior season, where he helped create huge lanes for the team's fourth-ranked FCS rushing game.

Ducasse is projected as a guard by his new team, the New York Jets, and Ijalana could make the same move because of his durability, athleticism and strong hands (his background as a high school wrestler is apparent). No matter where teams project him to play, Ijalana is likely to be among the top small school prospects selected in the 2011 draft.

 

Pass blocking: Exceptional pass rusher at the FCS level, dominates defensive ends on most plays with great length with athleticism. Quick to set and get his hands on his opponent. Excellent foot quickness to mirror his man. Works to sustain even if his man backs off a bit. Latches his hands onto the opponent and extends his arms, very difficult for defenders to get off. Recoils and punch multiple times. Good anchor to hold up defensive ends and keep them safely out of the pocket. Inconsistent kick-slide, will cross his legs and be beaten outside when he loses focus off the snap. Lets up on hesitation moves and after initial contact at times, allowing his man to pressure the passer or get downfield to make a tackle. Must improve his awareness of end-tackle stunts and inside blitzers, as his quarterback takes too many direct hits. Carries a bit of extra weight in his mid-section.

Run blocking: Has the bulk, length and footwork to be a very effective run blocker. Crashes down to seal the edge for cutbacks on zone plays and bootlegs; FCS defensive linemen cannot stop him from taking them out of the play. Widens his base, goes out to meet the rush end on inside runs, controls them and pushes them back on most plays. Comes off the ball a hit high in short-yardage situations but drives off the snap well to move the line of scrimmage. Creates angles to wall off defenders from approaching the running lane.

Pulling/trapping: Excellent agility to get out of his stance, capable of moving behind the line and into the hole to negate linebackers. Once latched onto a defender, his strong hands and long arms make it difficult to disengage. Quick to cut block but must improve his effectiveness. Has a tough time adjusting to quick players in space, even if they are coming straight-on. Uses his long arms to get a hand on a defender but it is often not enough to take them out of the play.

Initial Quickness: Gets out of two-point or three-point stances quickly when focused off the snap, is very difficult for FCS ends to beat off the edge. Owns long, strong arms that, combined with his nimble feet, he uses to punch into his opponents' jersey and take them off the line on run plays. Occasionally loses the snap count or is distracted in pass protection, gets forced to cross his feet to reach ends before they get to the quarterback.

Downfield: Athletic and nimble enough to make an impact downfield, capable of getting to the second level and beyond to drive back defenders and free up ballcarriers. Struggles to take out targets in space, does not bend his knees or get his hands up quickly enough to engage. Stands around too much as the play continues, should be looking to take out another defender.

 

Intangibles: Excellent durability; started every game in his career, played through ankle injury in 2009. Plays through the whistle, does not back down from challenges. Nominated for the 2009 AllState AFCA Good Works Team.
6.  Fourth Round (from Cardinals):  Kelvin Sheppard, Linebacker, LSU
6'2" 250
This guy is simply a leader, and a tackling machine. I can't think of anything I'd rather have coming from the inside linebacker position. Sheppard isn't a flashy athlete, he's not like Rolando McClain or anything, but he gets the job done and he knows how to rally his troops. 
Sheppard was the leader of a very good LSU defense, and is just a veteran player. There's really so much you can say about this guy who brings so much to the table. He is a great value here in the fourth round, and certainly has starting potential.
It also wasn't until late in the process that I realized I had selected three players from the LSU defense. That is not a bad thing, folks.
7.  Sixth Round (from Patriots):  Alex Green, Running Back, Hawaii
6'0" 220
I think the Broncos are going to be in the market for some big runners this offseason, as John Fox likes to pound the ball. Knowshon Moreno already has a pretty big build, and if the Broncos can add DeAngelo Williams to the fray and keep on LenDale White, Alex Green is a kid who can come in and provide some pop in case of injuries, and is a guy they can develop for the future.
Green stands out to me for two reasons--number one, his size, and number two, his breakaway speed. It could have been the teams Hawaii was playing, but when Green got a full head of steam, he was impossible to track down. I love his upside at this point in the draft, and I think he could be a nice option down the road.
8.  Seventh Round:  Charles Clay, Fullback/Tight End, Tulsa
6'3" 240
I might be more excited about this pick than any other. Why? Because Charles Clay has the potential and ability to be the next Peyton Hillis. In college, Hillis was the fullback for some good running backs and never really got a chance to show his true worth. After becoming a 7th round pick of the Broncos, Hillis proved that he is the quintessential h-back in the NFL, but also showed that he is a rare breed of running back in the NFL.
I'm not so sure Clay can be a thousand yard running back, but he can be a very dangerous weapon on offense, and is a guy who will catch everything thrown his way, he will throw a block in the backfield, and he can be a great red zone weapon.
Top Free Agent Acquisitions
Thomas Howard, Linebacker, Raiders
James Anderson, Linebacker, Panthers
DeAngelo Williams, Running Back, Panthers
Owen Daniels, Tight End, Texans
Matt Moore, Quarterback, Panthers