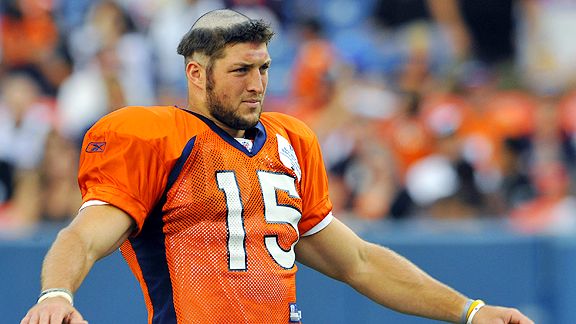 Becoming the poster child for the current version of the "All-American Boy" almost never happened for the big kid with the goofy smile and "Aw shucks" attitude.
His mom was ill while pregnant with him and doctors urged her to abort a child that could be stillborn.   Ignoring medical advice, she carried out a pregnancy that gave the media someone to talk about at every turn on the hype highway. 
Tim Tebow has more reasons for them to like him besides cheating death before even being born.   Home-schooled by a family with Christian beliefs, Tebow soon incurred some controversy as a home-schooled student when he played football for a nearby high school.
Though he started out playing linebacker and tight end, he soon became Florida's Player of the Year twice and his legend began to grow by playing a game on a broken leg.   ESPN began following him at this time and even did a show featuring Tebow and labeled him "The Chosen One".
A top recruit, he decided to attend the University of Florida.   The media kept following him, this time in greater numbers. Not only did they have Tebow confess he was a virgin, they printed and recorded the question and answer that had nothing to do with football.
The purpose of the question was to add to the mystique that was often found on an ESPN broadcast somewhere seemingly daily.   All of this publicity came despite the fact he was a backup, something that would come about again in five years.
Tebow played as a freshman, and even played a key role in helping the Gators win the 2006 National Championship.   He started from his sophomore year on and became the first home-schooled athlete to win the Heisman Trophy Award.
Tebow was also the first underclassman ever to win the award.   Though he was never able to tie Archie Griffin's record of winning the Heisman twice, he did lead Florida to another championship in 2008 and won the Maxwell Award twice. Many media members would be so bold to call Tebow the greatest college football player ever.  
Yet critics would say that he would never have success as a quarterback in the NFL. Tebow ran the position kind of like a mix of a throw-back player and fullback in college, opting to run over defenders and toss jump passes more often than any other contemporary quarterback.  
The Denver Broncos did not care to listen to the critics.  They traded up in the 2009 Draft to use the 25th overall selection to grab Tebow. While many in the media had been wondering incessantly throughout the draft why Tebow hadn't been drafted yet, critics expected him to keep falling to possibly even the third round.  
Now a Bronco, the cameras keep a few feet away constantly recording every Tebow move. The most popular reserve in the NFL, his jersey was a hot-selling item that set records. It had been the top-selling jersey every month since he was drafted for many months.  
While spotted in six games in the beginning of his career, the Broncos lost their starting quarterback and were forced to start Tebow for three games. He became the first quarterback in NFL history to run for a touchdown in each of his first three career starts.  
His passing numbers were far from gaudy, they were certainly better than the critics expected. The 82.1 quarterback rating he had as a rookie was impressive for a kid no one thought would ever be an effective professional quarterback.  
Now in his second season, the hype highway has intensified with more bodies and pressure in the way. His name is mentioned constantly on television and the Internet is strewn with tons of articles discussing if this is the year Tebow begins his career as a starter.  
The problem is that last years starter, Kyle Ortin, has outperformed Tebow in camp by a pretty wide margin. Tebow's fans will say practice is unimportant, that the play on the field during a game matters most.  
In the Broncos first 2011 preseason game, Orton was not sharp in his few plays. Tebow was sharp with one incompletion against backup defenders on the Dallas Cowboys. Still, Tebow's head coach John Fox called the youngster a work in progress who made a few bad reads.  
With his unconventional release and style of play, Tebow is a unique player. Some think his style best works as a spot player. One reporter compared Tebow to 1984 Heisman winner Doug Flutie.  
Flutie, about eight inches shorter than Tebow, lasted 11 rounds before being drafted. After a season in the United States Football League, Flutie joined the NFL as the USFL folded.  
He soon found himself on the field playing, but the results were not as hoped. Flutie then bolted for the Canadian Football League and became a star. He played in the CFL for eight years and won three titles. He was also named the CFL's Most Outstanding Player six times.  
Flutie then returned to the NFL in 1998 and became a Pro Bowler. He played to the age of 43 and became the first NFL player in 65 years to convert a successful drop kick.  
While a trip to the CFL is an unlikely route for Tebow, it may take some time before the Broncos are ready to let him lead the team. But his teammates will tell you Tebow displays a an obvious burning desire to win.  
With his religious beliefs, humble attitude, and desire to fulfill his childhood dream to becoming a great NFL quarterback, the media has bought in full force. There have been stories of him quoted as saying his Broncos starting job was "grabbed back away" when Orton was not traded recently.  
But the negative press rolls off his back like water on a duck, leaving him unscathed. Well insulated with a huge fanbase, the loyalty of the press will stay persistent no matter how much of Tebow's 2011 season is spent on the bench.  
It appears Tebow can do no wrong to a group of writers, which reminds some of Brett Favre. Favre, who retired last year after 20 years as a player, still gets brought up in stories for a possible return this year.  
While Favre won one Super Bowl and set several records as a player, he also left the game with the most fumbles, times sacked, and interceptions thrown in an era of football where the NFL constantly bent the rule in a quarterbacks favor to ensure success.  
Tebow hasn't thrown a teammate under the bus yet for holding out while being the highest paid player in team history like Favre did. Nor are there any reports of purported sexual harassment either.  
Yet there are similarities that extend beyond the fact both men play quarterback. Favre also lived under the media microscope and was trumpeted as the greatest player ever innumerous times.  
Favre could do no wrong himself, even if reports of wrong doing were running rampant. He was given a pass at every turn and ESPN dropped his name seemingly every ten minutes on all broadcasts for many years.  
With him now away from the game, the mantle has been filled by the kid who has had a media shadow since he was 17-years old. Tebow handles the things well, but has also lamented the constant process of being interviewed repeatedly and practically daily.  
He will be only 24-years old soon, but the target is set firmly on his back. Opponents have stated they will try to hit Tebow with all of their abilities. That pressure alone would buckle most, let alone the constant attention he receives from a large group of reporters following him.  
While appearing bashful at being given the throne Favre reigned for so many years, Tebow appears to understand the perks that go with it. Whether all of this hype gets him on the field with a successful career remains to be seen, but the media will make sure we witness every second of it.