Today I'm watching the 1996 Divisional Playoff game where the heavily favored Broncos (spoiler) famously lost to the Jacksonville Jaguars in only their second year of existence. Why? Why not. I thought it might be fun to write down my thoughts as I go along. I'll try to write as a time-traveler who is trying not to upset the space/time continuum, but who frequently slips up and reveals knowledge of the future.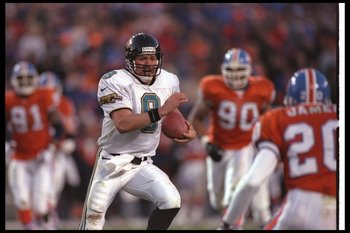 Now let's travel back to that fateful day, 15 years ago, which according to Wikipedia is known as "The Ambush at Mile High."
1st Quarter
Zimmerman - It's pretty easy to see why Gary Zimmerman is in the Hall of Fame. On the first drive, he crushed the Jacksonville LE (Tony Brackens, I believe) twice. The Broncos line handles five and six-man rushes with ease.
Broadcasting Used to Be Better - The broadcast team is Dick Enberg, Phil Simms, and Paul Maguire. They really seem to know both teams, players' life stories and assignments and strategies. It feels vastly more in-depth than network coverage in 2011. Here is my impression of 2011 NFL coverage:
"Quarterback, quarterback, quarterback, other quarterback. Player who's been arrested. Quarterback, quarterback, quarterback's girlfriend, the OTHER team's quarterback. Player who tweeted."
2nd Quarter
Sliding is for Pussies - Twice, Elway has made a headfirst dive on a scramble for a first down. It's obvious that in 1996, sliding AND "preserving your body" were not football player things.
PI Has Always Sucked - I often complain about the modern interpretation of pass interference. I hate it with a passion. I hate teams that throw passes HOPING for PI calls. I hate seeing 40 yard penalties doled out for hand fighting. Here, the Broncos lose an interception on a super-cheesy pass interference call that wouldn't even pass for PI in 2011. The Jags go on to score and lead 13-12 at the half. Ouch!
Mike Shanahan Doesn't Talk - Every time they show young Shanahan, he's tight-lipped, bug-eyed and silent. Also, his skin tone looks a lot less like a tomato than it did when he left Denver.
3rd Quarter
Agile QBs - The halftime feature is about Kordell Stewart and how unique he is. The broadcasters rave about how mobile Mark Brunell is... I'm not going to tell anybody about a high school kid named Michael Vick.
Subway - Sadly, the VHS rip I've got has commercials. Even back then, Subway was trying to sell people on the idea that their sandwiches are super healthy. Jared can't be far off.
The Old Jerseys - It's just dawned on me that this is the last game with the Orange jersey and the powder blue helmets. It's also Mike Shanahan's first playoff game as a head coach.
Jaguars WR and Ring of Fame, Same Thing - The Jaguars land a 31-yeard touchdown pass from Mark Brunell to Kennan McCardell while McCardell is being MAULED by Lionel Washington of the Broncos secondary. It's blatant PI by 2011 standards but a quality receiver still MAKES THE CATCH. #LetEmPlay The other WR is Jimmy Smith. I had a Marty McFly moment when I saw that tandem, knowing how their careers turned out.
Rod Smith - He shines on special team coverage in this game. Also, they treat him like a WR3 on offense. Anthony Miller and Eddie Mac get the most reps. In other news, right about now, the Broncos offense is stalling badly and the fatigue is showing on defense because...
Natrone Means - and his giant shoulder pads are pounding the linebackers and safeties.
4th Quarter
Brunell - I'm fairly certain this spring chicken is the only player in this game who is still active. It should also be noted that in 1996, Tom Coughlin looked more like a football coach and less like the witch from Army of Darkness.
Are You Smarter Than a Network Exec? - Apparently, Jeff Foxworthy has a sitcom that's doomed to fail.
FS/SS - They say that Atwater is the FS and Tyrone Braxton is the SS, which is weird to me, because I always thought of Atwater as being more of a run policer and Braxton being the center-fielder. (He had 9 INTS in 1996). I wonder if this is a shift in nomenclature or usage over the last 15 years, or a sign of brain damage.
Biff - My dad always called John Elway, "Biff," especially when the Broncos were losing. I think it was his generic, derogatory name for blonde-haired, "California" guys (like the villainous character in Back to the Future). However, I grew up thinking that John Elway was "Biff" the same way that William Perry was "The Fridge," and that everybody called him that. That was just me, right?
4-Minute Drill - After a touchdown and two-point conversion by Terrell Davis, the Jags are trying to run clock. Atwater is hurt and I've got a bad feeling about the whole thing. Brunell practically ices it with a lengthy scramble on a broken play. Romanowski notably records something like his 8th missed tackle of the day on the debacle. (That's on unofficial stat, but Romanowski has been horrible in this game.)
Final Thoughts
The Broncos came out firing on all cylinders but made mistakes aplenty, starting with getting an extra-point blocked. Soon after it turned into Jaguar domination with missed tackles and blown coverages and the Broncos 2nd-half offense was purely anemic. Brunell caught fire and though I'm sure nobody knew it at the time, the WR duo of McCardell and Jimmy Smith was probably the best in the league at the time. It was a heartbreaker for sure, but one the Broncos certainly deserved to lose. I guess they learned something though, because as I recall, the next years' playoffs turned out much differently.