This is going to be short and sweet. There's been a lot of talk the past 2 years of the Broncos missing on high round draft picks. I ask all of you.... can it be silenced for good tonight? Not all high round picks come out year one, year two, or even year three and beast (Aaron Maybin... Aaron Rodgers). There are the Von Miller's of the world, but most times, it takes these young men time to learn/process the professional game. Big hats off to our youngsters today for growing up right in front of our eyes into men.
Jump with me into the stands of Mile High!!!
Demaryius Thomas
I had to keep rubbing my eyes tonight folks cause I thought I kept seeing glimpses of Shannon Sharpe on the field. So many people were growing sick of DT for his injury problems, but you don't give up on a 6-4, 235 lb. man who runs a 4:38 forty that easily (especially in his 2nd year). Thank God some of us aren't running the personnel dept. at Dove Valley. I would include Decker.... but I don't think he was ever labeled a "bust."
4 catches for 204 yards (51 avg.) and a TD? DT must have thought he was still doing his thing for Georgia Tech. Thanks McD for this height, weight, speed, strength FREAK!!!! Bay-Bay in da HOWWWWSE!!!! Brandon Lloyd who?
Robert Ayers
Bust? Yeah..... bust a fool in the jaw!!!
Along side of Knowshon.... big Robert Ayers may be the most scrutinized pick from the Josh McDaniels era (Tebow should go without saying). I hope.... I pray that Broncos Country has finally quit being impatient with this edge setting monster from Tennessee. What Robert has lacked in pass rush moves, IMO, he's more than made up for it with sound technique when setting the edge / stuffing the run. It couldn't have been easy for Ayers to drop being a DE, learn being an OLB on the fly, then scrap that to go back to his original position.
Robert Ayers is home now in Dennis Allen / John Fox's 4-3, and I believe he's here to stay. This is a prime example of why we - as fans - need to show more patience with these young men coming out of college. The NFL game, I've heard, is a hard one to learn. No more cutting draft picks after a couple of years..... look where that got Shanny.
Zane Beadles
Off and on, I have been guilty of dogging on Zane... how stupid can I be? Zane Beadles is a young, probably overdrafted Guard.... somewhere I heard it takes time for young O-Lines to gel. Along with Kuper, Beadles is phenomenal at pulling and getting to the 2nd level.
I was pretty sure Zane was safe with the new regime cause Fox loved himself some Utah O-Lineman there in Carolina.... Jordan Gross wasn't exactly a world beater his first couple of years with the Panthers. Beadles compares greatly to Gross, who has some years on him in the pros. If Zane can even come close to Gross, ceiling-wise, then we have ourselves an earth mover. Zane and Clady gave up the 2nd fewest negative runs to left side in football this year.
I think every single player on the O-Line has earned the right to keep building continuity with their offense, and I want to see these men as Broncos for the next decade +. One trait all our lineman have in spades is toughness.... I love it!!!! We have the makings of a Super Bowl caliber line here in Denver.... let's enjoy it!!!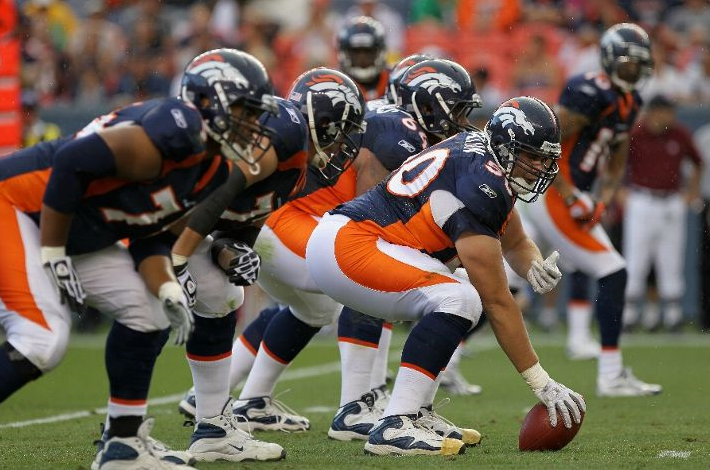 J.D. Walton
Like Beadles above.... McD's philosophy and misuse of an O-Line (+ Orton's awkwardness in the pocket) made Walton look like a bust before he even got the chance to truly begin. I'm seeing a trend on our Line with these tough bastards, and I likey!!!! Walton has been responsible for some elite running up the gut, and he's only gonna get better. I want to see him in orange for his entire career! There's nothing like a bully in the middle of the trenches.
Possible Gems?:
These are some more guys from the McD regime who I think need to be shown a little more patience...
Knowshon Moreno
I promise you guys..... let him have another year and just watch the production. 17 TD's his first two years..... not too shabby if you ask me.
Syd'Quan Thomspon
Yeah.... losing him sucked, but we're paying him nothing and there's no reason he shouldn't have a chance to compete. I know he wasn't drafted high enough to be considered a bust.... but I think he will fit in so nice with the new defense.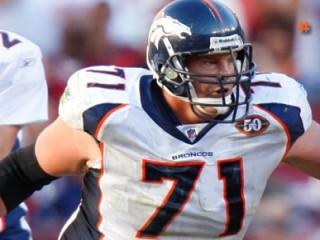 Russ Hochstein
I know he's not a youngster, but I had to honorably mention his name for his play in replacement of Kupe. Who knew that Hoch could play this well? We've had no drop off whatsoever with Kuper gone.
In summary - McDaniels the coach flopped horribly. But as it turns out, McDaniels the talent evaluator possibly recruited us a Super Bowl. I would have put Tebow on this list.... but I never thought for a second he was a bust.
GO BRONCOS!!!!!!