You know, as exciting as our cheerleader contest has been so far this year, I think we'd all agree it has nothing on what we witnessed Monday night... I just have to take a second to say wow again. To put some perspective on it, out here in Kansas all the Chief fans were excited for our win earlier this week. These are people who put the Broncos on the same level as the Raiders at times who abandoned all shame and jumped on our band wagon for two glorious quarters. Sure it was against the Chargers, but still amazing. But, with all that excitement out of the way and a bye week before us, it's time to get back to our contest.
For those of you who missed the sixth match up, Kimberly ended up defeating Tara in a battle of the vets. With only 46 votes separating them though, it could have went either way, much like this one can.
As always, I encourage voters to take a little bit of time and read the bios before voting (I know how distracting those wonderful pictures can be). It doesn't take long, and it can be extremely fascinating to get to know our squad. Also, more than once, my vote has been swayed by the information provided. And speaking of my vote, just like last year, if there is a tie, I will nullify my own vote declaring the other cheerleader the winner (this actually happened).
But, without further adieu, lets get down to business.
If you can't see the full bracket, just click on the picture. It should take you to the source image.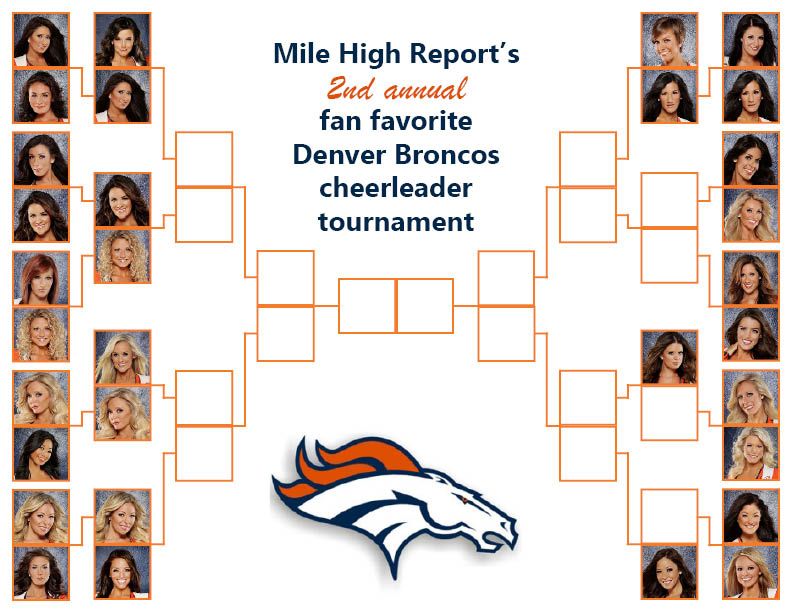 Match 7 of Round 1: Christina B. vs. Candace
Christina B.

This is Christina's second season cheering for us. And with a new last name and a shiny ring on her profile, I think we can all wish her congrats! This University at Colorado Springs grad from New Jersey works as a personal trainer. Last year, she ended up losing by a hair in the first round to Katie W. (who ended up making it to the quarter finals). Will this year be her year to make a run?
What is the best thing about being a Broncos Cheerleader?
It is a priority for me to be as involved as I can with children and teens, and Broncos offers so many avenues for that. Being a JDBC instructor gives me the opportunity to be a positive role model to young women, helping them to realize their potential and inspire them to go after their dreams.
What is your most memorable experience as a Denver Broncos Cheerleader?
When Teresa announced my number as one of the 26 women on the 2011-2012 DBC team, it was unreal! I have never been more surprised, excited, and honored! I burst into tears and had to convince myself that it really was happening, that I wasn't imagining it. Then, when I announced the news to my husband via Skype while he was in Iraq, it was even more fulfilling to see how proud he was of me. I will never forget that night.
How do you spend your time off the field?
The Broncos keep us very busy off the field with our Junior Cheerleaders program, promotions, charity events, and more. Morning workouts and yoga classes fill my regular weekly schedule, and weekend camping/fishing trips with my husband and dogs are always a bonus when I have time.
What was your most memorable game?
Hands down, the Broncos vs. Steelers playoffs game. I have never seen so many grown men burst into tears and embrace each other. Being on the field, feeling the overwhelming energy from the stands was a rush like no other. I don't think anyone watching that game could ever forget Tebow's 80-yard touchdown pass to Demaryius Thomas in overtime.
What is your occupation and how does being a Denver Broncos Cheerleader affect your work?
My biggest struggle is living sixty miles away from the stadium. Trying to balance a full-time life with Broncos is difficult enough. Adding the traffic-filled commute into the mix is an entirely different obstacle!
Who do you admire most in the Sports industry?
I've been saying this since his Gator days, and I'll continue to say it now: Tim Tebow. He has stayed true to his values and has led by example, not allowing his fame and publicity to change his actions. I admire athletes when they use their position of power to help, inspire, and encourage others. Children are greatly influenced by athletes and it's important for those in the sports industry to realize the responsibilities they have as highly publicized role models and leaders. Tebow is a player most parents don't mind their kids idolizing, which is not the case for many athletes.
What is your favorite book?
"The Last Lecture" by Randy Pausch
Where do you see yourself in 5 years?
Five years? I don't even know what's coming in the next five months! I will for sure have graduated with my Master's in Counseling. Other than that, I know I'll be happy, healthy, and still dancing!
What is the best thing about Broncos fans?
No matter the condition of the game (or the weather), they are passionate, supportive, rowdy, and loud! Definitely my kind of crowd.
What do you do in your spare time to relax?
After tough rehearsals and hours of game-day dancing, my body needs a few hot yoga classes to rejuvenate and clear my mind. I also love to enjoy a glass of wine, lounge on the couch in my sweats, and cuddle next to my hubby and our two dogs. It doesn't get any better!
What is your best advice to kids?
"No one can make you feel inferior without your consent." -Eleanor Roosevelt
What is the best gift you ever received?
My husband bought me custom ear plugs for my birthday. He snores like Grizzly Adams, waking me up in the middle of the night, so I was actually excited when I opened them up. Ah, yes, it truly is the thought that counts.
What is your most important goal in life?
To never accept defeat or failure as an option; to refuse complacency; and to always have a list of smaller, short-term goals I am working towards.
What is the one place you would most like to visit?
Africa. How amazing would it be to go on a safari and experience National Geographic Channel up-close and personal?
Who has been your greatest inspiration?
Jennifer Kelly, my high school theater teacher and mentor, is the most inspiring woman I have ever met. Jennifer encouraged me through the most difficult times of my life to be a leader and an inspiration to others. She helped foster my love of performing, providing an award-winning theater program for me, and countless other teens, to grow and learn. Jen devoted herself to our theater department and taught us all through example how to be passionate, courageous, and daring leaders and achievers, as she has been in her life.
What is the one thing that you value most in life?
My relationship with God.
What is the toughest part about being a cheerleader?
As a respectable, intelligent, married woman, it is incredibly frustrating that I have to fight to break the 'cheerleader' stereotype when I meet people. All of us on the team balance our Broncos schedule with school, work, and family while pursuing our passion for community outreach, performing, and football. We are so far from what many people think they know about cheerleaders, but are often belittled before ever getting a chance to show that to people. I give everyone I meet the opportunity to show me what type of person they are, regardless of whatever type of stereotype they may typically face. I feel as though we deserve the same.
Who are two people you would like to have dinner with?
Henry David Thoreau and Susan B. Anthony. They were both such courageous pioneers of their days who changed the course of history in ways we now take for granted. Having a twenty-first century perspective, it's hard to imagine how inspiring and influential they were in their time. They could teach so much about true perseverance and audacity. I'd love to be able to have a conversation with them - if for nothing else than to say, "Hey, thanks for that whole 'civil disobedience' and 'women's movement' thing. Just for that, drinks on me."
What are your favorite things to do in Denver?
Living an hour south of Denver, I don't get to do much up there. However, in Colorado Springs, I love hiking Barr Trail, climbing The Incline, and taking my puppies through Garden of the Gods. Those sights never get old! On the weekends, Back East Bar and Grill is my favorite hangout to watch a game, or when I want to pig out on some burgers and chicken wings (yes, it's true!)
What is your favorite sport to participate in?
Football! I wanted to try out for the football team in high school, but the coach wouldn't let me (He said he liked me too much to subject me to all those boys.)
What are the three words that best describe you?
Determined
Charismatic
Sincere
What is your most prized possession?
My photo albums and homemade scrapbooks. Everything else is replaceable.
What is your greatest accomplishment?
I am the first person in my mother's family to graduate college; most of her family members didn't even graduate high school. Walking across the stage to receive my diploma was an honor that I had worked so incredibly hard for. I will forever be proud of that! With that, I have always accomplished the goals I set for myself, no matter how difficult they've been, or what circumstances arose that tried to tried to stop me. I continue to dream big and never doubt myself.
Candace

Candace is another newcomer to our tournament who wasn't in last year's contest. This is her third year cheering for us in the past four years. This University of Dayton grad works as a surgical sales rep and I think we can all say welcome back!
What is the best thing about being a Broncos Cheerleader?
The best thing about being a DBC is the friendships I've made over the past 4 years. My family lives in Ohio, so my teammates have really become my second family. They always know how to make me laugh.
What is your most memorable experience?
In 2010, I had the opportunity to travel with a few of my teammates to 7 countries on the Armed Forces Entertainment tour to various bases. My favorite memory is visiting soldiers at Landstuhl Regional Medical Center and the Wounded Warriors Project in Germany. It was rewarding to thank our soldiers for what they do and bring smiles to their faces.

How do you spend your time off the field?
My career requires me to work in the operating room and provide insight on products for specific patients and procedures. Needless to say, my schedule is pretty hectic and unpredictable, but if I find free time, I really love to travel and visit my family.

What has been your most memorable game?
I'll never forget my first game as a DBC. It was the Broncos vs. Browns game back in 2009. My whole family flew in to cheer me on. I remember we had just won the game and my teammates started heading back to our locker room. I was so excited to be cheering that I missed the signal to head in, and just kept cheering long after my teammates were gone. My family still teases me about it!
What is your occupation and how do the Broncos affect your work?
Anyone who has ever worked in the medical device field can attest to the long hours and high sales expectations, so it's definitely a high stress job. I love being able to go to practice after a long day and dance the stress away. It's helps me live a more balanced life.
Who do you admire most in the Sports industry?
I admire any athlete that uses their talents and stardom as a platform to give back to the community.
What is your favorite book?
"Through My Eyes" by Tim Tebow with Nathan Whitaker. Even though he's not a Bronco anymore, his book inspired me to never give up or forget the bigger picture. Hard work and determination will get you to where you want to be.
What is the best thing about Broncos fans?
Their passion for our team! Broncos fans are all over the world!
What do you do in your spare time to relax?
Hot yoga and bubble baths
Best advice to kids?
Don't let other kids bully you or make you feel like you're not good enough. Ultimately, it's their own insecurities that get the best of them eventually.
Most important goal in life?
Happiness
Place you would most like to visit?
Bora Bora
Who has been your greatest inspiration?
My parents. My father started his own custom home business when he was 19 years old. He taught me the importance of a strong work ethic. My mother runs her own personal training business. She is her clients' biggest cheerleader, and inspires them to lose weight and live healthier lifestyles.
What is the one thing that you value most in life?
My family. They are my greatest support system and have always believed in me and encouraged me to go after my goals.
Toughest part about being a cheerleader?
The toughest part about being a cheerleader is remembering all of our routines. We learn over 25 new routines each season and after 3 years on the team, they all start to run together!
Two people you would like to have dinner with?
My best friends and teammates, Tara and Allyson. I never leave a meal with them without my face hurting from laughing so hard.
Favorite things to do in Denver?
I love going to all sporting events, concerts, and charity events. Nothing can top a great concert in the summer at Red Rocks.
Favorite sport to participate in?
Living in Colorado, I'm lucky to be close to some of the best skiing in the U.S. I really enjoy escaping to the mountains on the weekends and skiing with friends...when we don't have a home game of course!
Three words that best describe you?
Driven, Passionate, Loyal
Most prized possession?
A teddy bear my Aunt gave me when I was born. It was the first gift I ever received and I still have it.
Greatest Accomplishment
Earning a spot on the team as a DBC. So many women audition every year to be a part of one of the most highly technically trained cheerleading teams in the NFL. I'm just grateful to make it back.
So we have another impossible decision on our hands Broncos fans. They both mention loving players like Tebow who give back to the community, and they both do a great example of living by that mantra themselves. We're extremely lucky to have them both on board. As always, please feel free to add your opinions and any info you can find on these lovely ladies, and let me know if there's anything I can do to improve this series. Go Broncos!