For those of you who missed the epic fourth match of the second round, Katie W. was able to edge Jenna by a single vote. I'm afraid to say that I believe this was just a hint of the difficult choices we have coming up. They may not all end up as close, but I'm positive they will all be as impossible to decide.
As always, I encourage voters to take a little bit of time and read the bios before voting (I know how distracting those wonderful pictures can be). It doesn't take long, and it can be extremely fascinating to get to know our squad. Also, more than once, my vote has been swayed by the information provided. And speaking of my vote, just like last year, if there is a tie, I will nullify my own vote declaring the other cheerleader the winner (this actually happened).
Remember the new rule:
For those of you who missed it, the new rule was first announced in the results post from last week. The rule is pretty simple though: From this point on, I will not be tolerating any derogatory, insulting or demeaning comments about our cheerleaders. They are all gorgeous, and I'm fine with you talking about how great they look or how awesome their answers are, but I will not stand by and watch anyone nitpicking about some perceived flaws about their appearances. If I see any more of this kind of talk about our cheerleaders, the comments will be removed. Repeated comments will be cause for warnings and or punishment from MHR. I will continue to post this new rule for anyone who may have missed it for the rest of the tournament. Thank you for being civil and giving the proper respect that our cheerleaders deserve.
But, without further ado, lets get down to business.
If you can't see the full bracket, just click on the picture. It should take you to the source image.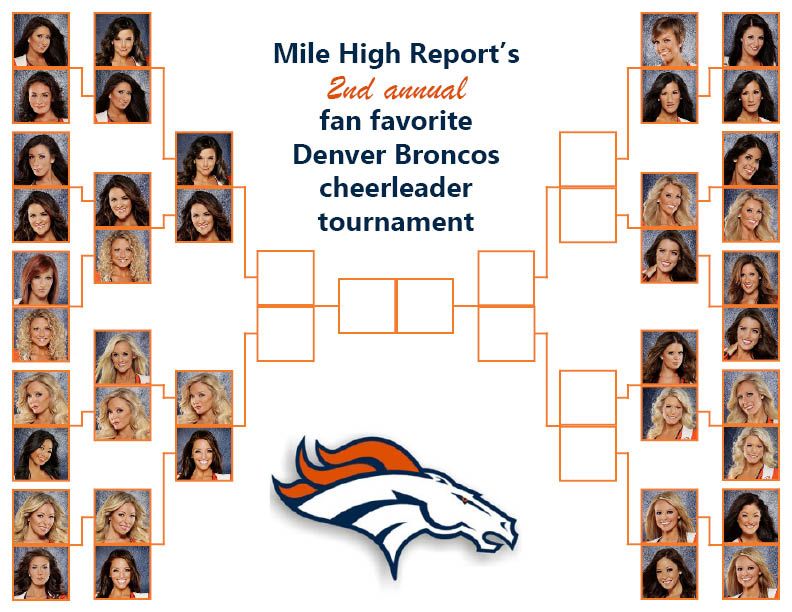 Match 5 of Round 2: Sam vs. Kimberly

Sam

This is Sam's third year cheering for the Broncos and the Senior Market Operations Specialist from Detroit already has a deep history in our tournament. She had a bye in last year's first round before blowing past Allyson in the second round. She then moved on to the quarterfinals, where she was able to defeat Megan. She finally fell in the semifinals in one of the biggest matches our contest has ever seen by losing the tie-breaker to Nikki since she had won my vote. Will she make it to the end this year or fall short of her prior performance?
Fan Since: The first NFL game I ever attended which was a Broncos home game and a WIN over the Giants!!!
What is your occupation and how does being a Denver Broncos Cheerleader affect your work?
Client Solutions Executive in the healthcare industry. I work full time, as many of the Denver Broncos Cheerleaders do. The women on our team are so driven and passionate about being successful and reaching their goals. My involvement with the Broncos requires extra time commitments outside of my regular 40-hour week. I need to make sure I always keep a very up-to-date calendar. Being a DBC has taught me how to excel at time management and how to focus my energy on one thing at a time, especially when I may have 3 or 4 different things going on in any one day. That discipline helps me work more efficiently no matter what I'm doing.
What is the most important attribute of a Denver Broncos Cheerleader?
POSITIVE ENERGY! It radiates from her smile, it inspires the fans to support the team from start to finish, it is demonstrated in all her charitable work throughout the community, it encourages her to dance with 100% effort at every team rehearsal and on the field, and for all the people she meets it leaves an everlasting impression of kindness and grace that is the legacy all DBC's embody.
What is your most memorable experience as a Denver Broncos Cheerleader?
In the 2011-2012 football season, my most memorable experience was the final touchdown scored by Demaryius Thomas in overtime during the playoff game vs. the Pittsburgh Steelers. I was cheering in the southwest corner of Sports Authority Field, right where it all happened, and I'll never forget the energy that exploded throughout the stadium. It gave me goose bumps! I remember rushing to hug and congratulate my teammates! For me, that was the most exciting moment on the field and the most memorable Broncos win! One clear example of Mile High Magic!
Who has been your greatest inspiration?
My fellow teammates. As a DBC I have had the privilege to meet some amazingly talented, driven, and beautiful women (both inside and out) whom I look up to in so many ways. My teammates over the years have inspired me to be the best cheerleader, role model, and team player that I can be. Being surrounding by young women that challenge me and inspire me has changed my life in ways that words just can't describe.
What is one thing about being a DBC that most people don't know?
Everyone is extremely professional. We are far from a group of drama queens or divas! All the cheerleaders show each other and their coaches a great amount of respect. It takes a lot of hard work, commitment, and preparation to perform at our very best, but we're able to achieve that because everyone fulfills their responsibilities.
What is your best advice to kids?
Believe in yourself! You just may surprise yourself with the accomplishments you're able to achieve if you just believe.
What sports do you enjoy watching or playing?
I'm a HUGE sports fan! I am so thankful to live in Denver where we have an abundance of professional sports teams to root for. Whether it's football, baseball, basketball, hockey, soccer, or lacrosse, I absolutely love attending sports games and following team updates in the news!
What top three things do you hope to accomplish in your lifetime?
I hope to become a published author, to travel to all corners of the world, and to figure out why I'm so addicted to shoes!
What do you value most in your life?
My friends and family, my physical health, and the wisdom that comes with age.
What place you would most like to visit and why?
I've always wanted to travel to Italy! I recently purchased a Fiat 500 and was asked if the car "brought out the Italian in me". My answer is YES! I adore my new Italian-made car, would love to learn the romantic words of the Italian language, and can definitely imagine myself strolling the streets of Rome with a doppio espresso in hand. Plus, Italian food has always been my favorite…I could eat pasta, bread with oil, and olives every day.
What is the best thing about Broncos fans?
Their devotion. Every day I pass people on the street wearing Broncos t-shirts or hats, even during the off-season. I often pull up behind fans in their cars with Broncos bumper stickers, license plates, and decals in their windows. At the games, I love how our fans get dressed up from head to toe in blue and orange.
What book are you currently reading?
Born to Run by Christopher McDougall
In what charities or community service organizations are you most involved and why?
As a DBC, we have the privilege of being involved with so many wonderful charities and helping out with a lot of truly great causes. This year, on my own personal time, I've chosen to get involved with Brent's Place. Brent's Place is a local charity that is the only hospital approved "Safe-Clean" housing facility for immune compromised patients and their families, providing a living environment that is essential to healing and recovery so that kids being treated for life threatening cancer can still be kids. I've become a Team Captain in the Kid's Cure for Cancer 5K race with a goal of raising a minimum of $930 to support Brent's Place.
What is something about you that fans might not know?
I've walked upon the Great Wall in China, and it was a breath-taking experience I will never forget.
What makes you laugh?
Dogs. Dogs of all shapes, sizes, and breeds. I can't pass a dog on the street without their wagging tails and cute faces bringing me a smile from ear to ear. The "man's best friend" look in their eyes and spunky personalities will always get a giggle out of me.
How do you challenge yourself?
I try to be a better me every day.
How do you spend your time in the offseason?
Taking dance classes, teaching dance classes, running outdoors, spending time with friends, traveling, and attending ballet and symphony performances.
In what area of your life have you achieved the most success?
I've achieved the most success dancing professionally. It's something that I've been dedicated to and have been striving for since I was 5 years old. I attended a private performing arts high school in order to fine tune my craft and made many sacrifices throughout my life in order to become a professional dancer. I've danced with two professional ballet companies over the course of seven years, Carolina Ballet and Milwaukee Ballet. I'm currently in my third season dancing with the Denver Broncos Cheerleaders. Dance has taught me discipline, self-respect, and poise.
Kimberly

Kimberly is currently on her fifth year on our squad. This beauty from Newark, California, currently works as an accountant executive for a nutrition company. And if you thought Tara's first-round match up last year was unfair, she had the unlucky draw of facing the eventual winner, Patricia, in her first round match up.
This year, she proved she deserved to make it into the second round by defeating Tara in the first round.
What is the best thing about being a Broncos Cheerleader?
In all my 5 years I'd have to say the best thing about being a DBC is being able to do something I love, all while getting to make a difference in the community. I have met so many amazing people that have truly touched my heart and I am so thankful to have had the opportunity to hear their story and to allow them to make a difference in my life as well. I have made so many lasting memories!
What is your most memorable experience?
I have so many awesome experiences that I will cherish forever! It's definitely hard to pick just one, but I'd have to say going overseas last year to Iraq and Kuwait is definitely in my top 5. It was such a humbling experience and such a great reminder for myself that I have nothing in life to complain about. It was amazing to see what these men and women do for our Country.
How do you spend your time off the field?
Off the field I am usually doing something active outside and doing it with friends. Some of my favorite activities include hiking, running, water sports, barbequing and riding my bike.
What is your most memorable game?
My most memorable game would have to be last season when we did the military salute game. Ever since I was able to go to Iraq, I have had such a newfound respect for our military men and women. To be able to give them recognition on our field was an amazing thing to be apart of. What also made it so special was that a few people that I had met overseas were able to be in our military halftime show and it was SO good to see them again!
What is your occupation and how does the Broncos affect your work?
I work in the fitness industry, so being a DBC and being around fitness go hand in hand. It takes hard work, motivation, and discipline to eat right and workout. Being a DBC takes the same amount of dedication and I try to convey this to all my customers and clients by being an example for them and showing them that they can achieve their goals.
Who do you admire most in the Sports industry?
Athletes are role models to so many young kids. I absolutely love it when I see a humble athlete out there getting involved in the community and using their gifts and talents for a bigger purpose. Tim Tebow and Brian Dawkins are great examples of this.

What is your favorite book?
I love to read and get lost in a good book. My all time favorites are The Notebook & Tuesdays With Morrie. I also try and read from the Bible ever day. God is the reason I'm here!

Where do you see yourself in 5 years?
I have never answered this one in this way, but I can now say that I hope to be married with a family. Whether that is what happens or not, my #1 goal in 5 years is to be living life with no regrets and joy in my heart no matter where I may be at that point in my life.

What is the best thing about Broncos fans?
Broncos fans are so dedicated to their team. They are a huge part of what makes this experience so amazing. Their enthusiasm and excitement are very contagious. I love game day and seeing all the fans on their feet in the stands yelling and having a great time!
What do you do in your spare time to relax?
In my spare time (which is very rare these days) I love to read. Sometimes I have to stop myself from buying a book because I know that if I buy it my choices will either be read the book or stay up all night and get no sleep!
What is your best advice to kids?
Be nice to each other. When you see someone making fun of someone else, be that kid that stops it. Never make build up your own confidence by brining another's down.
What is the best gift you ever received?
The best gift I have ever received was on my birthday a few years back. I was surprised with a vintage, electric blue, Beach Cruiser. I absolutely love that thing and enjoy cruising around Denver on it.
What is your most important goal in life?
My most important goal in life is to live each day remembering how truly blessed I am. I have a wonderful family, amazing friends, I'm healthy, I cheer for the Broncos…the list goes on and on. I have nothing to complain about in life and I use these as reminders for when I am having a "bad day"

What place you would most like to visit?
I am hoping that next year is the year that I will finally be able to visit the Philippines! I have wanted to do this ever since I was a young girl. My dad grew up in the Philippines and I would really love to see the places he has talked about and learn more about the culture first hand.

Who has been your greatest inspiration?
My parents have been my greatest inspiration. They have taught me to value the importance of my family and my faith. They are the most unmaterialistic people I've ever met and I really admire that about them.
What is the one thing that you value most in life?
I value time with my family and friends. I've definitely been blessed with amazing people in my life and I want to spend as much time as I can with them.
What's the toughest part about being a cheerleader?
After 5 years, I can still say the toughest part is time-management. We all either work or go to school full-time and DBC is very demanding, but it is all fun and worth every bit of it. A planner is definitely a MUST to keep around. Without it I would be lost!

Who are the two people you would like to have dinner with?
The first person I would like to have dinner with would be a younger version of myself, let's say around 14 years old. I would tell myself to not worry about the petty things in life, to be nice to every one, to not judge, and to cherish every moment with friends and family because life just goes by too fast and we never know what tomorrow will bring. The second person would be Ryan Gosling… need I say more!
What are your favorite things to do in Denver?
My favorite thing to do in Denver involves anything that has to do with hanging with friends on a warm sunny day. Some things I really enjoy are barbequing in the park, going to Rockies game, working out outside, and sitting on a patio enjoying food, drinks, and a good conversation.
What is your favorite sport to participate in?
My favorite sport to participate in is any kind of water sport. I love the beach, the pool, or the lake. I recently just started wake surfing and my goal is to start doing some cool tricks tricks with that. Water and sun: who can beat that!
What are the three words that best describe you?
1) Friendly - I love meeting new people and getting to know their story. I love saying hello to everyone.
2) Compassionate - I believe this is what drives me to volunteer my time and what allows me to know that I am truly blessed. Being compassionate has always helped me try not judge others and be genuinely nice to people.
3) Nerdy - I've been called a nerd quite a bit in my life. I've learned to accept that it may just be true…I laugh at my own and others not so funny jokes, I talk to myself quite a bit, I get excited for board games, and I love to read.
What is your most prized possession?
My most prized possessions are my diaries and home videos from when I was a kid. I have diaries all the way back to when I was in 2nd grade and home videos from preschool! There are some hilarious memories there that I would have never remembered had they not been recorded.

What are your greatest accomplishments?
I'd have to say I'm in a place in my life where I can look back and see how the challenges I've had in reaching my goals have made me who I am today. A big goal of mine has always been to cheer for an NFL team. It took me a couple years, but I kept on pushing myself and finally made it! I feel I've achieved success in just knowing who I am and knowing that life is what you make of it.
We knew the contest was going to keep getting harder as we went on, and this round is no different. Each of these women lost close contests to the eventual finalists last year, and each make a great argument as to why they should move on this year. But the decision is up to you.As always, please feel free to add your opinions and any info you can find on these lovely ladies, and let me know if there's anything I can do to improve this series. Go Broncos!