Hello and welcome Bronco fans. It's officially time to kick off our 2nd annual cheerleader contest to find out who exactly is the best of the best. Before we get down to business though, I'd like to point out that if you want to check out who's new, who retired and pay tribute to last year's winner, you can do so on the preview page for this year's contest.
This year's contest will have a couple of differences from last year's. First, some of our vets decided not to answer all of the questions, so some of their answers will be a bit short. Not to worry though, as I will be linking back to last year's rounds so that you can see a little more about how they think and what they like if you wish to do so. Second, it seems like none of their last names were released to any news sources this year, so we'll just be referring to them by their first name and maybe an initial of their last name if it was provided.
As always, I encourage voters to take a little bit of time and read the bios before voting (I know how distracting those wonderful pictures can be). It doesn't take long, and it can be extremely fascinating to get to know our squad. Also, more than once, my vote has been swayed by the information provided. And speaking of my vote, just like last year, if there is a tie, I will nullify my own vote declaring the other cheerleader the winner (this actually happened).
But, without further adieu, lets get down to business.
If you can't see the full bracket, just click on the picture. It should take you to the source image.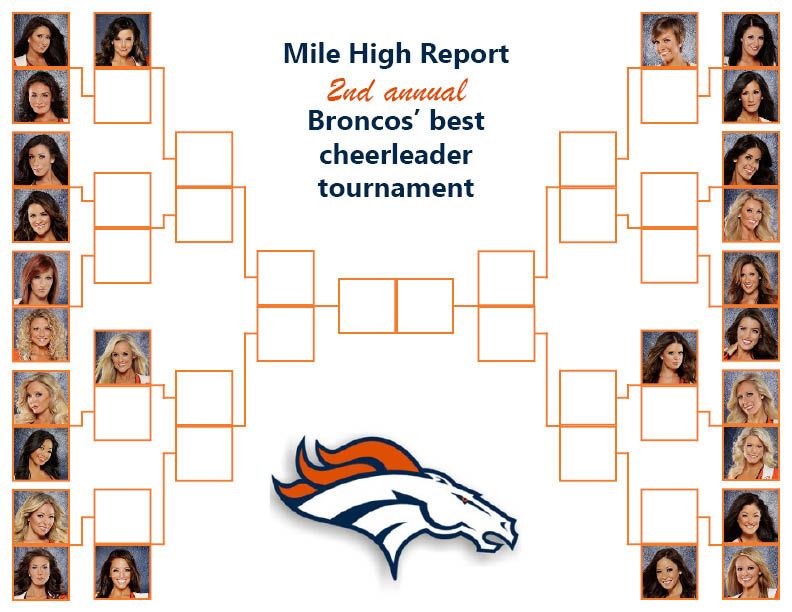 Match 1 of Round 1: Michelle vs. Margaret
Michelle

This is Michelle's third season cheering for us. Since last season, she has graduated with her masters degree in accounting and now works as an executive assistant / office manager. She ended up losing her first round match up in last year's tournament to Katie K (which you can see here), but as we all know, there's no shame in that as she clearly beats every other cheerleader from every other squad in the NFL.
Her answers to her bio page on denverbroncos.com:
Best thing about being a Broncos Cheerleader
There are so many amazing things about being on this team, but because I am a huge Denver Broncos fan, there is no better place to be on game day than on that field at Sports Authority Field at Mile High.
Most memorable experience
During my first season as a DBC, the mother of one of my junior cheerleaders suddenly passed away. I found out that my junior cheerleader, Aly, wanted me to dance with her in honor of her mother at the memorial service. That was the moment when I realized that my position as a DBC far exceeded the public perception of just a "cheerleader." I had no idea what an impact I had made on my junior cheerleaders, and I realized that I have the capability of being a positive role model and support system for many young women in our community. It is hard to put into words the overwhelming feeling of the experience, but frankly, it is a memory that Aly and I will be able to share forever.
How do you spend your time off the field?
I really like to relax and enjoy the little things in life when I have free time, so that means spending time with friends and family. Although I pretend that I am not, I am a closet gaming nerd, so I love playing games like Just Dance 3, Fruit Ninja, Mario Party/Cart, Taboo, Apples to Apples, etc. I also really like finding local places to eat that are unique to Colorado, and enjoying my meal on the patio overlooking the mountains. Even though I haven't been able to as often as I would like, I absolutely love to travel.
Most memorable game
Hands down, best game was Broncos vs Steelers in the 2011 Playoffs. It was a really special night at Mile High and I think it was the first time in many years that everyone in that stadium could feel that Mile High Magic was finally back. I will never forget Tim Tebow's first pass in overtime to Demaryius Thomas that secured the win for the Broncos. There is nothing better than looking around to see the cheering fans and sharing such a special moment in Broncos history with some of my best friends standing by my side.
Occupation and how does Broncos affect your work?
I am an Executive Assistant for the Managing Partner of an asset management company in Denver. I am very fortunate to have an amazing boss, who understands my commitment as a DBC. I remain very busy going straight from work to practice, but I wouldn't have it any other way.
Who do you admire most in the Sports industry?
I have always admired the way in which Tim Tebow carries himself on and off the field. Regardless of the amount of positive/negative press he receives, Tim continues to uphold his values and beliefs. When Tim came to Denver, he brought a lot of excitement to the city, and I know Broncos country will miss him. It was an amazing experience to be a part of Tebow Mania, and I wish him the best of luck in NY!
Favorite Book
It's no surprise…The Hunger Games.
Where do you see yourself in 5 years?
It was always a goal of mine to leave my comfort zone of Denver and explore other countries. So I hope to be in another country continuing my career in 5 years.
What is the best thing about Broncos fans?
Broncos fans are the most loyal fans you will ever meet. I mean when you say Broncos country these people bleed orange and blue.
What do you do in your spare time to relax?
For many people this may not be relaxing, but I love to watch my favorite shows like Criminal Minds and Modern Family with my roommate after making a home cooked meal. I also love to go to Pure Barre and yoga classes to clear my mind.
Best advice to kids?
The only dumb question is the one not asked.
Best gift you ever received?
Because I love to travel, I would have to say the best gift I received was a trip to Australia. During this trip, I was able to meet a lot of really amazing people, learn heaps of new lingo, and most importantly, I gained a new perspective on life due to the country's awesome lifestyle.
Most important goal in life?
I hope to actually be the person that I say that I want to be, by living my life with no regrets and touching the lives of those around me.
Place you would most like to visit?
I would love to visit the Tahitian Islands, the Mediterranean, and Africa. I am addicted to traveling and I have so much fun exploring exotic cultures.
Who has been your greatest inspiration?
I might be a little biased, but I have the coolest parents in the world. I know it sounds nerdy but my parents are my best friends, and I am so grateful for our amazing relationship. My parents are former political refugees of the Czech Republic, who left all their family and friends behind for freedom in the United States. They have always inspired me to accomplish my dreams.
What is the one thing that you value most in life?
It's cliché, but I value life itself. We only have one life to live, so why not make it amazing!
Toughest part about being a cheerleader?
I think it can get difficult when I am surrounded by individuals who have a misperceived image of cheerleaders. It is my goal as a DBC to show everyone that I come in contact with that we are educated women, who love to dance, and who strive to enrich the lives of others.
Two people you would like to have dinner with?
My mother's grandmother and my father's dad. These two people passed before I was born. But my parents always reference them as key people in their lives, and I always wished that I had a chance to meet the two people that were most influential in my parents' lives.
Favorite things to do in Denver?
I love to hike in the summer, snowmobile in the winter, go to concerts throughout the year, and attend any sporting event in Colorado.
Favorite sport to participate in?
I like to say that I tear up the badminton court.
Three words that best describe you
Caring, Optimistic, Loyal
Most prized possession?
A ring I received from my parents when I graduated high school. It has a lot of sentimental value.
Greatest Accomplishment
My greatest accomplishment was graduating with my master's and bachelor's degrees in Accounting in five years, while dancing as a DBC for my final two years of school.
Margaret

This also is Margaret's third season cheering for us, and she's still an adjunct professor at Pikes Peak Community College. While she was lucky enough to get a bye in the first round last year, she ended up losing in her first match up to a big fan favorite, Nikki (which you can see here). But, as I said with Michelle, we all know that every single one of our cheerleader is better than the best from any other squad out there, so it's not really losing.
Her answers to her bio page on denverbroncos.com:
What is the best thing about being a Denver Broncos Cheerleader?
The best thing about being a Denver Broncos Cheerleader is the personal growth that I have gained because of the high expectations placed on us in everything we do. I also love how frequently I get to dance!
What was your most memorable experience as a Denver Broncos Cheerleader?
Meeting Paul McCartney
How do you spend your time off the field?
I love to travel, work, be adventurous, and be outdoors, so you can find me up in the mountains skiing in the winter, and hiking, horseback riding, swimming, or sky diving in the summer. I love live theatre so am attending or working on productions as much as possible. At home I love to cook and I get to a yoga or dance class as often as possible.
What was your most memorable game as a Denver Broncos Cheerleader?
Without a doubt my most memorable Broncos game is the playoff game versus the Pittsburgh Steelers last season! More specifically, the last 30 seconds!! :
What is your occupation and how does being a Denver Broncos Cheerleader affect your work?
Adjunct Professor in the Dance Department at Pikes Peak Community College, Choreographer for High School Drama Departments and Dance Teams, and Guest Instructor at local and national dance studios. Being on DBC makes me relate to my students in knowing how hard the work is in what we do, but I also model that it can be done.
Who do you admire most in the sports industry?
Within the sports industry, I most admire basketball coach Mike Krzyzewski. He is an incredible and loyal leader, stays calm under intense pressure situations, and has the diligence to organize his team to the championship level year after year. I've had the honor of personally meeting him and found him to be a generous and personable coach, who has turned personal tragedy into community triumph.
What is your favorite book?
The Brain that Changes Itself
Where do you see yourself in 5 years?
In five years, I see myself happy in Denver, having completed a graduate program concentrating on my psychology studies, and still being a leader in my community with the Denver Broncos Cheerleaders.
What do you do in your spare time to relax?
With my very limited spare time, I like to relax by practicing yoga, reading, taking a walk in nearby parks, or enjoying a long bath. I love meeting up with friends and family, so I often find myself traveling to visit and relax or enjoy a home cooked meal with them.
What is your best advice to kids?
Be the best you can be and then don't be so hard on yourself that you don't have fun! You never know the impact you may have on someone so always try to make it positive. The mind is a powerful thing that can change with your thinking, so be sure to be wiring yours with positive thoughts about yourself. It is interesting how things can change when you change the way you think about them.
What is the best gift you ever received?
I have been given some wonderful gifts from friends and family in my life, (my mom and little brother definitely deserve shout outs!) but the BEST gift would have to be when for a birthday, a friend called and said not to plan what I'm wearing, then came over with the dress and accessories for the fun birthday evening that had been planned. I felt so special!
What is your most important goal in life?
Know who I am and be respected.
Place you would most like to visit?
I would love to visit Africa and go on a safari! I have not been to that area of the world and am very interested in experiencing firsthand the beautiful wildlife and political progress of this area.
Who has been your greatest inspiration?
Over the past two years as a Denver Broncos Cheerleader, my teammates have become my biggest inspiration. The dedication and work ethic these women have for every aspect of their lives is truly remarkable. I watch these women build successful and demanding careers, perform all the responsibilities that our organization expects, maintain a high level of fitness, make time for fulfilling personal relationships, and still make it a priority to volunteer in the community. I consistently find myself in awe of how they do it all and strive to be better myself because of my teammates.
What is the one thing that you value most in life?
Relationships
What is the toughest part about being a cheerleader?
The toughest part of being a cheerleader is managing your time and personal life for the preparation and work hours that this position requires.
Who are the two people you would like to have dinner with?
I would love to have dinner with Robin Lim, the 2011 recipient of the CNN Heroes Awards and Beyonce.
What are your favorite things to do in Denver?
In Denver I love to participate in the fun community gatherings such as Bike Cruisers, Jazz in the Park, Film on the Rocks, free days at the Denver Museums and Zoo, and any music or dance concert at our indoor venues or at Red Rocks Amphitheatre. I also enjoy riding my bike along the Platte River and catching Little Man ice cream on the uphill ride : I enjoy attending Rockies, Nuggets, Avalanche and Outlaws games as much as possible.
What is your favorite sport to participate in?
I love to play tennis and do my best at 5K and 10K runs throughout Denver.
What are the three words that describe you?
Compassionate, Dedicated, Spontaneous
What is your most prized possession?
My health.
What is your greatest accomplishment?
My greatest accomplishment is performing aerial acrobatics onboard Royal Carribean Cruiseline ships 40 feet in the air!
In what charities or community service organizations are you most involved and why? I am currently enjoying my involvement with community service organizations working with the families of Colorado Springs who were affected by the Waldo Canyon Fires. Being my hometown and my family being part of the evacuation process, it means so much to me to be able to give back to the people who helped keep our community protected, and also those recovering from a devastating loss.
So the first match up of the first round is proving to be pretty epic. We have two extremely intelligent women who seem to have a deep love for the Broncos and appreciation for the playoff game that affected so many of us last year. I know it's a tough choice, so pick wisely. As always, please feel free to add your opinions and any info you can find on these lovely ladies, and let me know if there's anything I can do to improve this series. Go Broncos!